US court orders Atlas Air pilots to stop strikes causing slowdowns
July 9, 2019: The US court of appeals for the district of Columbia has ordered pilots flying Atlas Air aircraft to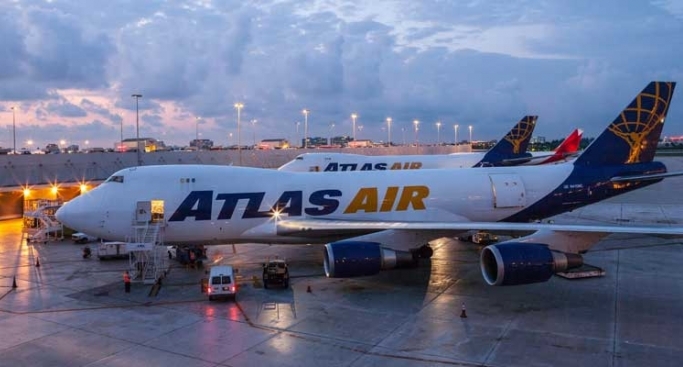 July 9, 2019: The US court of appeals for the district of Columbia has ordered pilots flying Atlas Air aircraft to "stop an intentional and illegal work slowdown by Atlas pilots in violation of the Railway Labor Act". The ruling was delivered by a three-judge panel.
In a statement, Amazon Air aircraft supplier Atlas Air said that the court affirmed a federal district court ruling that ordered the International Brotherhood of Teamsters, the International Brotherhood of Teamsters, Airline Division, and Local Union No. 1224 (collectively, the IBT) to stop taking part in strikes, call in sick or cause work slowdowns.
"We are very satisfied with this unanimous ruling from a three-judge panel, which affirms and sustains the preliminary injunction that was entered into 2017," said outgoing William J Flynn (Bill), chief executive officer of Atlas Air Worldwide.
The court of appeals denied the IBT's appeal, affirming the district court's decision that the IBT must maintain the status quo under the RLA and must continue to take affirmative action to prevent and to refrain from any form of interference with the Company's operations.
"It is unfortunate that we were compelled to take this extraordinary step of seeking the underlying injunction, but we needed to do so to protect the best interests of our customers, our employees and our Company. Together with our pilots, we remain focused on continuing to provide our customers the high level of service they have come to expect.
"We value the hard work and dedication of our pilots, and look forward to continuing negotiations for a joint collective bargaining agreement in connection with our merger of Atlas Air and Southern Air. We are committed to negotiating an updated agreement that reflects the current market and the significant role our pilots play in the success of our Company."
In June, Southern Air, Inc., a subsidiary of Atlas Air, had prevailed in an important arbitration against the union that represents Southern Air's pilots, the Airline Professionals Association, Teamsters Local 1224.
The arbitration decision ordered the union to promptly proceed with contractually required negotiations for a new joint collective bargaining agreement (JCBA) in connection with the merger of Southern Air and Atlas Air, Inc.
In May, pilots who fly for Amazon Air protested outside the Seattle venue of the Amazon annual shareholder meeting. The pilots, who fly for Amazon Air at contracted carriers including Atlas Air, Southern Air and ABX Air, have alleged poor working conditions.