Pilots who fly for Amazon Air highlight poor working conditions; Atlas Air dismisses claims
May 24, 2019: Pilots who fly for Amazon Air protested outside the Seattle venue of the Amazon annual shareholder meeting.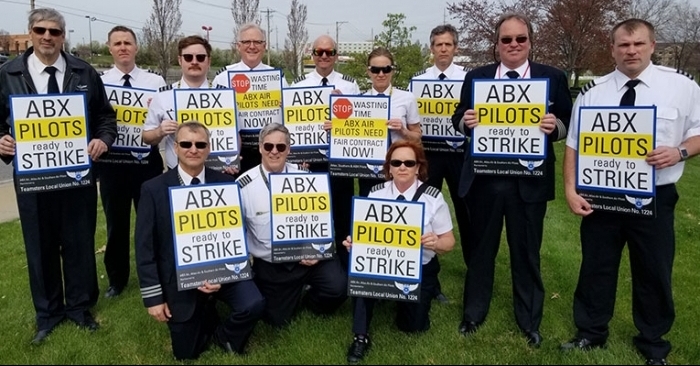 May 24, 2019: Pilots who fly for Amazon Air protested outside the Seattle venue of the Amazon annual shareholder meeting. The pilots, who fly for Amazon Air at contracted carriers including Atlas Air, Southern Air and ABX Air, have alleged poor working conditions.
The pilots also launched a website, PilotsDeserveBetter.org, calling for improved working conditions. The protesting pilots held picket signs and a mobile billboard saying 'Amazon Air pushing pilots to limit risks safety daily'.
In a press release, the group's union, the Airline Professionals Association, said that the demonstrations at Cincinnati/Northern Kentucky International Airport follow an investigation by a leading business publication, in which pilots said they were overworked and underpaid.
They also alleged "operational problems that are exacerbated by labor contracts far below industry standards."
"In order to fill customers' needs, the companies ask pilots to fly last-minute flights around the globe; a recent survey conducted by the pilots' union found that more than 65 percent of respondents have been asked to fly on their days off in the last year," the statement said.
Atlas Air and Southern Air are owned by Atlas Air Worldwide Holdings, while ABX Air is a subsidiary of Air Transport Services Group (ATSG).
In the meanwhile, responding to the allegations, Atlas Air issued a statement debunking the pilots' claims at myths. "Atlas Air, Inc. is calling on its pilot union, the Airline Professionals Association, Teamsters Local 1224, to put aside ongoing protests and work with the company to achieve a new Joint Collective Bargaining Agreement (JCBA) that increases pay for its pilots," it said.
Atlas Air also declared that its fleet and workforce meet or exceed all government safety standards.
On the complaint of pilots' pay, Atlas Air said, "The pilots currently receive pay increases on an annual basis under the current Collective Bargaining Agreements (with the exception of pilots who may have maxed out under the pay scale due to longevity). These increases amount to approximately 3% of average salary."
Bill Flynn, president and chief executive officer, Atlas Air Worldwide said: "We are proud of our strong and growing workforce of more than 2,000 pilots, and we are eager to pay them more and reach a new contract. These protest efforts are common tactics that are often used by unions to spread misinformation and gain leverage in contract negotiations. The fact is Atlas is committed to its pilots. We have an uncompromised commitment to the safety and well-being of our pilots - and our practices meet or exceed all regulatory requirements and industry standards. Together with our pilots, we are committed to the success of our customers, and have worked hard to earn a strong record of delivering trusted service. It's time to put pilots first, ahead of protests, and get to a new contract."