FROM MAGAZINE: Tracking innovations in logistics
Trading intuition for accurate data-driven insight has been a compulsory and continuous journey for today's logistics businesses. This quest has led to innovations that have automated and streamlined process, in order to bring improved efficiencies to the logistics and supply chain business.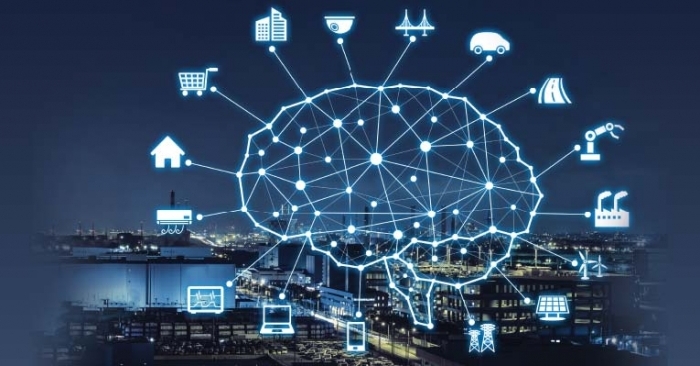 Trading intuition for accurate data-driven insight has been a compulsory and continuous journey for today's logistics businesses. This quest has led to innovations that have automated and streamlined process, in order to bring improved efficiencies to the logistics and supply chain business.
Blessy Chettiar
From the birth of logistics going back to the Greek and Roman empires and its use in military functions during World War II (1939-1945) to what we know as logistics today, the evolution has been apparent, defined and often awe worthy. While the industry does not follow a set of tables or rigid processes, logistic services involve a generous use of one's experience, skills, qualifications and often intuition.
Trading intuition for accurate data-driven insight has been a compulsory and continuous journey for today's logistics businesses.
Every generation has posed typical challenges to the logistics and supply chain sectors, giving rise to innovations that have fine-tuned the processes for optimum results – delivering the right kind of product/service at the right price, place, time and in the right condition. Logistics is essentially a race against time, and to keep pace, experts have often taken refuge in innovative solutions.
Many of these innovations have been fuelled by ever-evolving technology that strives to reduce friction between stakeholders and smoothen processes. Technologically, a slow but sure disruption has been taking place in the logistics and supply chain management systems globally at least over the past 15 years.
What's new?
Buzzwords like blockchain in logistics, Artificial Intelligence (AI) and Machine Learning (ML) in supply chain optimisation, Internet of Things (IoT) for tracking, augmented reality and autonomous transport, are increasingly and aggressively making their way into business boardrooms.

For the uninitiated, Blockchain is a series of blocks that store a shared record of transactional information. Data can be added or modified only by adding another block, thus forming a block chain. Permissioned parties that have access to the distributed ledger have to verify the added or modified information, thus eliminating the scope for falsification as parties are immediately notified of the same. This promotes accountability and compliance. For example, Tradelens platform, jointly developed by A.P. Moller - Maersk and IBM, enables participants to connect, share information and collaborate across the shipping supply chain ecosystem. TradeLens members get a comprehensive view of their data and are able to digitally collaborate as cargo moves around the world. TradeLens currently organises the network into broad categories ¬- 3PLs, inland and intermodal providers, ports and terminals and ocean carriers.
AI enables logistics players collate first-hand insights, which can be related to tracking, operations, inbound and outbound functions etc. These insights can be used to automate and streamline processes, enhance visibility, bring down the time frames for operations, increase efficiencies and eliminate bottlenecks. A good example is automation software and robotics company GreyOrange which builds intelligent robotics for warehouse and supply chain automation. Its GreyMatter software uses Artificial Intelligence, Machine Learning and other advanced capabilities to build systems to be deployed in warehouses, fulfillment and distribution centres.
IoT is a giant network of connected 'things', including people. It encompasses use of sensors, technology and networking to allow infrastructure, devices and other 'things' to be connected and share information minus human interaction. Currently, shipments are being tracked in real-time using radio-frequency identification (RFID) chips, GPS, and specialised sensors. These help fast-track shipments and help carry out preemptive actions that can save time and resources, thus building an efficient system. The result is generation of richer data and deeper intelligence.
Traxens, a breakthrough technology, is a fine example of employing IoT to develop an innovative solution for the supply chain industry. Traxens devices are permanently attached to assets like dry containers, reefer containers, wagons, or trailers. The devices capture and transmit real-time data from anywhere in the world. This data is first aggregated, then analysed, cleansed and enriched to convert it into valuable insight for time-sensitive and data-driven decisions.
Among other innovations augmented reality in warehouse planning for improved in-house logistics and autonomous transport like drones, self-driving trucks and ghost cargo ships will slowly become the norm rather than the exception.
The Indian landscape
In India, two big decisions by the government set the ball rolling for the logistics industry – granting logistics 'infrastructure' status in November 2017 and implementation of the Goods & Services Tax (GST) in July 2017 which replaced many indirect taxes in the country.
"The need for integrated logistics sector development has been felt for quite some time in view of the fact that the logistics cost in India is very high compared to developed countries. High logistics cost reduces the competitiveness of Indian goods both in domestic as well as export market. Development of logistics would give a boost to both domestic and external demand thereby encouraging manufacturing and 'job creation'. This will in turn be instrumental in improving country's GDP," said a November 2017 press note issued by the government of India, announcing 'infrastructure status' for the industry.
In June 2016, India catapulted to the 35th rank from Rank 54, and got a jolt in July 2018 falling to Rank 44 in the World Bank's Logistics Performance Index which is released every two years.

According to Associated Chambers of Commerce (ASSOCHAM), the global logistics market is currently estimated to be around $3.5 trillion. The 2017-18 Economic Survey of India, with the implementation of GST, the Indian logistics market is expected to reach about $215 billion in 2020, growing at a compound annual growth rate of 10.5 percent.
Despite the seemingly bright future, in reality, logistics as an industry in India has been slow to jumping on to the technological bandwagon. Tonnes of documents, processes, high competition, a number of parties involved in a single shipment have been typical to the traditional way of working. But that has been gradually changing with the entry of younger, more dynamic companies that are disrupting how traditional business is conducted more efficiently with the use of technological prowess.
Startups like Shiprocket, Trukky, Rivigo, GoBOLT, FreightBro, Blackbuck and Locus are using technology and subsequently created data for actual 'ease of business' enabling better customer experience.
While Shiprocket is a new-age logistics aggregation platform that drives global and domestic shipping, Trukky offers simplified way of truck hiring and tracking at one's fingertips. Rivigo, which recently raised a funding of $65 million, innovated with its 'relay trucking' model that ensures drivers are behind the wheel for a maximum of four-five hours at a stretch and reach home the same day. Its National Freight Index (NFI) provides fleet owners and logistics decision makers unrestricted access to freight rate information and trends.
On the use of technology GoBOLT, which provides a unique set of express solutions in line haul and last-mile, says: "The fleet is powered with state-of-art technology harnessing full potential of IoT and cutting edge algorithms playing on data; ensuring optimised route planning, scheduling in line with order mapping, real time tracking, ETA along with delay estimates and end to end movement visibility through efficient use of IoT."
In May 2019, Freighbro launched its freight forwarding application that has features including discovering global rates and schedules instantly, creating instant quotes and monitoring activity, accepting bookings online, managing shipment life cycle and tracking cargo at the touch of a screen. The company's white labeling solution provides companies their own digital forwarding platform which is designed based on its client's branding, logo, color coding etc. It also claims to give their users a custom-made mobile application in a record-breaking time of one day.
Another logistics-tech startup Blackbuck uses data science to develop products for shippers and fleet operators, while Locus uses "deep learning and proprietary algorithms to automate every mile of the supply chain and remove the human dependency in decision making." The Locus website says: "At the heart of our products is heuristic technology that is close to real life and takes into account unpredictable on-ground factors to provide logistics optimisation." It has used AI to develop products like Dispatcher, MotionTrack, IntelliSort and FieldPro.
Looking forward
As the last-mile becomes a differentiating factor, companies could well focus more on automated optimal routes that uses data effectively, minimising human intervention and related constraints to develop new strategies. We can expect better utilisation of collected data like traffic, shipment volume and type, route planning, stops and delivery times etc for improved efficiencies, eliminating waste, going after data-driven insights and opening up a gamut of possibilities in the logistics business.

This story was originally published in Indian Transport & Logistics News' July - August 2019 issue.