FROM MAGAZINE: Mission is to digitise freight forwarders
Chennai-based startup FreightBro has been changing the face of digital logistics ever since 2016. It recently inked new business deals with Port of Wilhelmshaven and NAFL. Raghavendran Viswanathan, CEO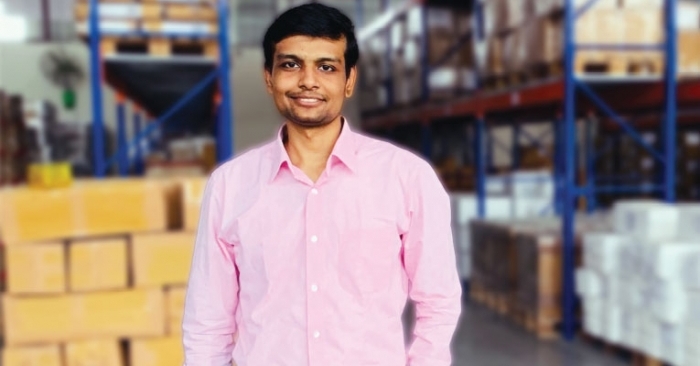 Chennai-based startup FreightBro has been changing the face of digital logistics ever since 2016. It recently inked new business deals with Port of Wilhelmshaven and NAFL. Raghavendran Viswanathan, CEO & founder, FreightBro Logistics tells Shalini Nair about the industry know-how while setting up a business, rolling out tailor-made solutions for the Dubai market and how collaboration is crucial for a blockchain to flourish.
How will the agreement with NAFL add more value to your business?
We believe in democratising technology for freight forwarders. Therefore, moving a step ahead, we want foreign freight forwarders also to enjoy the benefit. NAFL (National Association of Freight and Logistics) deal would help us to facilitate technology for Dubai freight forwarders. The value-add to the freight forwarders in Dubai is that they have access to Indian freight forwarders' rates without checking it on a manual basis. This allows them to book quick shipments and quote much faster. For Indian freight forwarders, we provide an SLA of getting the rates in less than two minutes and we want the same for the Dubai market. We are also planning to set up an office in Dubai and launch FreightBro Elite to help freight forwarders digitise their business.
We are rolling out the service to NAFL soon. Probably, in the next 30 to 45 days we will be meeting Dubai freight forwarders. The requirements of Indian and Dubai freight forwarders may or may not be the same. So, we are finding out what exactly the freight forwarder in Dubai needs and cater as per their needs. We already have a product in place, but we want it to be tailor-made for the audience.
Details on your tie-up with Port of Wilhelmshaven…
Port of Wilhelmshaven has given a presentation on how they can ensure service quality and how it can be a gateway to Europe. We are not working around a blockchain or an IoT solution; instead we are designing a digital channel for the port to reach wider masses. We have more than 600 customers looking at our platform on a daily basis, and here port of Wilhelmshaven will be visible once it adopts FreightBro. Therefore, if you are searching for Europe-based ports, you can see that the port of Wilhelmshaven also has capabilities to do the same thing as others. It has nothing to do with the ERPs (enterprise resource planning) or the way shipments are done, it is more of digital marketing that is being done with this port. By the end of this month, our platform will be active for the port.
How are you establishing a market for your startup and proving your credibility to the customers?
Being one of the early players in startup world, we have done a lot of iteration with respect to our product, as well as our business model. As we go to a customer, it is not just that a customer learns something new from digitisation, we also learn a lot through the customers' business. By constant iteration, we have got most of the pieces of the puzzle right. We are still figuring out things where we can maximise the benefit to our customers. So listening to our customers' requirements is what is making us excellent and also gaining us a lot of goodwill in the market. A lot of freight forwarders have been using our platform and saying positive things which itself is a big boost for a startup like us. I think the feedback mechanism has been great and we are more agile with respect to how a freight forwarder works. Our goal is also very simple – 'to make the freight forwarders digitised'.
As far as credibility is concerned, a market like India works primarily on trust and relationship. Definitely, we are not newcomers to the market. FreightBro might be a newcomer. But the people at FreightBro have an extensive experience in this industry, as we know how freight forwarders used to work. We used our freight forwarding experience and ensured that our technology suits best for a freight forwarder. So with respect to credibility of the product, our customer testimonials are more than enough for us.
How are you finding blockchain as a new entrant in the digital world?
If one person enters the blockchain it doesn't become a chain. So we want to help 3PLs and freight forwarders to first digitise their operations. Today, every industry is talking about blockchain. For example, banking - as net banking is already there not many people visit branches anymore. But with respect to logistics and freight forwarding in general, digitisation itself is taking time. We are just five to 10 years away from what banking is today. Therefore, you cannot just talk about blockchain without getting the digitisation in order.
What are your upcoming initiatives or offerings in future?
We have recently started our import service to China on both our products - FreightBro Elite and FreightBro Essentials. The Indian freight forwarders can get access to import rates of China on our platform, which is a very big market for us. We have found credible partners in the Chinese market who has been there for more than 50 years. For Indian freight forwarders, FreightBro will provide agents in China at the click of a button.
In the Sri Lankan market, we have done the first digital transformation through FreightX. FreightX is the first digital platform for the Sri Lankan market by United Maritime Private Ltd which will be powered by FreightBro.

This interview was originally published in Indian Transport & Logistics News' July - August 2019 issue.