Demand increasing but loooooong way to go for DFCs
"Rail is a more sustainable, lower emission offering than hundreds of trucks moving cargo over 1,200 kilometres."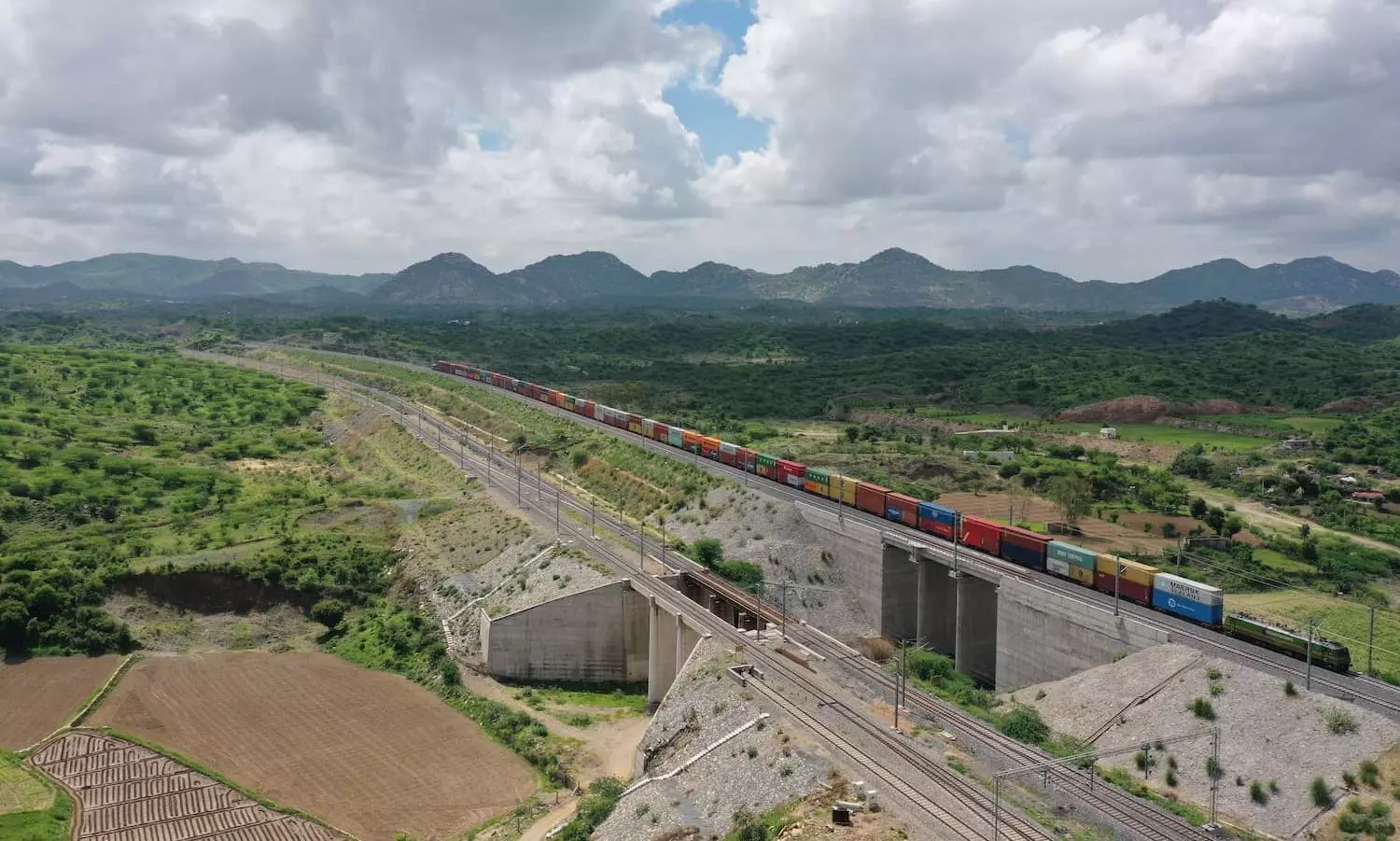 Indian Railways recorded freight loading of 1,512 million tonnes in the financial year 2022-2023, an increase of seven percent from the previous year with net tonne kilometres (NTKMs) increasing 10 percent to 903 billion NTKMs.
With passenger and goods trains moving on the same tracks, India decided to move to dedicated freight corridors (DFCs) in 2006, and at the end of March 31, 2022 here are the stats: 1,277 kms DFCs operational, 100 kmph speed potential on DFCs and Rs 89,436 crore ($11 billion) of capital expenditure.
"The Indian Railways has set an ambitious freight target of 3,000 million tonnes for 2027-28," Vinay Kumar Tripathi, Chairman, Dedicated Freight Corporation of India mentioned in the 2021-2022 annual report. "More strategic initiatives and policy changes are being introduced in Indian Railways along with capacity enhancement works to attract modal shift."
The Central Government, Tripathi said, is striving to enhance the rail share in the country's freight transport from 27 percent to 45 percent "as per National Rail Plan (NRP) on economic and environmental considerations, in which DFCs will play a very important role owing to the reduced transit time and lower logistics cost. The uninterrupted long runs and reduced transit time will result in a need for lesser rolling stock and train crew, hence optimising the resources. The DFC will result in shifting of freight traffic over it and will thus spare capacity for the Indian Railways which will enable more passenger rail services."
Transit time and reliability are the key differentiators in intermodal logistics, says Akshyat Bhatia, Head of Intermodal, Maersk South Asia. "The Western DFC has cut freight travel times between 24 to 48 hours for cargo moving between North India and port infrastructure on the western coast of India.
"The retailers and lifestyle brands in and around the NCR region mainly export to North American, Australian and European markets. During our conversations with them, we have identified that one of their main requirements is speed to market from their production centres. With our consolidation centre located in Dadri, we will be able to significantly improve the speed to market as the WDFC will bypass New Delhi, cutting nearly 48 hours of transit time. It will simultaneously enable importers of raw materials such as paper, chemicals and electronic parts to plan their inventories more agilely.
"While that is the story of speed on the one hand, the Indian government is working across-the-board with stakeholders and through trade digitisation to reduce logistics costs as a spend of the GDP on the other hand. We firmly believe that DFCs will be a key enabler in this respect over the next few years.
"Traditionally, exporters have used road transportation for flexibility. However, DFCs will make rail a more viable option. The dedicated corridors improve cargo safety and freight handling. Moreover, rail is a more sustainable, lower emission offering than hundreds of trucks moving cargo over 1,200 kilometres.
"We are confident that DFCs will also add efficiency by enabling more weekly trips for rail operators' assets. In the long run, these efficiency benefits will get passed on to the country's importers and exporters.
"At Maersk, we currently run three rakes in partnership with Pipavav Railways Corporation, and we will expand operations as rail becomes a preferred choice for the customer."
Maersk developed 13 weekly dedicated rail services designed in such a way that different industrial verticals were to be connected to the ports. "Examples of these were the Automotive Express running between NCR's automotive manufacturing hub and the port of APM Terminals Pipavav, Gujarat or the Retail Express that ran on DFC to give assured transit time to lifestyle and apparels sector." Maersk reported 43 percent growth in the movement of containerised export cargo on rail in 2021 and 23 percent growth on rail for import and export combined.
DP World launched a new double-stack freight train facility recently to improve efficiencies and connectivity between its inland terminal at Ahmedabad and the Mundra port. The maiden train was flagged off from Mundra with a full payload.
Adhendru Jain, CEO, Rail and Inland Terminal, DP World Subcontinent says: "Robust infrastructure and efficient logistics are crucial for boosting economic growth and exports. We are committed to strengthening our supply chain and enabling seamless connectivity to help our customers move their goods quickly and reliably to global and domestic markets. The new double stacked rail freight service will boost cargo carrying capacity substantially and will open new markets for MSMEs in and around Gujarat by leveraging DP World's world-class integrated multimodal logistics infrastructure."
The NRP vision is very clear - focused activity of Railways will be to develop capacity and infrastructure, and enhance rail freight share ahead of the demand, says Vivek Lohia, Managing Director, Jupiter Wagons. "Further, the plan is to develop such capacity by 2030 that could cater to growing demand even up to 2050. The objective is to provide an overall long-term rail development.

"It is known to everybody that the national rail network of about 68,000 km is used by both passenger trains and goods traffic. Therefore, due to the congestion on the railway track and priority to passenger trains, goods traffic moves very slowly and is often held up. This results in long transit time and consequent high transit costs making the freight business suffer in two ways for Indian Railways.
"It is obvious that Indian Railways will act on both fronts and would surely implement dedicated freight corridors by adding 3rd & 4th lines, and doubling and tripping the tracks within the existing network."
Cost reduction
"For further cost reduction, more feedering options into nodal points, relooking at tariff costs of 20ft containers and passing on double stack benefits of lower deck containers are low-hanging fruits for the trade and will hopefully be implemented soon," says Bhatia of Maersk.
The government, according to documents available in public domain, plans to commission DFCs of 2,800 kms by 2022, 3,900 kms between 2023-31, 1,200 kms in the next 10 years and the last, about 750 kms, by 2051, says Lohia of Jupiter Wagons.
"A binary logistic model has been used to assess the benefits. When average speed increases to 50 kmph, the rail freight share can go up to 45 percent with a further 30 percent savings on cost. This reduction in both travel time and cost could be a high magnitude stimulus towards growth and productivity."
Demand for wagons
DFCs are presently admitting 25T axle load wagons, says Lohia. "Since, we have thrown more than 50 percent of our capacity open to the private sector companies, we are in a position to reach out to most of them and are able to fill our bucket for the next two years. We anticipate that this trend will continue and demands will sustain for a few more years to come.
"DFCs will majorly attract container cargo, and therefore container carrying wagons will be in demand. Other general and special-purpose wagons will also likely come up."
Future plans
The government has approved the preparation of detailed project reports for three new DFCs connecting mineral-rich regions and ports of east India including East-Coast Corridor from Kharagpur to Vijayawada, East-West Corridor from Palghar to Dankuni and North-South Corridor connecting Itarsi to Vijayawada, says the annual report of DFC.
As India's merchandise exports continue to flourish, MSMEs grow, and production linked incentive (PLI) schemes favour the economy, cargo growth will remain robust, thereby ensuring parity between demand and capacity, says Bhatia of Maersk. "With the DFC becoming a reality and trials finally evolving into operational runs, we are about to embark on a generational shift in which cargo flows between the North Indian hinterlands and the gateway ports on the west coast. More dedicated capacity, timeliness of freight movement and speed to market will help exporters plan shipments better and reduce logistics costs."
The NRP aims to increase the share of freight traffic from the current 27 percent to 45 percent by 2030, adds Lohia. "The plan also incorporates construction of DFCs as an important policy measure to arrest the trend of falling market share of Railways in the country. The NRP also signifies an increase in railway freight share to be able to develop a capacity that will cater to the demand in the upcoming years. To encourage private investment, numerous other schemes such as general purpose wagons, special purpose/high capacity wagons, automobile carrier wagons, etc. have been introduced in the NRP."