Indian Railways reports best-ever freight performance in FY 2022-23
Indian Railways achieves an originating freight loading of 1512 MT in 2022-23. An incremental loading of 94 MT over the previous best of 1418 MT in FY 2021-22 with a growth of 7%.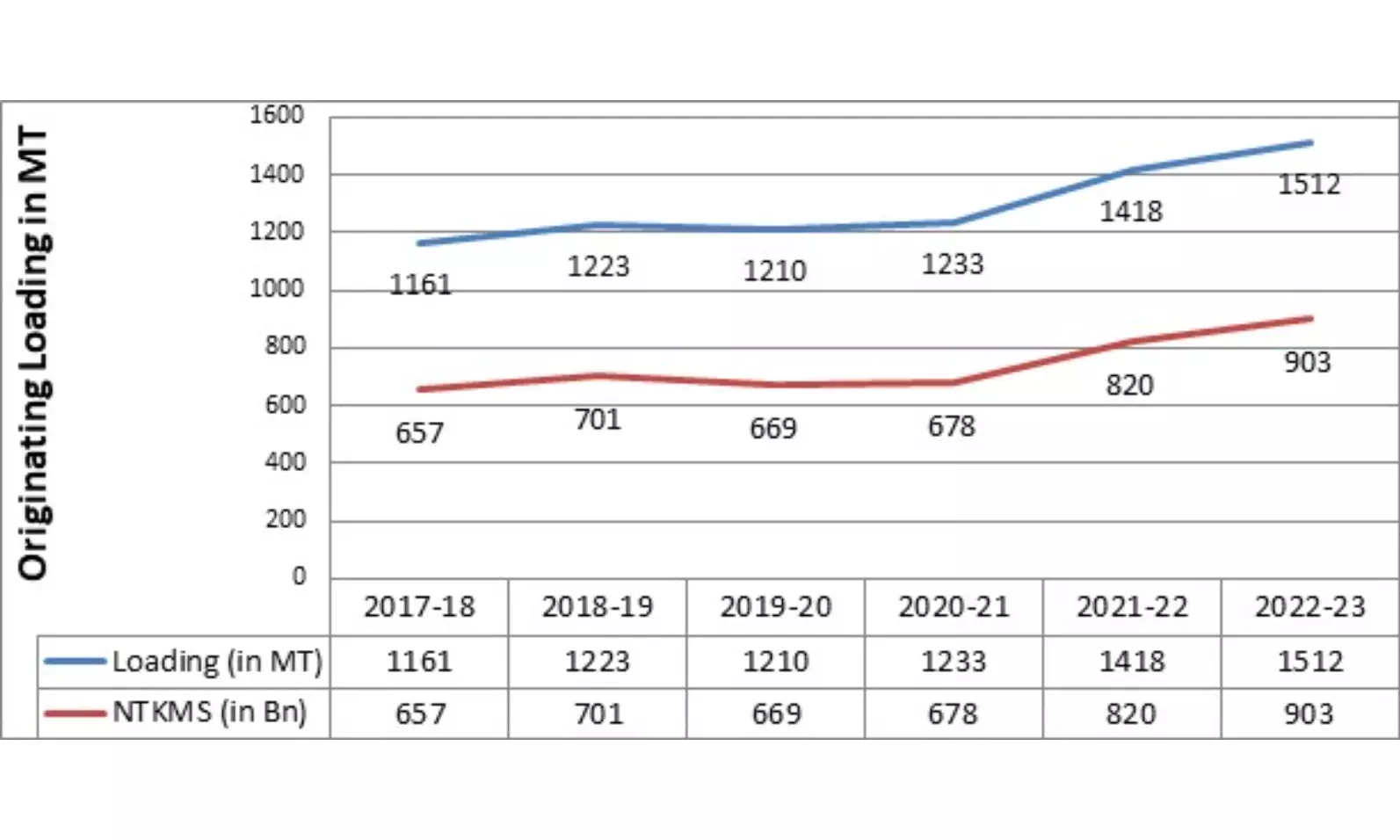 Indian Railways has recorded the best-ever performance in its recorded history in terms of the output from the freight business in the financial year 2022-23 with an originating freight loading of 1512 MT, an incremental loading of 94 MT over the previous best of 1418 MT achieved in FY 2021-22 with a growth of 7 percent.

The gross freight revenues of Indian Railways are expected to be more than ₹1.6 lakh crore with growth rate of 14 percent and simultaneously the passenger revenues are expected to exceed ₹60,000 crore with growth of more than 60 percent over last year. This growth in the passenger business complemented by growth in freight business has led for the first time for the combined freight and passenger revenue of IR to cross the ₹2 lakh crore mark with combined revenues expected to exceed ₹2.2 lakh crore.
The freight transport unit NTKM (Net tonne Kilometre) of Indian railways has also clocked an impressive growth rate of 10 percent to breach the 900 billion mark for the first time to reach 903 billion NTKMs in the FY 2022-23 as against 820 billion NTKMs achieved last year.
IR has achieved an incremental loading of 74.6 MT in coal, followed by 8.7 MT in balance other goods, 5.6 in cement & clinkers, 7.1 MT in fertilizers, 5 MT in containers and 4 MT in POL.
"The sustained efforts of Indian Railways to increase the supply of coal to powerhouses, in close coordination with the ministry of power and coal, have been one of the key features of the freight performance of IR in FY 2022-23," reads the release.
The loading of coal (both domestic and imported) to powerhouses has increased by 84 MT in FY 2022-23 with 569 MT of coal being moved to powerhouses as against 485 MT last year, a growth of 17.3 percent.
Along with transporting coal to the powerhouses, Increase in automobile loading has been another highlight of freight business in FY 2022-23 and 5527 rakes have been loaded in FY 2022-23 as compared to 3344 rakes last year, a growth of 65 percent.
With this, Indian Railways has had a streak of 31 straight months of best-ever monthly freight loading which started in September 2020.