Maersk Q3 EBIT up almost 5 times to $6bn, maintains 2021 outlook
Denmark-based A.P.Moller-Maersk, the world's largest container carrier, today reported a 68 percent increase in Q3 revenue to $16.6 billion while EBIT was up almost five times to $ 5.9 billion on high freight rates in an exceptional market situation.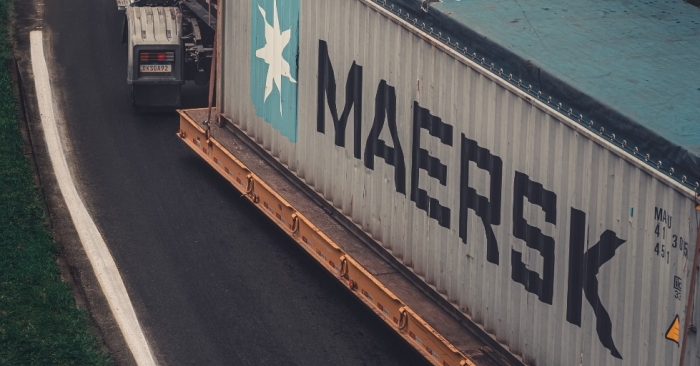 November 2, 2021: Denmark-based A.P.Moller-Maersk, the world's largest container carrier, today reported a 68 percent increase in Q3 revenue to $16.6 billion while EBIT was up almost five times to $ 5.9 billion on high freight rates in an exceptional market situation.
Maersk has maintained its 2021 profit outlook at the earlier estimate of $18 billion-$19 billion.
"In the ongoing exceptional market situation, with high demand in the US and global disruptions to the supply chains, we continued to increase capacity and expand our offerings to keep cargo moving for our customers," Soren Soku, CEO, A.P. Moller-Maersk. "Our integrator strategy is key to supporting our customers' end to end logistics needs by designing a more stable ocean business, strongly growing our logistics offering and relying on automated and efficient terminals."
Maersk also announced the acquisition of German air-freight company Senator International for an enterprise value of $644 million.
Higher freight rates drive revenue, profits
Q3 ocean results were driven by high freight rates with revenue almost doubling to $ 13.1 billion from $7.1 billion and EBIT zoomed $4.4 billion to $5.3 billion. "To further guarantee reliable transportation, the share of long-term contracts was further increased, now accounting for 64 percent of long-haul volumes compared to 50 percent a year ago."
Ocean revenue increase was because of the increase in freight revenue of $ 5.4 billion due to 87 percent higher freight rates that offset a volume decrease of 0.6 percent.
"Loaded volumes decreased by 0.6% to 3,263k FFE (3,283k FFE), mainly from East-West trades and partially offset by the increase in intra-trades. Decreasing volumes were driven by exports out of Asia due to shortage of equipment and congestion while the increase of intra-trade is driven by the America and Europe regions. Despite the effort to deploy additional capacity, volumes were down 4 percent compared to Q3 2019.
"The average loaded freight rate increased by $1,652 USD/FFE to $3,561/FFE (1,909 $/FFE), driven by long-term contracts renewing at significantly higher rates as well as short-term rates, driven by strong demand combined with bottlenecks and congestions driving rate increases."
While the logistics & services business continued the momentum with revenue increasing 38 percent to $ 2.6 billion, gateway terminals also had a strong Q3 with revenue increasing to $1 billion.
The board of directors has decided to extend the current share buy-back programme by an additional $ 5 billion over 2024-2025, Skou said.
"Ocean is now expected to grow below the global container demand, which is now expected to grow 7-9 percent in 2021 (previously 6-8 percent in 2021), subject to high uncertainties related to the current congestion and network disruption. The current trading conditions are still subject to a higher-than-normal uncertainty due to the temporary nature of current demand patterns, disruptions in the supply chains. However, current conditions are expected to continue at least into the first quarter of 2022, resulting in an EBITDA for Q1 2022 in line with Q4 2021."
For nine-months ended September 30, 2021, Maersk reported revenue of $43.3 billion compared to $28.5 billion and EBIT of $13 billion as against $2.6 billion.
Other carriers report strong numbers
German carrier Hapag-Lloyd has revised its expected EBIT to $10.3 billion - $11.3 billion for 2021 from the earlier estimate of $7.5 billion - $9.5 billion. Based on preliminary figures, Hapag is likely to report an EBIT of $6.9 billion for the nine months ended September 2021 compared to $1 billion in the nine months of 2020.
Japanese carrier Ocean Network Express (ONE) is all set to report a net profit of $11.8 billion for the full year ending March 31, 2022, compared to $3.5 billion in the previous year on strong cargo demand and improvement of the freight market.
Container shipping industry expert Lars Jensen had said earlier this week: "ONE has a market share of 6.3 percent and if this is applied to ONE's profit this would imply a market profit approaching $190 Billion."
Maritime consultancy provider Drewry had estimated earlier that carriers could end 2021 with a profit of over $150 billion and they were ordering more ships & containers.
Despite rising costs, stronger freight rates and persistent supply chain bottlenecks should result in a similar result for carriers in 2022, Drewry said in its presentation.
All-inclusive container shipping rates from North Asia to North America are increasingly likely to rebound in November as port congestion and supply chain gridlock countered other bearish indicators, S&P Global Platts said in its latest outlook.