Zomato bullish on Blinkit, investors skeptical: Jefferies
Jefferies has base case price target of Rs 100 (+56%), upside of Rs 160 (+150%) & downside target of Rs 40 (-37%).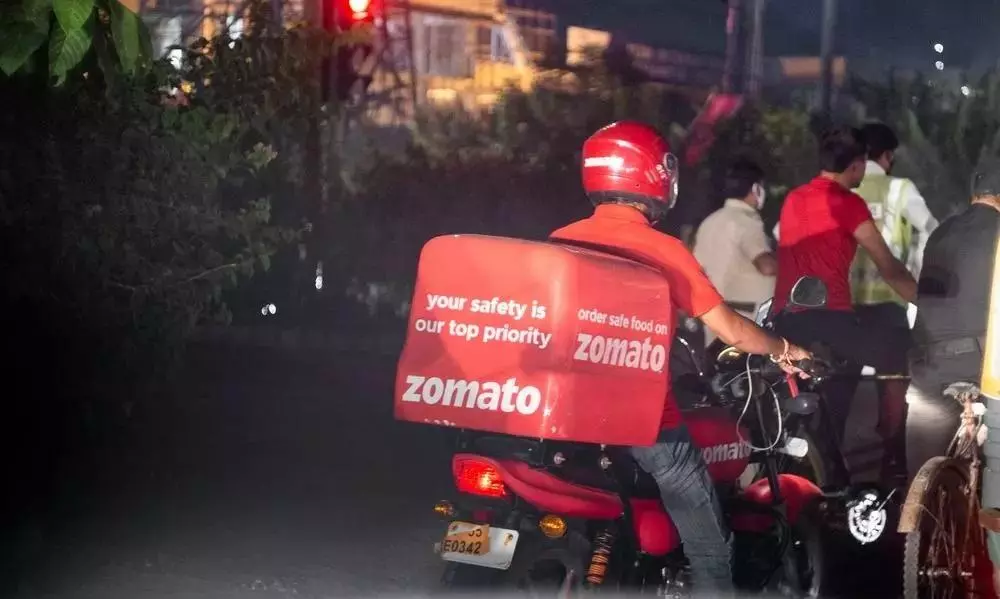 While investors are generally convinced on the food delivery moat, skepticism is high on quick commerce (Q/C), given no proof of concept yet in any large market in the world, says equities research firm Jefferies in its latest update.
"Zomato management, including Founder Deepinder Goyal and CFO Akshant Goyal, is bullish on the Q/C business and sees Blinkit as a large driver of growth and profitability going forward.
"A lot of investors expressed a fundamental question on Blinkit's existence with comments like 'why someone wants grocery delivery in 10-min?'. In the event of success, there is concern on competition from Amazon, Flipkart & Reliance Retail. Management is confident on the opportunity and, in fact, sees a possibility of Q/C becoming bigger than food delivery in the long term."
The board of directors of Zomato had approved the acquisition of Blinkit (Blink Commerce Private Limited) for Rs 4,447.84 crore ($570 million) on June 24, 2022. Zomato was to allot 62.85 crore shares at Rs 70.76 for the deal, according to the filing with the Bombay Stock Exchange (BSE).
Clarifying doubts on the valuation for Blinkit after the announcement of Q12022-23 results, Deepinder said: "Me knowing the founder of the company we are acquiring is actually a good thing to my mind as it significantly increases the chances of deal success and reduces the blind spots which could lead to value destruction post consummation of the transaction. This is especially true for internet businesses where a large part of the value in the business is people and intellectual capital. I would never take this large a bet on people whose motivations I do not know. And I think money is a terrible motivator."
Blinkit GOV increased nearly 20 percent in July 2022 to Rs 483 crore ($60.4 million) from May 2022, and revenue was up 29 percent to Rs 75 crore ($9.4 million). Orders per day per dark store increased to 694 from 613 in May.
"Post transaction closure, we plan to experiment with cross leveraging Zomato's customer base for Blinkit and vice versa. As stated earlier, we believe that in India, super brands will work better than super apps. Which means that the Blinkit app will continue to operate independently. We will also start working on integrating the delivery fleet back-ends which should drive higher delivery efficiency over time. Tech integrations between the two companies will accelerate the pace of progress at both ends."
Blinkit economics:
"Mgmt indicated several dark stores are at contri. break-even and more should do so over the next year - in July, overall contribution loss was 10% of GOV with adj. Ebitda loss at Rs0.9bn (19% of GOV). Margin upside should come from a better mix (BPC, pharma etc.) and ad revenues. Mgmt. believes Q/C long-term margin may converge with foodtech. For FY23-24, total investment (incl. loss) should be at $320 million (incl. $150 million pre-acquisition loan)."
While investors are convinced of the food delivery growth potential given the concept is well accepted across markets, the report says there have been some questions around the pace of growth, cultural aspects, availability of labour & women workforce participation but no one questioned the opportunity itself. "Management expects strong growth momentum in the medium term (JEFe: 30% Cagr)."
Zomato had reported a loss of Rs 150 crore ($18.75 million) for the first quarter ended June 30, 2022 compared to Rs 220 crore ($27.5 million) in Q4FY22 on 18 percent revenue increase quarter on quarter (QoQ) at Rs 1,810 crore ($226 million).
Food delivery revenue increased 15 percent QoQ to Rs 1,470 crore ($183.75 million) while Hyperpure (B2B supplies) revenue was up 42 percent at Rs 270 crore ($33.75 million).
Zomato is a play on the growing food services industry in India as well as increasing adoption of digital commerce, says Jefferies. "With only 15 million monthly transacting users currently, Zomato has a long runway for customer acquisition and revenue growth, albeit this may come at the cost of nearterm profitability. The platform also has an optionality of expanding into other adjacent categories such as grocery etc."
Jefferies has a base case price target of Rs 100 (+56 percent), upside scenario price target of Rs 160 (+150 percent) and downside scenario price of Rs 40 (-37 percent).