Patient-centric pharma supply chain: Right Product, Right Time, Right Price
Renowned as the pharmacy of the world, the inefficiencies of the Indian pharma supply chain were exposed during the Covid-19 pandemic, for good. Now it is on a path of transformation both physically and technologically. Being patient-centric is the right way to do it.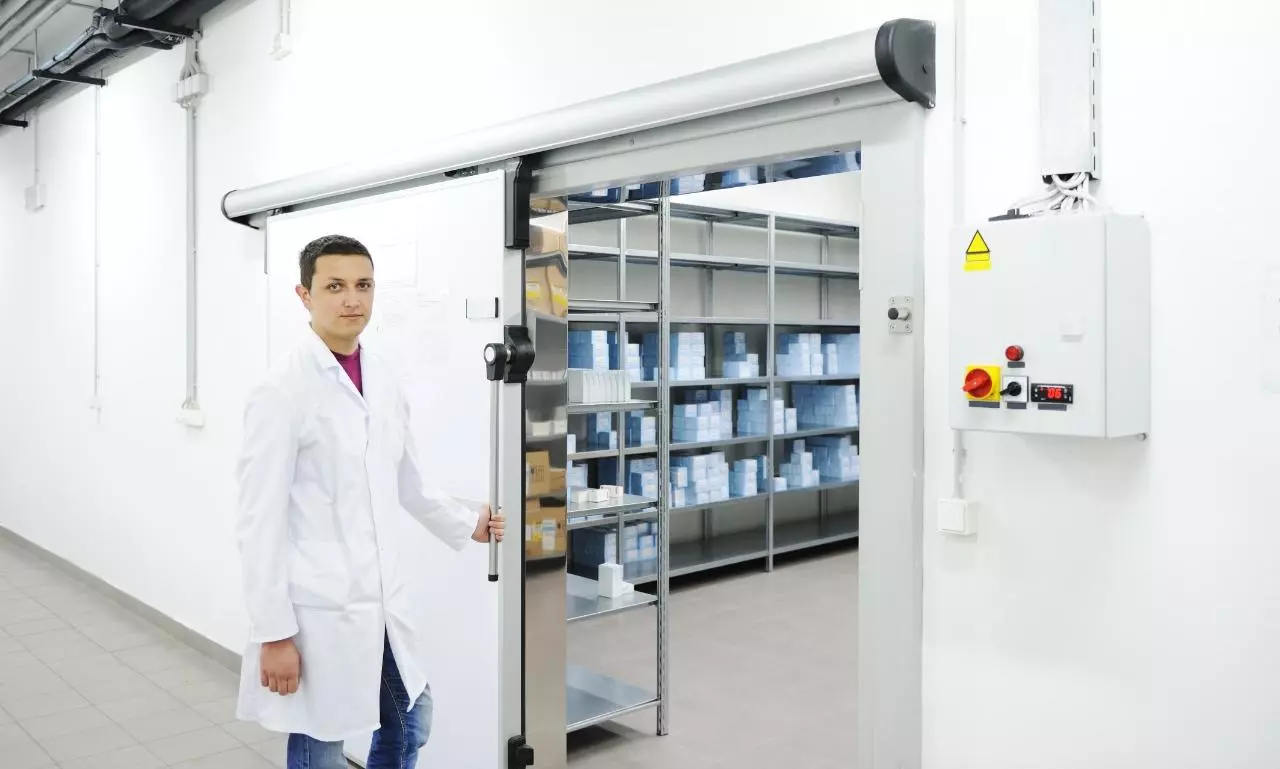 The healthcare sector has been at the centre of the Covid-19 pandemic crisis. From managing affected patients to supply chain disruptions, the challenges faced by the sector were numerous. Supply chain disruptions led to drug and device shortages not only affected the day-to-day activities of the sector but also had a severe impact on the patients who should be at the focal point of this discussion.

Along with healthcare, the pharmaceutical supply chain industry was also there on the frontline facing these challenges. Both these sectors had to continuously innovate and evolve to come out with new solutions. Given the sensitive and delicate nature of the pharma shipments and the criticality of getting them across to the end users in a safe, secure and timely manner it is clear that every single decision related to the supply chain is significant.
Pradeep Panicker, chief executive officer, GMR Hyderabad International Airport (GHIAL) stressed how necessary it is for every stakeholder in the pharma supply chain business to be aware of this and act responsibly in handling pharma shipments. "The conditions of carriage, in particular, the temperature range and other handling requirements need to be adhered to and monitored. Only by doing so, the supply chain industry can assure that the medicines are safe and fit-for-use for the end users (patients and hospitals)," he said.
"Unrelenting focus on infrastructure, service quality, global standards and tech upgrades will lead to on-time and on-cost delivery of good quality medicines to the patients and hospitals."
Pradeep Panicker, GMR Hyderabad International Airport
Putting the focus back on patients
For example, Niklas Adamsson, chief operating officer of Envirotainer, the temperature-controlled containers provider to pharma companies, noted that the focus on patients is in the DNA of the company. "It is for the patient that we work, not the airline, not the freight forwarder and not even the pharma company. Because it is for the patient that we commit to doing something. This is more than a job. This is personal. Everyone has friends or family members who have some kind of disease, which needs pharmaceuticals on a regular basis," he said.
The spokesperson of Chhatrapati Shivaji Maharaj International Airport (CSMIA), Mumbai focused on the issue that supply chain expenses are among the top expenses that are incurred in the healthcare sector. "Patient-centric supply chains focus on delivering the right product at the right time and at the right price," he said.
"Automating and standardizing supply chain procedures with the use of the latest technology can result in bringing down costs and adding efficiency. Digitization of records, use of renewable energy, and electric-driven transport are a few cost-effective measures that can be adapted to make the drugs affordable to the patients. An inefficient supply chain affects patients' health and creates disruptive effects on the healthcare system," he added.
He also wanted all supply chain stakeholders to emphasize a culture of cost consciousness in their processes and systems.
Meanwhile, Swarup Bose, founder and chief executive officer of Celcius Logistics Solutions, the SaaS-based online marketplace for the cold supply chain, addressed an important factor that influences the price of drugs: wastage of pharma due to temperature excursions. "All pharmaceutical products, including vaccines or life-saving drugs or generic drugs, need to be moved in a certain temperature-controlled environment. If products breach temperature, ideally they should be destroyed and many pharma companies have started taking this very seriously. But the negative impact of that is the prices of the products are going up because they end up charging the other products for the wasted part which affects the end users directly," he said.
Confirming the same, the April 2022 study "Building resilience in India's post-Covid healthcare supply chain" by GS1 and the Association of Healthcare Providers (India) (AHPI) reported that pharma supply chain costs are 15 percent higher in India compared to the best-in-class global pharma players. The study also noted that half of the Indian drug and device manufacturers lose over 1 percent of their sales due to expiry and pilferage.
Thus it is important to look into the supply chain and identify some of the inefficiencies that shoot the prices up and in the end, affect the patient who should be cured.
India is the largest provider of generic medicines globally, with a total turnover of $36.7 billion in 2019-20. "The country has a share of 20 percent in the global supply volume and contributes to around 60 percent of the global vaccines. India ranks third in the world in terms of volume and is the fourteenth largest in terms of value. Key segments of the Indian pharmaceutical industry are OTC medicines, Generics, APIs, Vaccines, Biosimilars, and Custom Research Manufacturing (CRM). India is the world leader in supplying vaccines like DPT, BCG, and Measles. It also has the highest number of US FDA approved plants outside of USA," according to India Brand Equity Foundation.
"Blockchain is the next big thing that we are going to announce and this will put the last nail in the coffin for fake pharma products in the market."
Swarup Bose, Celcius Logistics Solutions
Pharmacy to the world
Halit Tuncer, cargo director South Asia, Turkish Airlines, was optimistic and believes that India has a huge role to play in global drug security. "Today, nearly all countries rely on India as the pharmacy of the world. They can produce large quantities of APIs and medicines at low costs. With a well-established domestic manufacturing base and low-cost skilled manpower. India has emerged as a global hub for pharmaceutical manufacturing and industries continue to be on a growth trajectory. The future will see a significant role in global healthcare by Indian pharma, not only in making medicines affordable, yet additionally in fortifying India's position as a global hub for making innovative and high-quality medications.
He also didn't forget to mention that Indian pharmaceutical companies are embracing digitization and are using disruptive technology to upgrade drug making.
The CSMIA spokesperson also pointed out a trend of digital transformation, and how the Covid-19 pandemic helped in accelerating the same and improving cross-border collaboration. "All the supply chain partners have paid attention to their respective abilities to best tackle the situation by further customizing their operating models to enable new ways of working and decision making. The key focus right now would be to translate digitalization into value for the pharma and healthcare supply chain. Even though many may not have adapted to this change immediately, all the stakeholders should consider it as a long-term target," he said.
The GS1 and AHPI study also noted that, in India, 80 percent of pharma and medical device manufacturers do not have product visibility till the point of care.
"3PL players have good control on in-transit quality and temperatures but we need to enhance this to POS level which shall close the missing ends of the supply chain."
Sanjay Sharma, Coldman Logistics
Sheer lack of visibility
"The healthcare supply chain is also opaque, lacking transparency and end-to-end visibility. A lack of visibility and transparency of medicines and medical devices in the pharmaceutical supply chain is a persistent problem, especially in the domestic market and is one of the major causes of counterfeit products," it reads.
End-to-end supply chain visibility is the most critical aspect of pharma as it involves life-saving drugs. Poor visibility may result in quality deterioration, inventory stock outs and stock returns on account of expiry leading to higher product costs.
Sanjay Sharma, chief operating officer, Coldman Logistics, said, "While most of the pharma companies in India have a fair control on their inventory until the stockist point, they lack the visibility at a POS (point of sale) level which needs to be integrated directly with the manufacturer. Further, there is hardly any control on quality monitoring at a POS level where the inventory holds for the maximum time period."
However, he also added, "With the evolution of technology and IoT devices, the 3PL players have good control on In-transit quality and temperatures but we need to enhance our capabilities in the pharma value chain now to POS level which shall close the open missing ends of the supply chain."
Celcius Logistics is an asset-light marketplace that recently announced an expansion to 350 cities and has 4000 vehicles and 107 cold storage on its platform. Bose noted that they are coming up with technologies like AI and ML while blockchain is the next big thing that they are going to announce and that too in a year.
"This will put the last nail in the coffin for fake products in the market," as he puts it.
He said that the blockchain technology that they are designing will be an integral part of the Celcius ecosystem.
"During Covid-19 vaccine distribution, there was a vaccine ledger created and it was a blockchain-enabled vaccine ledger which can track and trace the vaccines from manufacturing to the end user by QR codes and scanners. However, it was not possible to have all the parties adopt a singular technology because there were wholesalers, distributors, transporters, cold storage owners, and smaller transporters. But when Celsius comes into the picture, all these guys are already on the common platform.
Beyond visibility and blockchain, Tuncer expressed his interest in the new technologies getting introduced into the pharma supply chain which includes ultra-low freezers in vaccine cold chains, remote temperature monitoring systems, Internet of Things (IoT), AI and robotics and he noted some of the specific use cases that these technologies solve.
As he listed it, "Outdated customer touch points and a lack of an omnichannel user experience, revenue leakage due to underutilization of capacity, inability to harness data and predict real-time demand, over-reliance on paper-based processes, inability to track cargo consignments in real time once outside the carrier network and finally lack of integration throughout the supply chain leading to higher costs and lower efficiency."
The Covid-19 pandemic has challenged the industry to solve some of these issues and many things have changed since then. One particular change in the pharma supply chain is how it altered the dynamics of stakeholder relationships. Vickram Srivastava, head of planning - global supply chain, Sun Pharma, spoke to Indian Transport & Logistics News in a video interview shot in Air Cargo India that concluded in June 2022 and gave us a glimpse of the same.
"It is for the patient that we work, not the airline, not the freight forwarder and not even the pharma company. Because it is for the patient that we commit to doing something."
Niklas Adamsson, Envirotainer
Changing relationships
He noted that there is an attitude change happening in the relationship between the stakeholders and in his message to supply chain professionals he said, "It's time for us to tell businesses that disruptions are here to stay. This is the new world in which we are going to live. So reset your expectations on inventory, lead time and delivery. It is very important that we take the limelight."
On the same line, Panicker particularly mentioned attitude changes in his customers. "The pandemic has brought in a heightened level of awareness and appreciation for the supply chain and logistics involved in global trade. Customers are more cognizant of the complexities involved in ensuring the smooth and secure movement of goods from the factory floor to the end user's hands. At the same time, the customers have also become more demanding in terms of service quality," he said.
"In response, we are seeing all supply chain players stepping up investments with a focus on infrastructure facilities and quality, technology upgrades and complying with international standards and certifications,'' he added.
Thus, also looking into the future, the CSMIA spokesperson called for a collective approach, robust process driven by accuracy, safety & security along with quality control as the immediate actions to be implemented by every stakeholder to retain the effectiveness of drugs in the supply chain.
Better before bigger
As India continues to grow and makes strides as a global pharma R&D and production hub, the Indian pharma logistics sector will also grow, both in scale and importance. To gear up, Panicker wants "Unrelenting focus on infrastructure quality, service quality, global standards and tech upgrades, all of which will ultimately lead to on-time and on-cost delivery of good quality medicines to the patients and hospitals."
While talking about his priorities, Adamsson notes strong development in the APAC region. "For example," he said, "If you look at where we have established new service centres in the last couple of years, you will find that most of them are either in China or in India. The pharma market in those two countries is growing very, very fast.
While talking about the evolution of Indian logistics and technology disruptions coming in, Srivastava noted that he believes it will help pharma companies to offer affordable medicines to patients across the world. "However," he said, "Before we become big, we need to become better."
This article was originally published in Indian Transport & Logistics News' September - October 2022 issue.