Acute global container shortage threatens to derail India's export juggernaut
The global shipping crisis that began with the Covid-19 pandemic last March and has gone on to cripple Indian exporters who are facing multiple challenges right from runaway sea freight rates to transit delays, congestion in many leading ports, acute container supply shortage and pending benefits in earlier government export incentives schemes.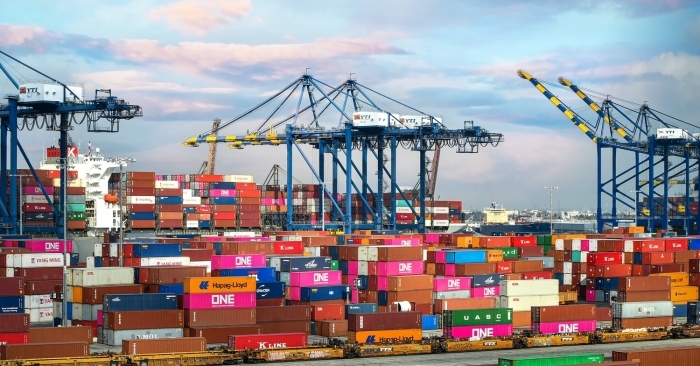 September 8, 2021: In March 2020, before the pandemic had hit the world, the sea freight rates from Cochin to Melbourne in a 20ft container were $650 and $800 for 40ft container, while currently, these have climbed to a steep $5,200 for 20ft and $8,800 for 40ft showing a whopping 700 percent in the 20ft and 1000 percent increase in 40ft container freight rates respectively. Similarly, freight rates from Mundra port in Gujarat to New York was $1,300 for 20ft and $1,600 for 40ft containers while currently it is has increased to $9,000 for 20ft and $12,000 dollars for 40 ft containers showing an increase of 592 and 650 percent respectively in one year's time. Incidentally, the Freightos Baltic Index (FBX) that tracks the global container freight index saw the rates breaching the $10,000 mark this June and is currently hovering at $10,519 as of September 3, which is up by 2.3 percent from last week.
This is a micro view of the global shipping crisis that began with the Covid-19 pandemic in March 2020 and has gone on to cripple Indian exporters who are facing multiple challenges right from runaway sea freight rates to transit delays, congestion in many leading ports, acute container supply shortage and other policy constraints including pending benefits in earlier government export incentives schemes.
Availability of containers, high shipping costs & transit delays
The crisis has had serious implications with huge sailing cancellations in August and an impending surge in demand for Christmas goods many of which are shipped to the UK and US markets from India. With cargo starting to move for Christmas, container ships are now overbooked and announcing blank sailings to Indian ports.
"We are not getting containers to book our cargo in and the mother vessels are not coming on scheduled time. Even if they come, there is no space and we don't have empty containers to book our cargo with. My last month's production of apparel order is still sitting with me when it should have reached the UK three weeks ago. In fact, most of the current lot of production are Christmas themed products which are garments that have to be in store right now but it's still lying with me thanks to the global container shortage crisis. After the pandemic, if we invest money, it is taking six months for us to recover the money and due to this, we cannot book new orders and inventory is sitting in our factory still. The main problem is that most of the containers have gone to the US and got blocked up there and as a result, we are not getting empty containers back. Such is the shortage that once we would book containers for $2,000 for which now we have to shell out $13,000 which is more than 5 times the previous freight rates," said Gokul Krishnan, MD, Galactic Knitwear, a 30-year-old Tirupur-based apparel firm that supplies to UK brands like B&M and Home Bargains.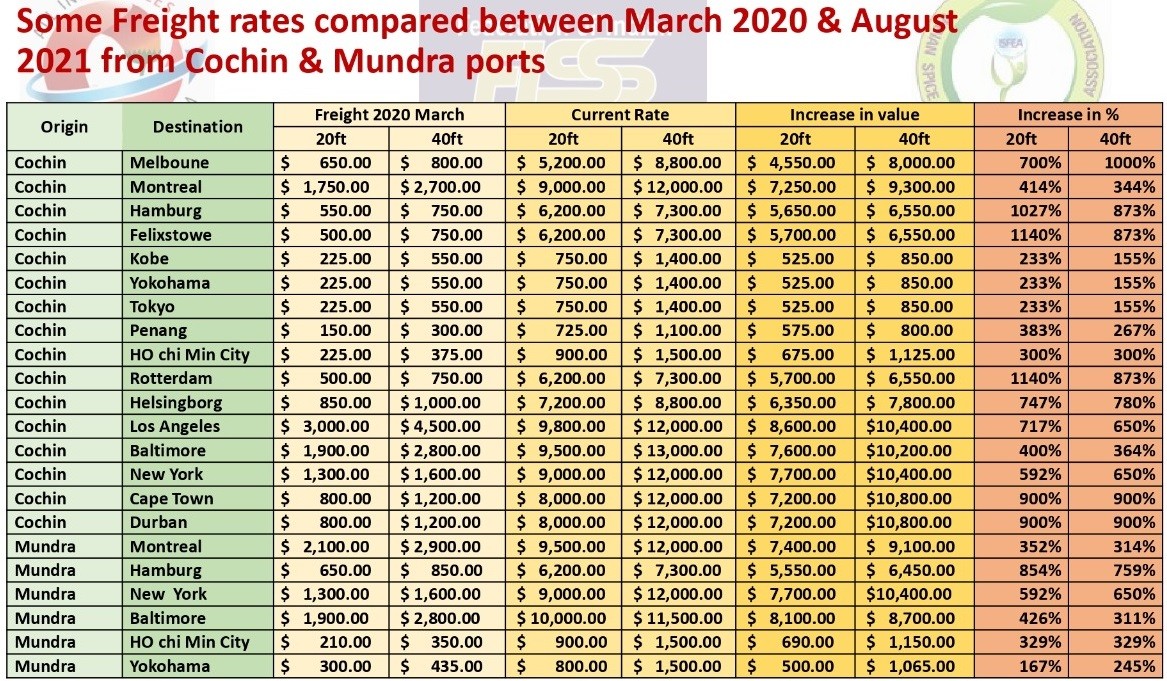 (Source: AISEF- Kochi, ISFEA-Mumbai, FISS- Unjha)
Container pile-up at us west coast ports
As per the figures shared in a recent press release by leading container logistics platform Container xChange, the Container availability index (CAx) for the port of Los Angeles for August 2021 was at 0.88 and 0.90 for 20DC(dry container) and 40DC respectively, wherein anything greater than 0.50 represents a surplus of containers at a port and vice versa. This is the highest CAx at the ports observed over the past 3 years, cited the release.
High import levels are driving this surge in congestion as retailers stock up ahead of the holiday season. Dr Johannes Schlingmeier, co-founder and CEO, Container xChange said, "Our CAx (container availability index) data reveals a 60 percent increase in the inbound-outbound ratio at the ports of the US West Coast, surpassing the pre-Covid levels, indicating that there is excessive stress on the ports, and therefore indicating that further congestion is expected in the coming months as we approach the holiday season in the latter part of the year."
Cartelisation of shipping lines
What has added to the woes of Indian exporters is that top shipping lines have formed cartels in a bid to control the freight rates knowing full well that the shortage and crisis may continue well until 2023's first quarter. Except for high-value cargo, other exporters are unable to afford such high freight rates and exporters who have signed off long term CIF (Cost, Insurance & Freight) contracts are losing customers thanks to customers not agreeing to revise contracts.
YVR Sudhir, general manager of sales & marketing at Telangana-based Frumar Marketing that exports Indian snacks, pickles, spices, flours and South Indian rice varieties said that 30-40 percent of their stock is getting stuck either in the warehouse or in the ports due to the global congestion thereby incurring losses of a minimum 3-4 percent margin erosion.
"Container availability is very less and the freight rates are so high that it is equal to the container value. We are rapidly losing the market to competitor nations from South America. The government also has not streamlined this, thereby leaving the export community exposed to the whims and fancies of private shipping companies who have formed into cartels. Many a time if the cargo is not ready these shipping companies are giving hefty cancellation charges and everyone including the agents who are handling the cargo is minting money in cancellation fees. Unless you are exporting exotic high-value food items, it makes no business sense to export now. Since most Indian food items come under the low-value category, we cannot send via air freight. This crisis has hit us hard as in a normal year we would have seen a growth of 15-20 percent in revenues," Sudhir added.
Hefty cancellation fees
Freight rates for both 20ft and 40ft containers have surged from pre-pandemic rates and higher exchange rates are also being charged by freight agents/shipping lines at the time of the release of the bill of lading (BL) which is a legal document issued by the carrier detailing the type, quantity and destination of goods being carried.
"Even if we get a container and shell out the high freight rate, when the container reaches the port, the shipping lines shut out the containers saying there is no space or that the vessel is full. They say that our container will be accommodated in the next scheduled vessel and this results in delays by a week or two if not more. Though the exporter is not at fault, he has to pay the 'shut out 'charges which are around ₹8,000 to ₹10,000 per container and the ground rent to store the container of up to ₹400 to ₹600 per day, per container. We are also facing these issues in Mundra and Nhava Sheva port and incurring 50 percent additional cost if we include the FOB (Free on Board) rates also. We are mostly facing these issues for cargo headed to the USA, Australia, Latin American and African countries. Earlier we were paying ocean freight from a Chinese port to Nhava Sheva at $700 per container which has now shot up to $7,000 dollars today, which is ten times higher than the earlier rate. So we have been forced to stop the imports and the production of certain SKUs because the landed costs are increasing abruptly and we are not able to pass it on to the customer because the segment is very competitive," said Pravinkumar Patel, GM of logistics at Ahmedabad-headquartered air cooling solutions giant Symphony.
From talks with international trade bodies and shipping lines to avoid blank sailings, transit delays and high sea freight, a mechanism to avoid shipping companies from skipping sailings, allocate larger and more vessels to India in merchandise exports, probe into costs of shipping lines, strengthening of the government-owned Shipping Corporation of India, fast-tracking of container manufacturing facility at Bhavnagar, support via an increase in the Transport and Marketing Assistance (TMA) scheme, freight subsidies to motivate Indian exporters have been suggested by various exporter associations to the Indian government authorities in the last few months.
"In effect, the top shipping lines are creating a non-tariff barrier to the import of Asian goods into America or Europe which is giving local manufacturers an advantage over imported goods. Exporters who have sold on C&F (costs and freight) value are suffering greatly and those who have sold on FOB rates will also face heat because suddenly the buyer doesn't want the good immediately, so in effect, manufacturers have to hold material for a couple of months until the container is available. This disrupts your working capital, your factory space and the business cycle which creates an additional burden on exporters," said Jayesh Rambhia, MD at Premsons Plastics and former All India Plastics Manufacturers Association (AIPMA) president.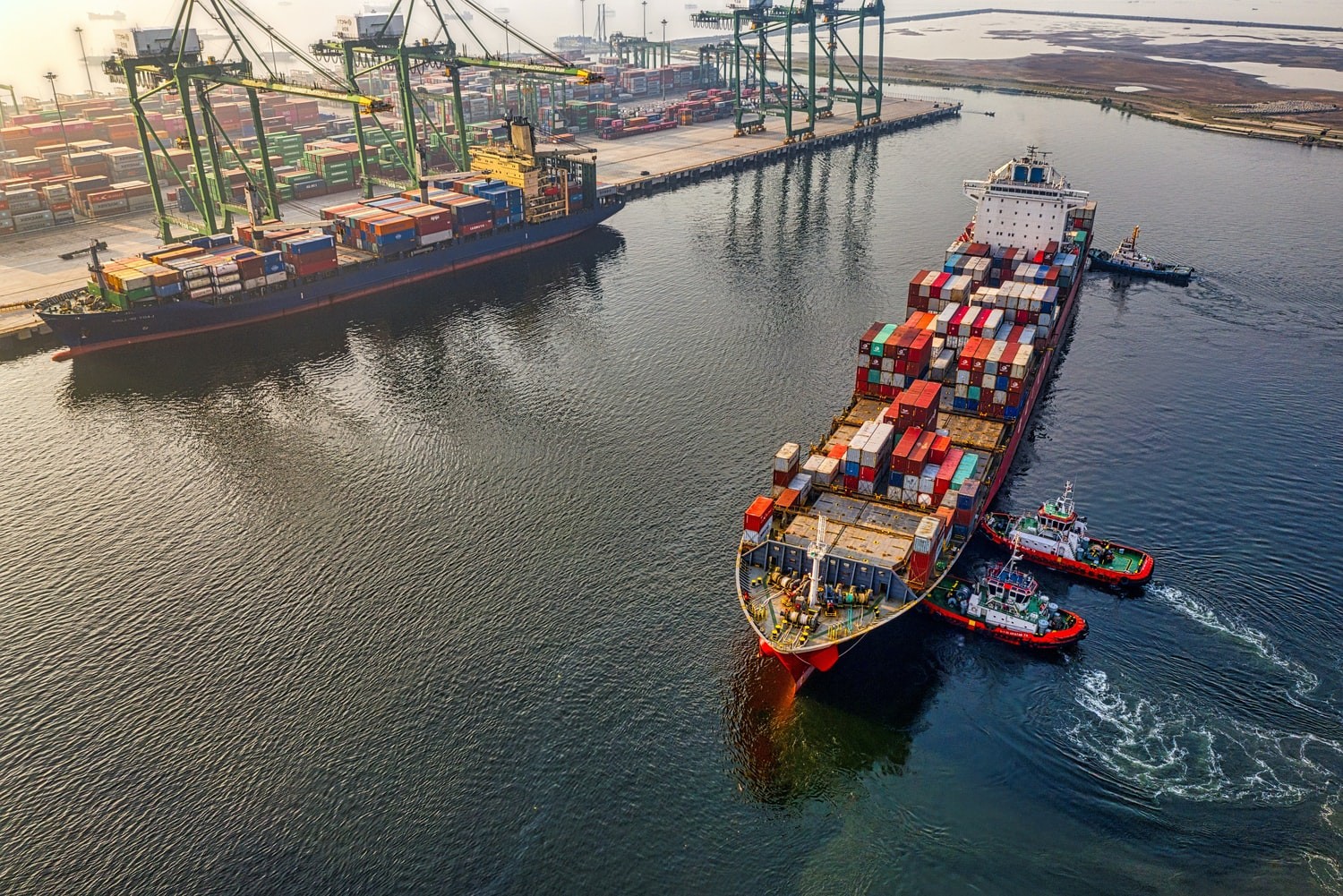 India's merchandise exports in August 2021 was $33.14 billion, an increase of 45.17 percent over $22.83 billion in August 2020 and an increase of 27.5 percent over $25.99 billion in August 2019.
The China factor
Almost 85 percent of the global shipping containers are China-made and thereby exert a pull over the fortunes of the global supply chain. This coupled with Chinese ports being shut down or operating at a much lower capacity due to recent Covid-19 cases is a leading cause of the shipping crisis faced by the world. While this could lead to an increase in the cost of Indian goods and delays in shipment could slow down demand for Indian products as well.
"So in effect, the whole supply chain is captured by China. This makes it very difficult to break into those kinds of cartels but India needs to make containers for our exporters. Indian shipping companies should be incentivised to start and prosper to serve the larger interests of the country. Today the freight from China to the US or Europe is much higher than from India to these destinations so many companies are diverting containers to China. So many ships that visit Indian ports are visiting with blank calls, they don't pick up the container from here because the rates are high but compared to China they are still low. China has also started supplying to Europe via railway so nobody can compete with that. While some demand from the USA would be shifted to Mexico and from Europe would be shifted to eastern European countries like Poland, Czech Republic, Hungary who would get some business because now their shipping is by road and it is pretty cheap," added Rambhia.
Silver lining
A spot of cheer amidst the container crisis is that there has been a sustained recovery thanks to demand in textiles, gems and jewellery, engineering goods and cereals etc from the US and EU that have boosted India's exports in the last two quarters.
As per the Indian ministry of commerce & industry data, despite the disruption by the pandemic, merchandise exports from India touched historic highs of $35.43 billion in July. India's merchandise exports in August 2021 was $33.14 billion, an increase of over 45.17 percent over $22.83 billion in August 2020, and an increase of 27.5 percent over $25.99 billion in August 2019 as per preliminary data, which is likely to help the Indian economy rebound from the after-effects of the pandemic.
With the global shipping crisis looking grim by the day, India's commerce minister Piyush Goyal, railway minister Ashwini Vaishnaw and Minister for ports, shipping, and waterways – Sarbananda Sonowal are slated to meet industry representatives this week and take stock of the situation.
(The story has been updated with inputs from Dr Johannes Schlingmeier, co-founder and CEO, Container xChange)