We look to grow to 400 cities, expand to 25 states in 2021: COGOS
April 24, 2021: COGOS Technologies is a growing Indian intra-city logistics player with a smart-tech-enabled platform offering a one-stop destination for all the intra-city link supply chain. It uses integrated advanced sensors, IoT technology, and third-party applications to uplift truckers. It has around 10,000 vehicles fleet active on its platfo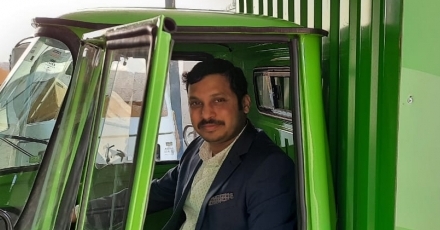 April 24, 2021: COGOS Technologies is a growing Indian intra-city logistics player with a smart-tech-enabled platform offering a one-stop destination for all the intra-city link supply chain. It uses integrated advanced sensors, IoT technology, and third-party applications to uplift truckers. It has around 10,000 vehicles fleet active on its platform and is spread across 300 cities in 21 states. They have at least 1000 to 2500 trucks running every day.
In an exclusive interview, Prasad Sreeram, founder & chief executive officer of COGOS Technologies, shared with Indian Transport & Logistics News the story behind his company, the challenges they face and the solutions they offer.
When you chose to start a company you chose logistics, more specifically intercity logistics. Why?
One, as it has an opportunity in the country. E-commerce is booming, however, the experience that customers are getting from e-commerce, the same is not reflective on the backend operations. In the front end, whatever you expect, from an Amazon Prime or Flipkart premium, you get the product delivered in the best time and quantity.
My co-founder had experience in logistics and operations when they attempted to do a medical pharmacy, which is like an online pharmaceutical distribution both on B2B as well as B2C. However, they hit a roadblock. And that's when they figured out that the end delivery in the cities is not that easy. When we actually dig into we found that most of these large companies with deep pockets are actually building huge teams to just manage the fleet. And when we discovered that more than 90 percent of the fleet is owned by individuals that make it completely fragmented.
Logistics is split mostly into long haul and city logistics. 60 percent of the total cost comes from the city logistics if you take the base as a weight or a volume of a package. And when we dug deep in, it was quite interesting to understand that most of these individuals have a lack of access to the demand. Moreover, their service levels have been poor and inefficient.
We felt intracity is where we could bring the transformation in. And with this, we aim to reduce the GDP cost by at least two to three percent. That's our goal.
Also read: COGOS Technologies delivers 10 mn+ shipments into 300 cities in 2020

What makes intracity logistics too costly?
Goods to be distributed are spread all across the city. Not that you could take one vehicle and go around the city to deliver that it in time. So what next you have to do is to split this into smaller packages. That's what a lot of these bikers do. Now, you're adding a human element.
Your cost has now multiplied, the goods which are carried as smaller in volume, and the number of people and the channels utilizing to deliver this is quite high. The second thing is the unreliability of the spot market. Either you have to have their own fleet, or you have to have a dedicated fleet immaterial to their demand. You don't have an option for elasticity.
In the sense today, you have 100 orders. Where would you get the additional fleet capacity to deliver that? And how would you schedule this? How do you plan these deliveries? And after planning, how do you discover the capacity and how do you manage it. This is where people have been building a lot of tools and creating large groups or teams within the company's operations and logistics teams.
How COGOS is solving these problems?
If you're in the shoes of a truck driver, you are getting a job today but not sure would you be actually getting the job enough to take care of your daily earnings. You have to earn a minimum in a day. If not, it's not viable for me to operate. And second thing is, not sure that you would be getting the same kind of demand tomorrow or the day after or in through the month. To keep your costs viable, you have to increase the price. So, even a small movement, which is just maybe happening in few kilometres, you would start charging full price. The second thing is the management of your own fleet.
COGOS platform addresses both the enterprise's needs, as well as the trucker needs. We can help enterprises in demand planning, whether you need three small-sized vehicles to big size vehicles, or how do you want to distribute based on your targets or whether it is cost or time to deliver? And if it's more operational efficiency, what you're looking at, based on these combinations, we can actually create that and we discover the required fleet.
We onboard vehicles. And while onboarding, we also help them out by giving out a fleet management application, where the partners can clearly validate the credentials of the vehicles. Everything is digitally onboarded and once it is done, they can clearly see a ledger that shows today my vehicle has been 40 kilometres and my driver has used so many litres of diesel.
And for that, we partnered with Indian Oil Corporation and BPCL where we created a card and the fuel is spent through that card. So now you don't need to carry cash. If there is pilferage if there is a kind of a field theft, we can actually know through our analysis, we can clearly highlight that.
Now the trucker is purely focusing on the delivery and the job rather than worrying about his fleet because we gave him alerts on his insurance, expiring pollution check fitness, and also when to pay the road tax.
Now enterprises don't require 10 to 20 people putting attention to logistics if they give out the requirements into the platform. Probably a couple of people can fully manage this while the rest of the people can be utilized to improving their own operations.
And the end of the day, you get proof of delivery, which is completely digital. It's a geotagged picture where you know the location and the time stamp along with the proof of delivery.
Also read: COGOS partners with Altigreen to deploy 1000 EVs in logistics fleet

Tell me how well funded your company is right now and are you looking for funding right now?
We have recently acquired an enterprise division of another company and we have expanded to new regions like Maharashtra, Gujarat and Delhi, and Tamil Nadu. Our existing East and Northeast are more strengthened now. And on the funding, in this whole 2020, we have actually grown double right now compared to our previous year revenues. So, we are looking now for external funds and global funds which are talking to us we are hoping to close this funding in about next three months.
What we can expect from you, maybe in the next six months or one year?
The logistics challenge is not in metros alone. That's the reason compared to any other startup we have supported enterprises in both tier one, two and three cities. And if you see the trend in the last six months of the whole festive season sales 80 percent of the business the country has come through tier two and tier three cities. We look to add 100 more cities so grow to 400 cities and expand to 25 states.