Multimodal Logistics Parks: India's opportunity to hack its logistics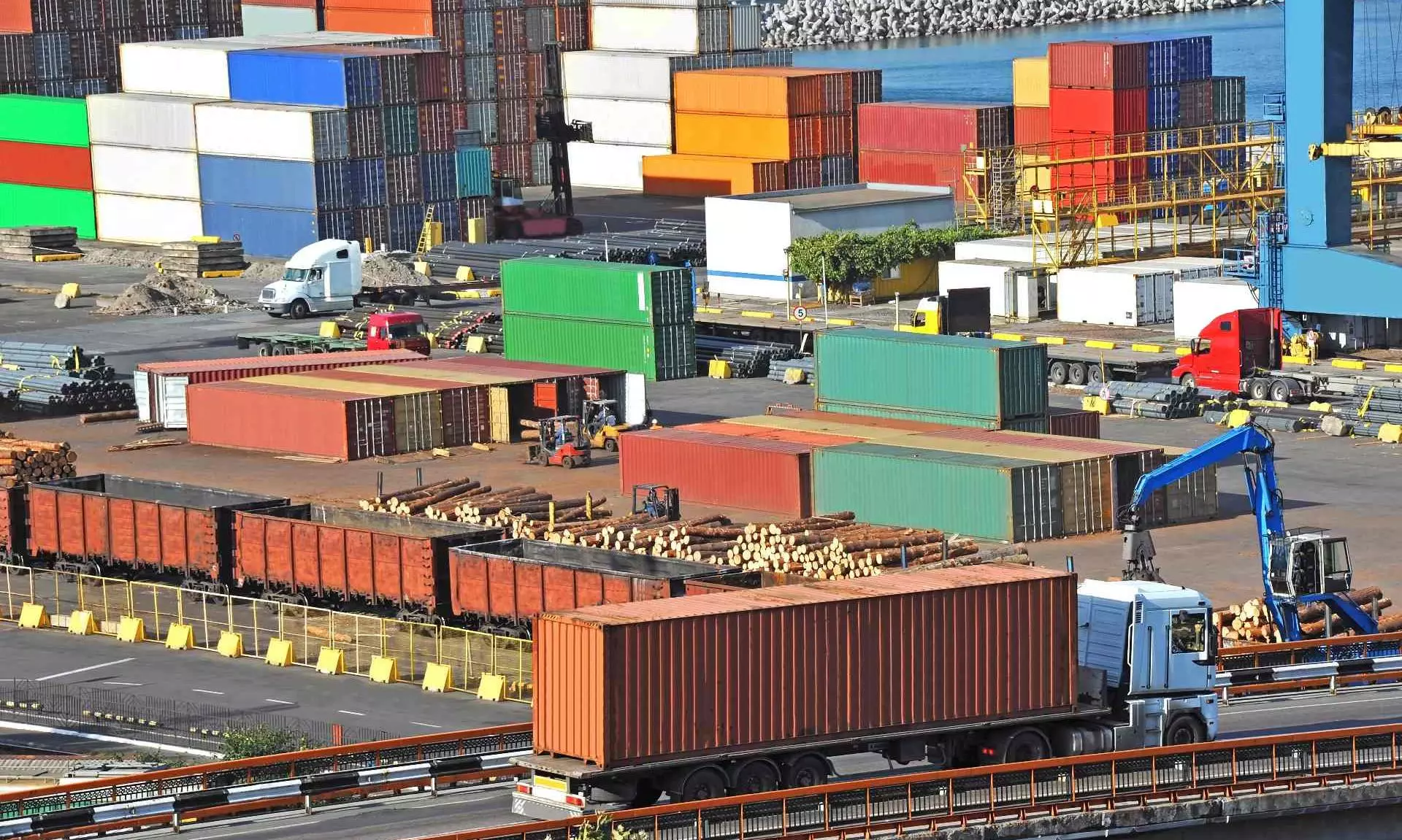 Multimodal Logistics Parks is one of the most ambitious policy initiatives from the Indian government to completely overhaul the country's logistics from the point-to-point movement to the hub-and-spoke model. But is that enough? Aren't we missing something? Are there any gaps left?
In November 2022, the ministry of road transport & highways (MoRTH) awarded the contract for setting up India's first multimodal logistics park (MMLP) near Chennai at Mappedu to Reliance Industries (RIL) after it won the bid in which Adani Logistics also participated.

MMLP Chennai is being developed on 184.27 acres and has an estimated project cost of ₹1424 crore. The MMLP will be developed in three phases with an estimated developer investment of ₹783 crore.
"Phase-1 development is targeted by 2025 leading to commercial operations. MMLP at Chennai which is located 52 km from Chennai Port, 80 km from Ennore Port, and 87 km from Katupalli Airport will be a focal point of logistics in the southern region. It is estimated to cater to 7.17 million metric tonne (MMT) cargo in a horizon period of 45 years," reads the MoRTH release.
The government of India is developing 35 MMLPs across the country, out of which 15 MMLPs are prioritised in the next three years, which are huge facilities with no comparison to warehouses or facilities currently available in the country.
The Indian government has already shown its intention to complete the bid processing and awarding of three MMLPs at Bangalore, Nagpur, and Indore by March 2023.
Meanwhile, in December 2022, The National Highways Logistics Management (NHLM), which has the mandate to develop these 35 MMLPs, had to float a fresh tender for MMLP Bengaluru. The earlier bid had resulted in a single bid scenario with RIL only entity qualified and was scrapped.
Thus MMLPs come with their own challenges and gaps. MMLPs are not the one-stop solution for all but they can solve many inefficiencies in the system. Starting from the lack of private players' participation to the lack of rail networks, the cumbersome approval process to connecting the existing infrastructure and from time it may take to the level of collaboration it demands from the industry.
MMLPs would serve as a gateway for transhipment, consolidation, and distribution, allowing hub and spoke advantages to be realised.
Anshuman Magazine, CBRE
MMLPs: a reality check
Vikash Khatri, founder of the logistics & supply chain advisory and execution support firm Aviral Consulting pointed out the lack of participation from logistics companies in the development of MMLPs. He also raised the concern that if all the MMLPs go to two or three players then the market will be tilted and competition will go for a toss.
"These are mega projects that require huge Capex. MMLPs will have rail terminals, road connectivity and all warehousing facilities. For Adani Group it makes real sense because they can connect their existing business in seaports and rail with MMLPs for the free flow of goods. But there should be more players coming into the development of MMLPs. There should be at least three to four players to ensure healthy competition," he said.
He is not sure how MMLPs will reduce the logistics costs in the country. "India has high logistics costs primarily due to its dependency on road against rail. Unless and until we build enough rail networks, the logistics costs are not going to come down."
While asked about the lack of participation from logistics companies, Srideep Sen, an independent marketing consultant, pointed out the huge capital investment needed to build big projects like MMLPs.
"As the infrastructure and investment are so huge, you will not find many private players coming into this market. MMLPs are ten times the size of normal logistics parks in India. Technically, the investment goes into billions of rupees. MMLPs did not just accommodate one part of logistics but every mode, which brought in connectivity, convenience and time management. We will only see very few real estate or big corporates working in tandem with the government for MMLPs."
Even though it is too early to judge if any gaps exist as MMLPs are in the bidding process, Karthi Baskar, managing director & CEO, FFAF Logistics India, is eager to see how the private operators connect the dots between the existing logistics ecosystem.
"With regard to government policy, we need to see how multiple ministries (nodal ministry, finance, roadways, shipping, customs, commerce, planning and state governments) handle these MMLPs approvals, integrate to facilitate trade, transparency and bring in the faster approval process," he said.
Meanwhile, Soham Chokshi, CEO & co-founder, Shipsy thinks that the sheer scale of the policy and the sector's long-pending challenges may demand time to realise significant benefits.
"To build robust multimodal logistics infrastructure, governments and businesses will need to leverage modern logistics technologies. Here real-time visibility across modes of transport, seamless collaboration with multimodal logistics stakeholders, automating freight procurement operations, tracking carbon emissions, and analytics-driven decision-making will make a winning difference," he noted.
While comparing the MMLPs getting developed in the country to the ones available in other parts of the world, Vikas Pawar, partner, Amicus Advisors, notes that these facilities will be used mostly for the movement of bulk goods like coal and cement and not consumer goods and thereby losing a huge opportunity.
"Road-to-rail conversion of coal or cement can have a significant impact. However, in the broader context, the consumer economy is not going to see the efficiency and benefits of MMLPs," he said.
That said, once implemented the benefits that MMLPS bring onboard are huge.
The sheer scale of the policy and the sector's long-pending challenges may demand time to realise benefits significantly.
Soham Chokshi, Shipsy
MMLPs: Defining the country's future
Anshuman Magazine, chairman & CEO - India, South-East Asia, Middle East & Africa, CBRE believes that these MMPLs will help in bringing the logistics costs down from the present 13-14 percent of India's GDP to 8-10 percent, a benchmark achieved by developed economies such as Japan and the EU.
"While these MMLPs will have excellent connectivity, they will also provide state-of-the-art, value-added services such as international grade warehousing, cold storage, packaging and sorting areas, product assembly clusters, a commercial zone, and a dedicated customs window to accommodate a wide range of businesses and cargo consignments of various sizes," he said.
Magazine also puts out a vision of how these massive facilities will operate. "It would serve as a gateway for transhipment, consolidation, and distribution, allowing hub and spoke advantages to be realised. Moreover, one of this ecosystem's most significant benefits will be creating over 2 lakh job opportunities in the coming years," he added.
He also thinks that MMLPs are the solution to India's logistical inefficiencies. Currently, more than 70 percent of the national cargo moves through roads and national highways causing pollution and stress on the roads.
"Though trains are still the cheapest route to move products, costing 45 percent less per tonne per kilometre than the road, three-fourths of all commodities are transported by road due to inefficiencies in rail transit," he said.
Baskar believes that MMLPs will help the industry to focus and move their manufacturing cluster closer towards these MMLPs and build a strong supply chain ecosystem, thereby building a competitive advantage.
"MMLPs at the strategic locations will enable intermodal freight movement, this will help build a complete engagement process with all stakeholders like manufacturers, logistics service providers, service users and regulators, which is expected to bring in significant efficiencies in logistics infrastructure," he said.
He also notes that these locations are identified based on city infrastructure with regard to highways, rail etc, outside high traffic perimeter and access to all stakeholders.
"MMLP will serve as a major cargo consolidation and distribution hub for cities enabling line haul movements of large loads through road, railways, airports and to last mile distribution within the city and regional areas," he added.
Meanwhile, Chokshi thinks that the MMLPs will drive efficient storage and transitioning of goods to and from dedicated freight corridors.
"These MMLPs will be built strategically to harness lesser-explored and more cost-efficient modes of goods transportation, such as inland waterways, railways, pipelines, etc., apart from the roadways that currently propagate over three-fourths of freight movement of the country. For instance, freight carriage rates for railways are much lesser than for roads. But lack of direct connectivity to manufacturing units and warehouses, delays, poor visibility over goods movement, etc., incline businesses to leverage road transportation," he said.
This article was originally published in Indian Transport & Logistics News' January- February 2023 issue.