The great Indian logistics adventure to move Covid-19 vaccines
The Indian logistics industry has already entered into a mission mode to end the Covid-19 pandemic by moving the approved vaccines to every nook and corner of the country. More than the technical challenges, it is the volume of vaccines and the speed by which it should be transported are the greater concerns for the supply chain. Air and road are t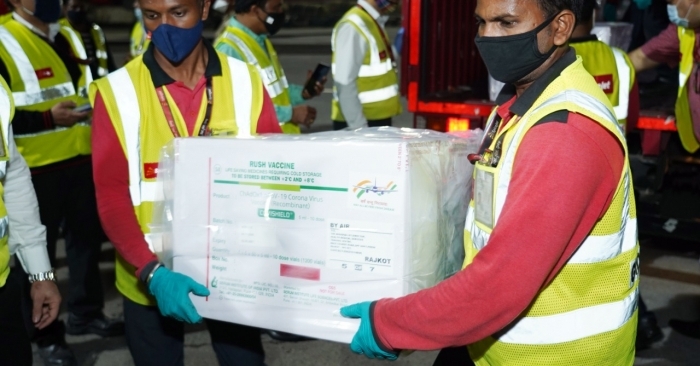 The Indian logistics industry has already entered into a mission mode to end the Covid-19 pandemic by moving the approved vaccines to every nook and corner of the country. More than the technical challenges, it is the volume of vaccines and the speed by which it should be transported are the greater concerns for the supply chain. Air and road are the two primary modes of transport that India looks up to.
On January 3, 2021, India's drug regulator Central Drugs and Standards Committee (CDSCO) approved the restricted-emergency-use of two vaccines that helps to acquire immunity against the deadly infectious Covid-19 pandemic that already infected more than one crore people and killed 1.5 lakh in the country.
Covishield or ChAdOx1 nCoV-19 is the vaccine developed by Oxford University and AstraZeneca and manufactured by Serum Institute of India (SII), whereas Covaxin is indigenously developed by Bharat BioTech in collaboration with the Indian Council of Medical Research (ICMR) and National Institute of Virology (NIV). The movement of the vaccines starts from the manufacturing facilities of SII in Pune and Bharat Biotech in Hyderabad. Both vaccines have a temperature requirement of 2 to 8 degree Celsius throughout the supply chain to keep their efficacy and follow a 2-dose schedule.
There are also other vaccines getting ready for approved in India and will be soon available in the Indian market. For example, chief executive officer of SII, Adar Poonawalla informed that it will start stockpiling 40-50 million doses of the Novavax Covid-19 vaccine candidate every month starting from April 2021.
In August, Indian had already constituted the National Expert Group on Vaccine Administration for Covid-19 (NEGVAC) to look after the prioritization of population groups, procurement and inventory management, vaccine selection and vaccine delivery and tracking mechanism. NEGVAC has designed the roll-out of vaccines following the election model to identify the population. This also means that the vaccination of healthcare workers could happen at fixed session sites while the government and the logistics have to choose outreach sites for high-risk populations.
Commencement of vaccination programme
India recorded the first movement of Covid-19 vaccines on January 12, 2021, at morning 5.00 AM when the refrigerated trucks left the manufacturing facility of Serum Institute of India to Pune Airport. Indian government noted that it received a total 54,72,000 doses of Covid-19 vaccines on the first day (January 12). On the very next day, the vaccines of Bharat Biotech were also transported from Hyderabad to different parts of the country.
In case of Covishield, each box contains 1200 vials and each vial has 10 doses in it, while for Covaxin each box has 250 vials and each vial has 20 doses.
Prime minister Narendra Modi on January 16, launched the pan-India rollout of Covid-19 vaccination drive, the world's largest vaccination programme covering the entire length and breadth of the country. On the first day, India inoculated more than two lakh people. In the first phase, India wants to vaccinate three crore healthcare and frontline workers, which is more than the population of at least 100 countries of the world. This will be taken up to 30 crore in the second round when elderly and people with serious co-morbidities will be vaccinated.
The transportation is planned in 3 parts - primary (from supplier to central government stores in Karnal, Mumbai, Chennai and Kolkata and 37 state government stores), secondary (from cold stores to regional / district level cold chains) and tertiary (from district level to town/village level for vaccination as per schedules).
Challenges in moving vaccines
India is one of the most densely populated countries in the world and has one of the largest vaccine manufacturing capacities. India's experience of a well-organized approach and advanced planning towards vaccine distribution and inoculations from its prior brushes with polio and cholera to name a few will be critical in the efficient transportation of the Covid-19 vaccine. However, concerns still persist in terms of infrastructure, skilled manpower and technology.
Amit Gulati, director, MuDiTa Express Cargo, said, "The challenge in the vaccine distribution would be linked to the speed of rollout and the timelines available to meet the vaccination goals being set by the government. These are therefore going to be packed in thermocol boxes with gel packs to maintain the 2 to 8 degree Celsius temperature, followed with a corrugated box for labelling and distribution. The primary and secondary movements would be in this format, and the tertiary one would be in insulated containers. Hence the need for packing material, gel packs, freezing equipment, and the associated parenteral for final vaccination makes this a gargantuan exercise."
Aditya Vazirani, chief executive officer, Robinsons Global Logistics Solutions, said, "In most rural areas the issues would be the storage of these vaccines, even if a vehicle can reach a destination, how would it be administered? There is a possibility of using drones to do final deliveries which are happening with a company out of Bangalore that I am familiar with (Redwing Labs) which has a range of 50 kilometres and the ability to maintain temperature, which makes it's a cheaper and viable option to make deliveries possible effectively, in smaller quantities and more frequently. The other problem arises, how fast we can educate the teams that have not handled sensitive cargo before to understand the importance as these items can't be thrown around."
Tushar Jani, chairman, Cargo Service Center, said, "The enforcement and enhancement of the infrastructure will be required and the key will be of skilled manpower for administrating the vaccine."
Manoj Singh, senior vice president & head – cargo, Mumbai International Airport (MIAL), noted, "The use of suitable technology, such as the use of refrigerated vehicles equipped with GPS and RFID for real-time updates of the vaccine movement and data loggers in cold storage warehousing amongst others, will be fundamental to meeting supply chain targets and ensuring the efficacy of the vaccine."
Ketan Kulkarni, CMO and head – business development, Blue Dart, said "The role of the vaccine supply chain would be to ensure effective vaccine storage, handling, severe temperature-control in the cold chain, and maintenance of adequate logistics management information systems. The airports and carriers for the vaccine have to be equipped to handle a large capacity of vaccine and store them for last-mile delivery."
Since the challenges are huge, logistics companies had to do their own homework and prepare for the mission.
Logistics preparations for vaccines
Since Covid-19 vaccine was one of the most anticipated products across the world and as a country with one of the largest vaccine manufacturing capacities in the world, India has been working towards preparing temp-controlled storage and transportation facilities and channels for the vaccine both domestically as well as globally. Having prior experience in mass vaccine distribution and inoculations, the government undertook several initiatives in anticipation of the vaccine roll-out. For example, the government conducted dry runs to gauge the efficiency of the distribution system across the states and to address any shortcomings beforehand.
About his company's preparation, Gulati said, "Mudita is well versed with the traditional modality of the primary and secondary distribution of vaccines, being a part of the government immunisation programme for decades. This experience will hold us in good stead in understanding and solving the logistical and operational hurdles which crop up in an operation which has multiple stakeholders."
In anticipation of the storage and transportation of the Covid-19 vaccine, Mumbai Airport has set forth an SOP that includes time and temp-sensitive handling system, real-time temperature updates, trained & experienced workforce and stringent security arrangements. Singh said, "The airport is also offering flexible slot management as well as a round-the-clock green channel facility with dedicated truck docks, X-Ray machine & ULD Buildup workstations amongst others. The airport has deployed a dedicated Covid-task force that will extend all efforts to optimise temperature management, reduce dwell time with prior special approvals from regulators and lower processing time in order to ensure an unbroken cold chain for the vaccine movement."
Hyderabad International Airport recently signed an MoU with Dubai Airports to build an exclusive vaccine air freight corridor product called HYDXB-VAXCOR (Hyderabad to Dubai global vaccine corridor).
Spokesperson, GMR Hyderabad Air Cargo (GHAC), noted, "In spite of having a Pharma Zone and sufficient capacity to handle a large volume of temp-controlled shipments, we are in the process of enhancing our landside and airside infrastructure to ramp up the quick and efficient handling of temp-controlled vaccine shipments at ultra-cool temperatures. Apart from the infrastructure, we shall also be facilitating the stakeholders by faster and safer handling of the entire cargo process of the vaccine movement at the Hyderabad air cargo terminal."
Kulkarni said, "We at Blue Dart are well prepared to successfully transport the vaccine into the remotest village and the most crowded city. We have ramped up our pharma-grade conditioning rooms located at eight strategic locations. These rooms are close to our Blue Dart Stations which helps increase our already pristine turnaround time and will aid in the speedy delivery. We have done our background work in terms of capacity requirements, i.e. materials for packaging, availability of data loggers, insulated shippers, walk-in cold room, coolant, network reach, workforce preparedness, technology investment to handle requirements in this direction."
Vazirani noted, "Having warehouses in 18 locations in the country and the understanding of managing temp-controlled requirements, setting up temporary storage facilities in each of these locations is deployable in 15 days. The teams are trained to follow processes, adding a new process is a matter of a day's training."
Collaboration
Although India has prior experience in moving vaccines, the country definitely needs an extended collaboration of both the government and private companies. The government of India is monitoring the vaccines supply chain across the country, even though manufactures are looking after the movement along with logistics players. For example, SpiceJet has announced collaborations with a number of logistics companies including MuDita Express Cargo, Snowman Logistics and OM Logistics as well as airports like Hyderabad, Ahmedabad for local movement and Brussels for exports.
Gulati said, "We are in touch with the major manufacturers of the vaccine, for planning the rollout of the vaccine on their behalf. We have entered into a strategic alliance with SpiceJet for airfreight of the vaccine and have shared our views and requirements to other domestic airlines to be able to use all available airfreight capacity in the shortest time for the greatest good."
Singh of MIAL, said, "The airport and its handling partners are preparing a robust standard operating procedure to ensure effective handling of the Covid-19 vaccine at the airport with zero margins for error. Mumbai Airport is in the process of deploying a Covid vaccine task force comprising of our cargo handling concessionaires, ground handling agents and airline customers amongst others to facilitate advance planning and collaboration between the airport and other supply chain partners, regulatory and governmental bodies to name a few. Furthermore, the airport will facilitate a dedicated 24x7 customer service cell to address pre-alerts and status queries on Covid vaccine."
Spokesperson of GHAC informed, "We are in constant touch with all vaccine stakeholders viz. manufacturer, airlines, ministry of civil aviation, and logistics companies, truckers, cool-container providers and allied service providers for the handling of the vaccine. We are facilitating all stakeholders by bringing them on a single platform by standardising SOP, which is centrally monitored so that the entire supply chain follows the laid down processes."
Kulkarni said, "The scale of coordination required at all levels for implementing a mass vaccination program is huge; with various stakeholders involved at various legs of the supply chain and backed by trained people and certified infrastructure. This includes intimate knowledge of the minute details such as packaging, storing, air and land routing, timing, carrier selection, specific handling requirements etc."
"We are in touch with all relevant authorities and involved in confidential discussions with both manufacturers and representatives of the public sector to plan for what the supply chain would look like for distribution," he added.
Temp-controlled transportation
Keeping the vaccines under strict temp-control is also an important factor during the roll out vaccines. To keep the temperature between 2 and 8 degree Celsius throughout the supply chain is a humongous task as wastage of vaccine will increase the pressure on logistics. For example, the health department of Assam on January 20 had to send a batch of 100 vials of Covishield to the laboratory after it was found frozen in the vaccine storage unit of Silchar Medical College in the state's Cahchar district.
Logistics companies are working round the clock in preparation to meet the demand for vaccine transportation. They are increasing their facilities, vehicles, containers, temp-controlled packaging systems and working towards different technologies to track and monitor the temperature.
Vazirani of Robinsons Global Logistics Solutions, said, "I personally believe that there will be a large amount of wastage and yes it does sound cynical but having personally dealt with stakeholders across all levels its extremely difficult because quality gets compromised for willingness to pay, quality gets compromised because of lack of education of handling, driving. Technology has improved this over the last 5 years with GPS positioning, tracking of routes and temperatures."
Gulati said, "The expected 2 to 8 degree Celsius temperature requirements are fairly standard for the overall traditional transport of vaccines in the cold chain. From local level refrigerators to massive walk-in chillers, the industry is well versed and capable to understand the needs of this transportation. The only challenge is the volume throughput and the allocation of resources to this exercise, given that there are finite resources and these are already aligned with the needs of various industries and products, for the cold chain transportation of goods."
Spokesperson of GHAC informed, "The Indian air logistics industry is capable of handling temp-sensitive shipments, and it has been doing it for the past several years seamlessly. However, the scale of this particular Covid-19 vaccine drive is humungous, and all stakeholders are rapidly upgrading their infrastructure and processes to cater to this demand well in time."
Kulkarni said, "We use both single-use packaging (which provides temperature stability of 48-72 hours) and multi-use boxes which provide temperature stability of 96 hours. Our Temperature Controlled Logistics (TCL) and life science experts, as well as support staff, have been trained to handle TCL shipments across all temperature ranges. Work-related process flows have been designed and rehearsed across locations where we have our conditioning rooms."
The stage is set for India's greatest test for its temp-controlled logistics industry. It is truly a great Indian logistics adventure to vaccinate the entire Indian population, at least through different phases. Moreover, the experience and the infrastructure that we are building today will help Indian logistics to be future-ready.
This article was originally published in Indian Transport & Logistics News' January- February 2021 issue.