Union Minister Sarbananda Sonowal unveils major initiatives worth ₹280 crores for upgradation of Kandla Port
India's Port, Shipping & Waterways Minister, Sarbananda Sonowal virtually inaugurates Oil Jetty No 7 at Old Kandla built with a cost of ₹73.92 crores, virtually flagged off development of multiple projects worth more than ₹200 crores at Kandla port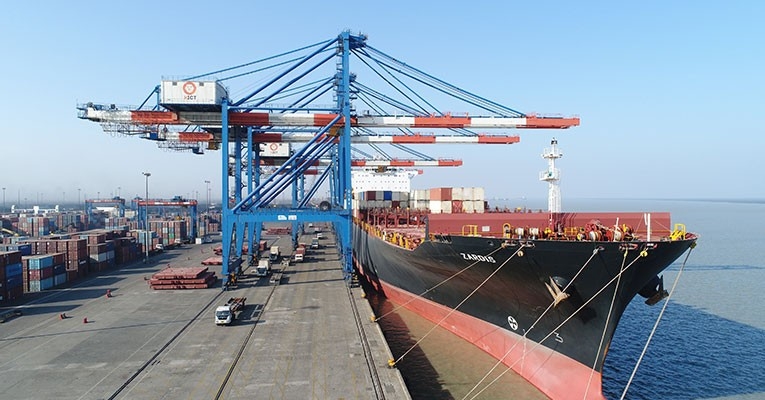 The Union Minister of Ports, Shipping & Waterways and Ayush, Sarbananda Sonowal has recently unveiled a slew of initiatives to ramp up capacity at Kandla port which is one of India's major ports. With an estimated investment of ₹280 crores, the initiatives will boost capacity at the Kandla port of Deendayal Port Authority.
Speaking on the occasion, Sonowal said, "The role of maritime trade is of paramount importance in this regard. We are building the capacity of our ports to propel opportunities for the Blue Economy to power the growth of India. As PM Modi has laid emphasis on the growth of an environment friendly, economical, smooth mode of transport, the role of maritime transport is crucial in the transformation of India to become a major player in international trade & commerce."
The Union Minister inaugurated the oil jetty No. 7 at Old Kandla which was built with an investment of ₹ 73.92 crores. This jetty, with a capacity of 2 MMTPA, is slated to enhance the liquid handling capacity of mainly edible oil to satiate the projected requirements. With an augmented capacity to handle cargo, it will bring down the waiting time (pre-berthing detention time) of vessels and other related assets.
Sonowal further added, "The potential of blue economy has many important benefits, best of which is sustainable use of marine resources for an environment friendly economic growth. With a variety of sectors from tourism to energy, blue biotech to fisheries or aquaculture, the potential of economic growth in the blue economy is particularly interesting."
Sonowal also virtually laid down the foundation stones for the development of the Back-Up Area of Oil Jetty No 8 to 10, with an estimated investment of ₹98.41 crores; the development of a four-lane road common corridor from LC-236 B to 16th Cargo Berth along the railway line, with an estimated investment cost of ₹67 crores as well as the construction of Dome Shaped Storage Shed inside CJ area Phase II - with an estimated investment cost of ₹39.66 crores. All these projects are scheduled to be completed by 2024.
With the inauguration of the jetty, more ships will now be accommodated as improved turnaround time will benefit both shipping companies as well as port users. The jetty is a T-shaped one with a length of 110 m and breadth of 12.40 m which can handle the large size of a vessel up to 65000 DWT and 13 m depth. This project has led to indirect employment of around 1000 plus and direct employment of around 250 plus employment opportunities, during the construction phase, cited a press release from Deendayal Port Authority(DPA).
DPA is the largest liquid handling port in the country. It handles all kinds of liquid bulk including petroleum products, petrochemicals, acids, liquefied gases, and vegetable oils.
Keeping the future vision and port expansion as well as per the demand of port users, DPA has initiated the action for the development of a land parcel of 554 Acres (225 Ha), in the associated Oil Jetty nos 8 to 11.The land parcel of 554 acres will be utilized for tank farm development with a tentative tankage capacity of 2.28 million KL.
The proposed backup area will be connected to the oil jetties, and the pipe racks from the jetties will be capable of feeding into both the tank farms, cited the official release along with the development of a slew of other infrastructure like four-lane roads, pavements, godowns among others.
More recently, DPA, Kandla has reportedly created a new record by handling 6,67,054 MT of cargo on 23rd January 2023, which surpasses the previous record of single-day handling of 6,65,387 MT that was achieved on 4th April 2021.