Ports & Terminals: Focal point of India's multimodal logistics vision
With the kind of structural reforms, policy interventions and improving trade relations, India is looking at a future with immense potential for economic growth. For the current Indian government, logistics has been one of its priorities towards achieving it. As it sees an integrated multimodal vision of Indian-international trade, maritime infra is taking the centre stage.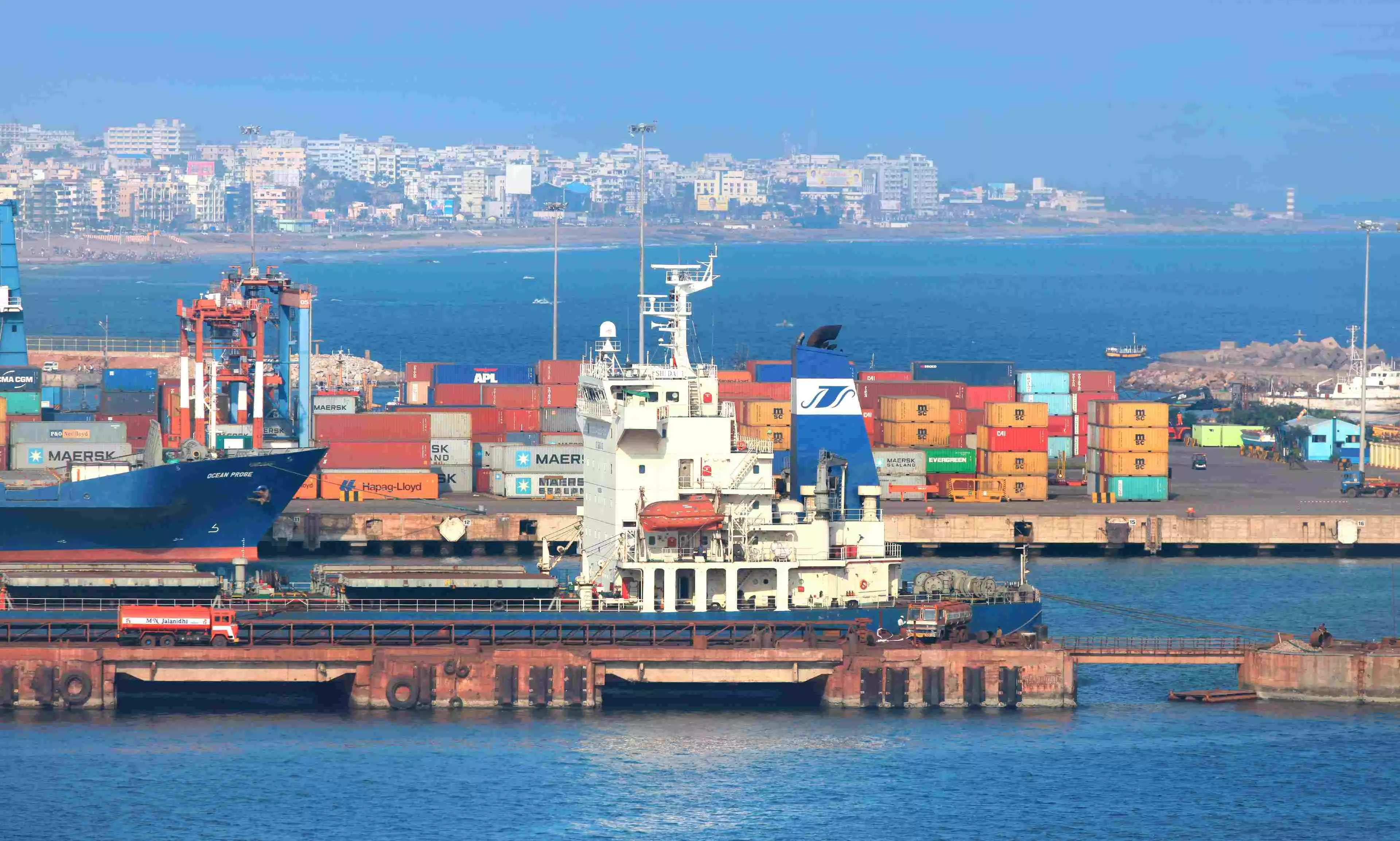 In an outlook on India's economic growth and policy platforms published in November 2022, S&P Global reported that India's real GDP growth is projected to average 6.3 percent annually in FY 2021-30, enabling it to overtake Japan and Germany to become the world's third-largest economy (in nominal US dollar terms). "These projections assume continued structural reforms, including trade and financial liberalization, infrastructure and human capital investment, and labour market reform," it reads.
The outlook particularly mentions the Production Linked Incentive Schemes (PLIS) through which the current government is boosting domestic manufacturing and facilitating large-scale job creation. "It is very likely that the government is banking on PLIS as a tool to make the Indian economy more export-driven and more inter-linked in global supply chains," it reads.
India's manufacturing exports have struggled to gain global market share, while the share of manufacturing in India's GDP declined from 17% in FY 2009 to 14% in FY 2021. "A greater share in global value chains would also contribute to India's goals of improving leverage in multilateral negotiations and gaining advantage in its competition with mainland China," the outlook notes.
To achieve such ambitious goals, India needs to strengthen not only its trade relations which are achieved through free trade agreements earlier with the United Arab Emirates, now with Australia and the one with the United Kingdom under negotiation but also its logistics capabilities, particularly the maritime infrastructure that handles 95 percent of its trade by volume and 68 percent in terms of value. The Indian government has been very mindful of the same and it is evident in its launch of Maritime India Vision 2030, Major Port Authorities Act, PM Gati Shakti and very recently the National Logistics Policy.
"Containers that use the Direct Port Entry (DPE) facility need, on an average, 100 hours less compared to the ones that come through a Container Freight Station."
Unmesh Sharad Wagh, JNPA
In fact, the Indian Ocean region is under the limelight for some time now due to its strategic importance and the geopolitical developments it has been witnessing particularly between India and China. The maritime trade and the ports located in this region are thus crucial for not only the economic growth of the country but also its security.
India has a long coastline of about 7,517 km, spread on the western and eastern shelves of the mainland and the Islands. There are total of 12 government-owned major ports and approximately 200 minor and intermediate ports. The overall installed capacity of the major ports in India has increased over 76 percent to reach 1,561 MTPA in Mar 2021, vis-a-vis 872 MTPA in March 2014. Moreover, the total traffic handled by these major ports has reached to 672 MT during 2020-21. During the same time, non-major ports in India handled a total cargo throughput of around 580 MT, taking the total cargo handled by all Indian ports to over 1,250 MT.
Sushil Kumar Singh, joint secretary (ports), ministry of ports, shipping and waterways (MoPSW), recently called PM Gati Shakti a paradigm shift in the way India plans, executes and monitors projects and has the potential to bring socio-economic change in the country.
He was talking at the two-day conclave 'PM Gati Shakti Multimodal Maritime Regional Summit 2022,' organised by Jawaharlal Nehru Port Authority (JNPA) and Mumbai Port Authority (MbPA) in Mumbai on October 17 and 18, 2022.
While talking about the demand for such a policy, he noted how he witnessed some important infrastructure projects lingering for years with issues like land acquisition, environmental clearances and other regulatory approvals as somebody who spent substantial years of his career in railways and has been involved in many projects. "All these agencies had their own unique ways of dealing with the approvals and often their priorities are not aligned with the priorities of the proposing ministry."
Talking about maritime logistics, he said, "We have a large number of capacity augmentation and modernisation projects lined up as part of Maritime India Vision 2030. As we create capacity at ports, we also need to strengthen the hinterland's connectivity. We need to have a steady road, rail and inland waterways connectivity with our hinterland to ensure better access and evacuation from the ports."
With such a vision in hand, according to him, PM Gati Shakti could play a crucial role in streamlining these projects. "Because it provides information about the last-mile and first-mile connectivity gaps. And it helps us to plan and prioritise such gaps. The scheme not only deals with infrastructure projects but also helps to reduce compliance burden, simplifying the procedures and improving ease of doing business."
The need for data on demand is higher in trade. Thus NLP Marine is going to integrate with not just 10 or 15 but hundreds of port community systems.
Manish Jaiswal, Portall Infosystems
To take note of a pain point among many, during the same event, Unmesh Sharad Wagh, the deputy chairman of JNPA raised the issue of delay in the movement of shipments that pass through container freight stations (CFS), citing a study by the customs on timelines. "In the export segment, the containers that use the Direct Port Entry (DPE) facility and come to our Centralized Parking Plaza (CPP) need 100 hours less compared to the ones that come through a CFS. On the import side also, the time Direct Port Delivery (DPD) takes much less time compared to the containers that go to the CFS."
While the event raised questions on the relevance of CFS moving forward, George Joseph, president of Container Freight Station Association of India (CFSAI) defended it by explaining the nature of the CFS business and the value it adds to its customers.
"Unlike the containers that come to the CPP which are already examined and have no further process left, exporters use CFS as a place to consolidate their cargo. The shipper gives the go-ahead depending on various factors including the sailing of the vessels. The flexibility offered by CFS is one of its uses. It gives the exporter time to plan their cargo. On the import side also, it is as per the importer's convenience and his inventory planning," he said.
Manish Jaiswal, president of Portall Infosystems, which won the tender for developing National Logistics Portal Marine (NLP Marine) last year, encountered the question of how NLP Marine will help the maritime industry to reduce logistics costs and be more efficient. He explained the history of port community systems (PCS) in India which started 14 years back. He called NLP the natural next stage of PCS with different requirements as PCS was driven ports and NLP is by the trade.
"Requirements of trade are completely different from that of what ports were doing. The need for data on demand is higher in trade. Trade wants to know what is happening. At every stage, they want to know where is the cargo. Thus NLP Marine is not just going to integrate with 10 or 15 but hundreds of port community systems," he said.
He noted that he was dealing with many countries for national single windows and none of them has it but there are port-specific single windows. "We are fortunate to have a single window across the country. The data on these platforms will serve three purposes. These are reactive, proactive and predictive data," he said.
With the emphasis on port-led industrialization, inland waterways and rail capacity, the share of the road is expected to come down drastically.
P.L Haranadh, Paradip Port Authority
One major focus of all policy changes in the country is the higher logistics costs and their share in the total GDP of India. P.L Haranadh, chairman of Paradip Port Authority, who also took additional charge as chairman of Syama Prasad Mookerjee Port, Kolkata, made an observation about the same in November 2022 during the Multimodal Maritime Regional Summit in Bhubaneswar. From the maritime logistics perspective, he noted that there are two factors that increase the logistics cost: the dependency on road mode for connectivity and the location of industrial production houses far away from ports.
"As of date, the modal mix is skewed towards the road traffic with a 34 percent share. The distance that the cargo is expected to travel in India till the port is around 500 km on average because the industries are not located close to the coastal region but deeper in the hinterland. However, in the next 25 years, with an emphasis on port-led industrialization, growth of inland waterways and the railway capacity augmentation, the share of the road is expected to come down drastically," he said.
One thing that is more than evident is how both the Indian government in terms of policy and the private sector in terms of business priorities, are consciously trying to bring changes in the way India moves goods. And from any standard, it is clear that maritime logistics is at the centre of how India envisions its multimodal future. Road infrastructure projects, rail projects like the dedicated freight corridors, incentives like PLIS and SEZs supporting port-led industrialization all lead towards connecting to its maritime infrastructure.
This article was originally published in Indian Transport & Logistics News' November- December 2022 issue.