Open innovation, acceptance, resilience big gains of maritime digitalisation yet
From a comparatively conservative industry, maritime logistics has grown to have a vibrant startup ecosystem through open innovation, attracted tech giants and brought resilience to its stakeholders with digitalising operations across ports, terminals and shipping companies. However, leaders need to further articulate the vision for why it wants digitalisation.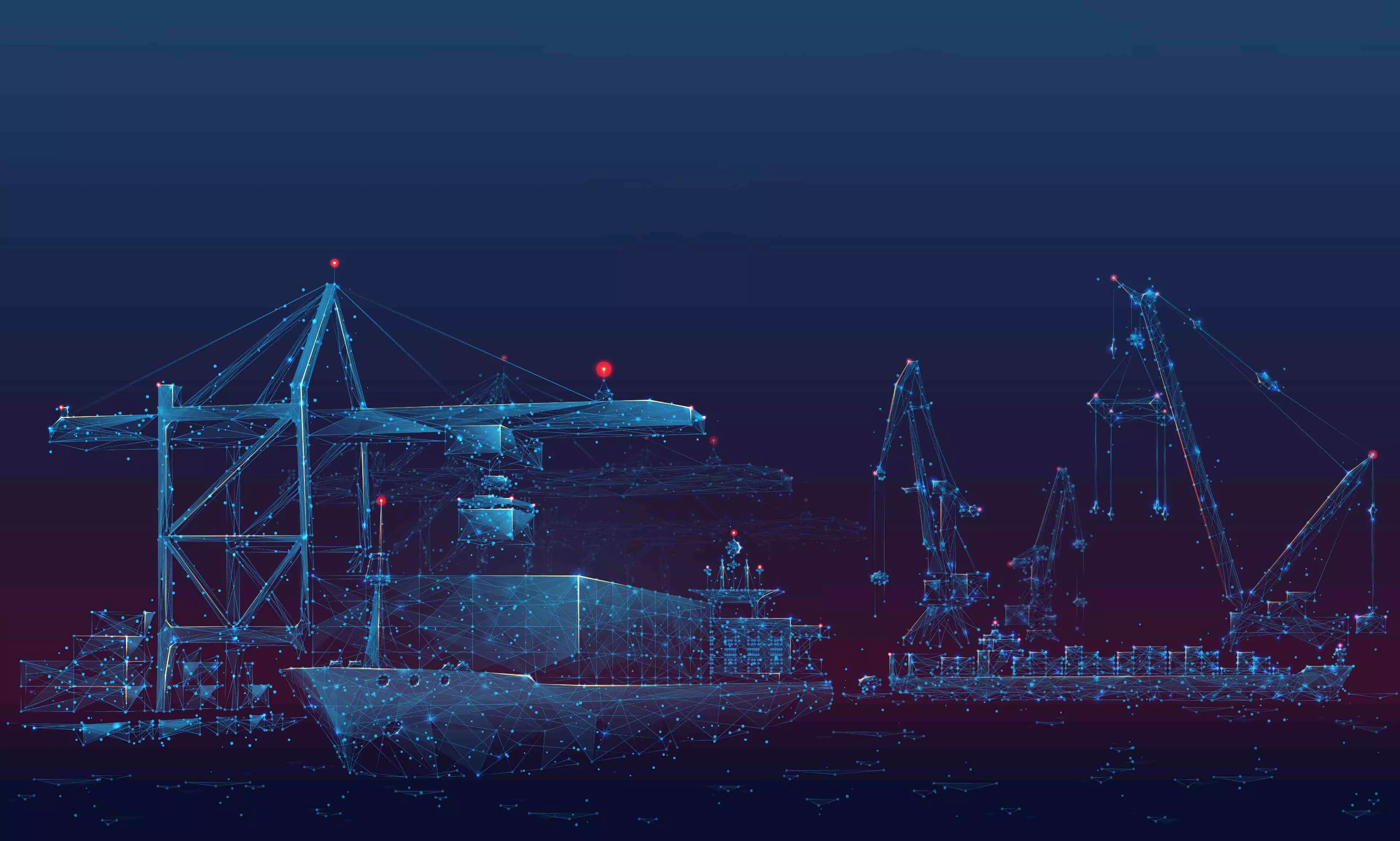 A recent joint study titled 'The Network Effect: Strategising Connectivity at Sea for Maximum Impact' by British satellite telecommunications company Inmarsat and maritime consultancy company Thetius reported that the demand for connectivity is exponentially growing as terrestrial and satellite connectivity technologies have already helped shipping to advance its digital capabilities at sea and technologies such as artificial intelligence (AI) and big data analytics gather momentum.

"The development of satellite connectivity in recent decades has helped to propel shipping into the digital era. Yet as the maritime regulatory landscape evolves, and shipowners place ever-greater emphasis on crew welfare, decarbonisation and digitalisation, demand for connectivity is soaring," writes Ben Palmer, President, Inmarsat Maritime in its forward.
According to another Inmarsat study, maritime data usage associated with shipboard business applications increased by 131 percent from June 2021 to June 2022, with crew-related data consumption growing by 149 percent in the same time frame. "Data and connectivity are clearly critical to the shipping industry's ability to overcome its current challenges and achieve its long-term ambitions, but simply purchasing bandwidth is no longer enough," it reads.
The tangible effects of digitalisation in maritime logistics are visibility, transparency, and accountability along with the data coming out of these factors and the following analytic results. These factors can have a direct impact on productivity and cost. However, to map out the future course of action, the maritime industry needs to know where it is standing today with all the milestones it has already achieved and what are key gaps left unattended. While opening innovation with a vibrant startup ecosystem, industrywide acceptance of digital solutions and resiliency are the key milestones crossed, gaps include lack of clear vision among its leaders, lack of interoperability, the need to mitigate threats, and predict uncertainties.
"They're creating a vibrant ecosystem of startups, which is a huge achievement for a conservative industry and is something that we should take into high regard."
Juan Jose Gil, Aventra Digital
Digitalisation is the priority for all
Juan Jose Gil, CEO of Aventra Digital, a boutique IT company specialised in maritime providing data orchestration and advanced analytics to ports, terminals and shipping companies, said that they faced data and digital immaturity in the beginning. "Ports are ahead in the game when it comes to the use of data and digitalisation compared to shipping companies and terminals. That comes from a very understandable principle that ports suffer heavy competition," he said.
Ports follow the landlord business model and are fixated on one location thus they need to attract a lot of traffic and if they don't transform their business neighbour ports can take their business out. "With digitalization, the location can be irrelevant because some other port miles away can just set up a competition with better digital and data services," he added.
When it comes to shipping companies, he noted that digitalisation is a big lever for particularly the top ten shipping companies to define their leadership position. He also pointed out the role it will play in the trends among shipping companies that are increasingly offering integrated logistics services and vertical integration. "Transparency has become very important for shipping companies, especially for their end users, who want to know where their cargo is, 24/7. They're transforming their services into e-commerce mode, where customers can buy the service through a portal and track orders," he said.
However, he noted that terminals are last in the run for digital transformation. "It is not negligence but the pure nature of business," he said. According to him, terminals have less competition compared to ports or shipping companies.
FIATA (International Federation of Freight Forwarders Associations) advisory body for information technology chair Tej Contractor opined that the journey with carriers has been a rollercoaster ride over the past few years. "Currently, we are in a unique place, as carriers force their users to use digital tools to inform the carriers, if and when there are space constraints. The intention is to speed up digitalisation. However, the results may vary once normality has returned. We have seen a big downward trend in rates and carriers entering the integrated logistics space, so digitalisation remains a priority for all. Interoperability is the missing link," he said.
On the same line, Harpreet Singh Malhotra, managing director of Tiger Logistics, a 22-year-old BSE-listed freight forwarder that claims 50 percent share in India's two-wheeler exports, complained that even though every stakeholder is doing their own bit, there is nothing much on a macro level. "Nothing much is happening. Shipping lines are digitalising their own operations, ports are digitalizing their own while freight forwarders like us are coming out with their own platforms," he said.
Sanjay Bhatia, CEO and Co-founder of Freightwalla, informs that, in the current scenario, the industry, especially in developing economies, is still very manual and largely driven by traditional freight forwarders. However, he believes that digitisation in logistics and maritime transport will witness a multi-fold development in the upcoming years. "The adoption of technology at every touch point of the logistical process by manufacturers will help the Indian logistics industry usher in a new era," he said.
"We have seen a big downward trend in rates and carriers entering the integrated logistics space, so digitalisation remains a priority for all. Interoperability is the missing link."
Tej Contractor, FIATA
Milestones of maritime digitalisation
On the contrary, Gil argues that the biggest achievement of maritime digitalisation is that both ports and shipping companies are working towards open innovation. "They have innovation funds, accelerators and incubators to bring in startups to transform the industry. They're creating a vibrant ecosystem of startups, which is a huge achievement for a conservative industry and is something that we should take into high regard," he said.
Another tangible effect that he could point out is the arrival of big tech companies into this space. He gave examples of Maersk and IBM collaborating to create the blockchain-based data exchange solution TradeLens, Microsoft investing in the energy transition and Starlink launching Starlink Maritime by 2023. "And we will very soon see moves from Amazon as well. All this will generate a lot of acceleration," he said.

However, according to Gil, where these companies are really lagging behind is in terms of internal digital transformation. "Open innovation and digital transformation are two sides of the same coin. If they don't transform themselves, they're not going to reap the benefits of open innovation. Because at the end of the day, the new game is data. Startups and open innovation are generating data. But if they don't combine that data with the in-house data, then they're not going to get the advanced analytics that they want," he said.

According to Contractor, the single biggest milestone is acceptance. "It is after acceptance that we see successful rollouts taking place. Whether a government body or a private organisation, we see across the board that the acceptance to take on digitalisation projects is at an all-time high, and the legislation is supporting it too," he said.

Thus he mentioned United Nations Commission On International Trade Law's (UNCITRAL) Model Law on Electronic Transferable Records (MLETR) which aims to enable the legal use of electronic transferable records, both domestically and across borders. "In order to go digital, legislation is required. It does not matter how much progress we make in technology, if there is no legislation, bottlenecks will be encountered with acceptance, and early adopters of the MLETR will benefit faster than others. In India, the private industry made progress in digital tools for customs clearance, single window and e-Sanchit, which are progressive tools towards digitalisation. Today, the government is leading by example and supports the industry," he said.

Vineet Malhotra, co-founder & director of Kale Logistics Solutions, pointed out resilience as the single biggest achievement of digitization in maritime. "During an uncertain time, when business continuity was a question, technology paved a path out of nowhere. Hence, with technological intervention even the impossible becomes possible. Currently, the industry believes delaying a digital transition will lead to higher trade costs, lower competitiveness, and lower business growth. And that is the impact caused by digitization," he said.

Meanwhile, Malhotra of Tiger Logistics, who complained about no macro-level digitalisation also feels that small and medium enterprises (SMEs) are out of this ecosystem. His company is coming out with its own digital price discovery and booking platform by the end of this year, as he sees digitalisation as a sales vertical and a tool for deeper market penetration, especially among SMEs in remote locations of India. "SMEs who have no access to big forwarders will be able to access this platform and can book their shipments through us and get exact freight rates which are prevailing at the moment," he said.
"Currently, the industry believes delaying a digital transition will lead to higher trade costs, lower competitiveness, and lower business growth."
Vineet Malhotra, Kale Logistics Solutions
Looking at the future through pain points
For Gil, the lack of clarity among leaders is the biggest pain point in maritime digitalisation. "Clarity is all about what they want to achieve with their digital transformation. People are talking about the symptoms or the technology, but rarely, they speak about what they want to achieve or what type of company they want to transform," he said.
"And when they don't have that clarity in mind, they are just going to start to do digital, but are not going to become digital. Digital transformation is all about a vision," he added.
Contractor opined that it is very difficult to predict the future, as he points out the advancements in technology such as 3D printers and e-commerce. "In the short term, we foresee an increase in visibility, transparency, and interoperability. These are the current challenges that exist which are of high importance," he said.
The areas where most stakeholders are lacking, according to him, are speed and efficiency. "The "Now" factor is becoming more and more important to users, whether it is for goods or food deliveries. A few years ago, it was normal to order something online and wait a few days for delivery. Since the launch of Amazon and its Prime delivery, goods are delivered on the same or the next day. The same is for cargo, what most customers are looking for today is information, so whether it is price, information about their goods, or their documents, the need to get it now is what we see as a pain point in which digitalisation will have its greatest success," he added.
Malhotra of Kale Logistics Solutions thinks mitigating threats and predicting uncertainties will be of paramount importance in the near term. He also pointed out reducing carbon emissions as another important aspect. "It is believed that at least 3-4 per cent of carbon emissions worldwide are contributed by the shipping industry. To overcome that risk, digitization is considered the optimal solution. Fortunately, these trends are in line with the FAL Convention amendment by International Maritime Organization (IMO). According to the mandate, mitigating threats, preparing for another uncertainty, lower carbon emissions, data standardization, and implementing a single window mechanism is mandatory for all ports worldwide," he said.
On the same line, Bhatia noted that disruptive technologies like AI and machine learning (ML) have been employed to predict precise Estimated Time of Arrival (ETAs) and delays at ports based on processing signals. "While only metropolitan and semi-urban players have implemented this technology in India. Rural India is now not accessible to this cutting-edge technology, but this is anticipated to alter in the future," he said.
He believes that the industry is poised to witness a spurt in disruptive technologies like AI and ML impacting various supply chain processes, including route optimization, real-time tracking of shipments, performance forecasting, warehouse management or live temperature monitoring of cargo. "Blockchain technology facilitates the digital storage and sharing of all necessary shipping documents in a decentralized and immutable manner, which prevents data manipulation. The robust application of these deep technologies can also lead to increased transparency and cost savings," he added.
This article was originally published in Indian Transport & Logistics News' November- December 2022 issue.