GPLS 2022 is putting the focus where it should be: patient care, patient cure
Global Pharma Logistics Summit 2022 will be held on October 13, 2022, at The Leela Hotel, Mumbai.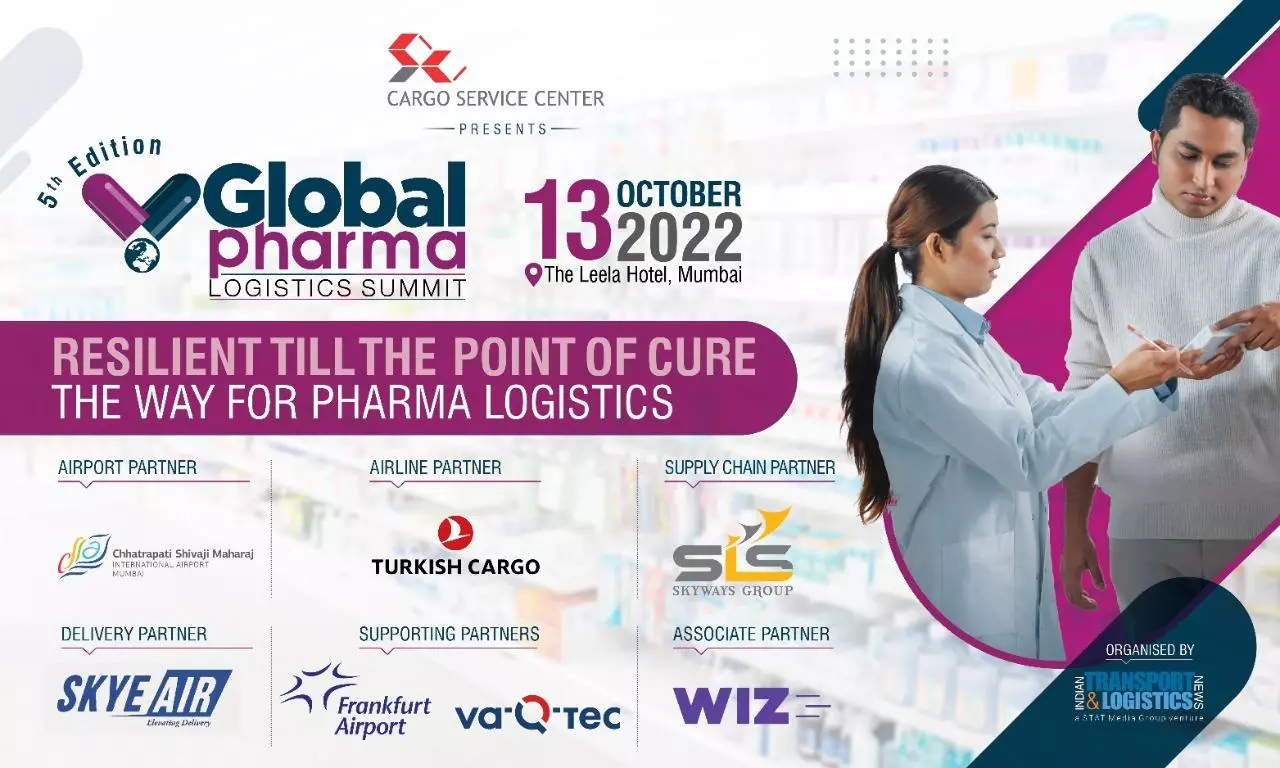 Indian Transport & Logistics News is happy to announce the fifth edition of its premier pharmaceutical supply chain event: Global Pharma Logistics Summit, to be held on October 13, 2022, at The Leela Hotel, Mumbai.
Presented by Cargo Service Center, GPLS 2022 has Mumbai International Airport - Adani Airports as the Airport Partner, Turkish Cargo as Airline Partner, Skyways Group as Supply Chain Partner, Skye Air as Delivery Partner, va-Q-Tec and Frankfurt Airport as Supporting Partners and WIZ Freight as Associate Partner.
The one-day conference and networking event is putting the focus where it should be: patient care and patient cure with its theme "Resilient till the point of cure: The way for pharma logistics"
As Tushar Jani, group chairman, Cargo Service Center, puts it, "The way to a resilient pharma supply chain is through resilience management till the point of cure."
"It's a great honour and pleasure to invite you all to participate in the Global Pharma Logistics Summit 2022, where we will discuss ideas on how to further improve our industry's resilience through better information sharing, collaboration, and more effective risk mitigation strategies," he added.
The purpose of having the shippers lay out their concerns, the reason to bring all pharma logistics stakeholders under one roof and the need to frame the right questions, all boil down to the very fact that the industry needs to treat each disease and take care of one patient at a time.
Halit Tuncer, Cargo Director South Asia at Turkish Airlines, noted that having all stakeholders under one roof is to jointly work for one purpose and that is to save life on time. "And we must strive to induce a sense of awareness and reach out to the most needy cost-effectively," he added.
The event intends to help the industry articulate this very purpose by debating and discussing the pain points across the supply chain and help create a roadmap for patient care and patient cure.
Yashpal Sharma, Managing Director, Skyways Group believes that the forum will be a great platform to deliberate on how there is a need for specialized and digitally enabled solutions to optimize cost and manage last-mile deliveries in healthcare logistics. "The Global Pharma Logistics Summit 2022 brings some of the best minds from across sectors including shippers, suppliers, customers and freight forwarders under one roof. I am looking forward to the interactions and knowledge-sharing sessions at the event," he said.
Logistics companies often require specialised teams to handle pharma shipments and deal with hospitals, pharmacies, clinics, health centres and particularly the manufacturers or shippers. Thus it is crucial for the logistics partners to listen to the collective consciousness of the people who own the cargo. This is why you will see a large percentage of shippers in our speaker list.
Ravi Kumar Tummalapalli, managing director, va-Q-tec India, calls this an opportunity for the shippers, forwarders, airlines and the packaging solution providers to bring the pain areas to the platform for discussion/debate. "We have seen the need for such collaboration during the last 2 years of unforeseen situations which needed a swift, accurate, innovative solutions to get the medical health to the remotest locations. This gets more complex when the product needs temperature control to secure the potency of the medicines. All this cannot be expected without the collaboration from all industry stakeholders, inputs from which have to be closely knitted with the regulatory framework for support. I look forward to this event eagerly and I promise this will be an event most sort after to hear from the experts and the people who make a difference in delivering value to the patient," he said.
Satish Lakkaraju, Senior Vice President Global Head – Air Freight & Pharma, WIZ Freight, also showed his excitement to be part of GPLS. "GPLS is a very well-curated event and has always been a great platform for all the stakeholders to share their outlook of the industry and formulate strategies for coming years. I am personally looking forward to this year's event," he said.