No space to store goods in U.S, Prologis says
Warehouse space is effectively sold out in the U.S as demand has pushed the vacancy rate to a new low of 3.9 percent. "What is available is increasingly more expensive. Logistics customers must move fast to lock down space," Prologis, a global leader in logistics real estate, said in its update on Industrial Business I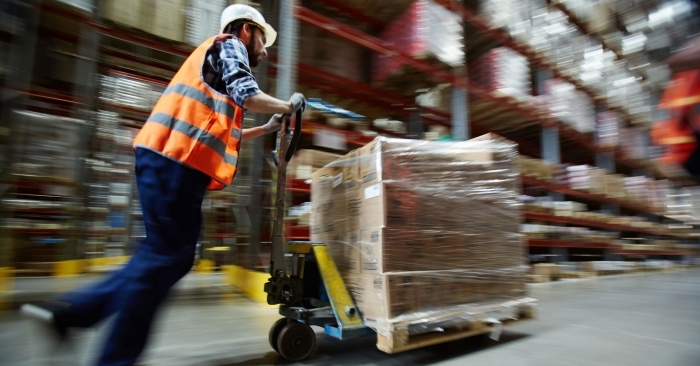 October 28, 2021: Warehouse space is effectively sold out in the U.S as demand has pushed the vacancy rate to a new low of 3.9 percent. "What is available is increasingly more expensive. Logistics customers must move fast to lock down space," Prologis, a global leader in logistics real estate, said in its update on Industrial Business Indicator (IBI).
Strong retail sales and supply chain challenges are driving urgency in leasing, Prologis said. Net absorption reached a record high of 115 million square feet (MSF) in Q3 and 280 MSF year-to-date — more than double the same period last year.
Prologis owned or had investments in projects expected to total approximately 995 MSF in 19 countries.
Extreme competition for modern products has pushed rent growth to a new record of 7.1 percent quarter-over-quarter. "Even though construction pipelines are at all-time highs, construction delays and record pre-leasing point to persistent shortages of space," the report said.
Even as there is no space to store containers, the ports of Long Beach and Los Angeles have decided to collect surcharges from ocean carriers on import containers that dwell on terminals.
"The ports will charge ocean carriers for each container that falls into one of two categories," an official statement said. "In the case of containers scheduled to move by truck, ocean carriers will be charged for every container dwelling nine days or more. For containers moving by rail, ocean carriers will be charged if the container has dwelled for three days or more."
No let-up in ships

(Source: Seaexplorer as on October 27, 2021)
Starting November 1, the ports will charge ocean carriers in the two categories at $100 per container, increasing in $100 increments per container per day.
"We must expedite the movement of cargo through the ports to work down the number of ships at anchor," said Port of Los Angeles Executive Director Gene Seroka. "Approximately 40 percent of the containers on our terminals today fall into the two categories. If we can clear this idling cargo, we'll have much more space on our terminals to accept empties, handle exports, and improve fluidity for the wide range of cargo owners who use our ports."
The two ports together account for more than 40 percent of containers imported to the U.S
"While the underlying principle of this measure reflects initiative on the part of the ports, we believe that there are many layers to this problem which will need attention from all decision makers and stakeholders," said Dr. Johannes Schlingmeier, co-founder and CEO, Container xChange, an independent platform for buying and leasing containers.
"It is important to reflect on the problem of the record volume and congestion problem at these ports and identify who could possibly play a key role in reducing the congestion. The intermodal stakeholders like the truckers and rail transport play a vital role in delivering the boxes on time. As much as they are important to the situation, they are beyond the capacity and control of the carriers and these charges to the carriers will likely not increase trucking supply.
"What we foresee resulting from this decision is an added burden passed on to the shippers from the ocean carriers who are the customers of the carriers. Hence, there will be limited impact of this measure on the improvement of cargo movement and congestion at the LA and LB ports if we look at it in isolation."
Maersk had earlier issued a customer advisory saying: "Naturally we understand this puts all parties in a rather difficult situation as truck, chassis and warehouse capacity are all extremely stretched."
Net absorption to be 375 MSF
In Q3, Prologis's IBI activity index declined to 66 from 71 in Q2 in line with a 350 MSF+ annual run rate of logistics real estate demand. The utilisation rate stayed in the 84-85 percent range, in line with the long-term average. "Retailer inventory-to-sales ratios were still at historically low levels, showing that inventories have a long runway for growth," the report said.
Prologis Research is forecasting net absorption of 375 MSF and deliveries of 285 MSF for the full year. The vacancy rate is expected to stay near its historic low through 2022.
Elevated demand, rising replacement costs and low supply are likely to produce rent growth of nearly 19 percent in 2021, the report said. "Looking ahead, we expect that market conditions will remain exceptionally competitive for customers looking to expand, making it essential to plan early and move quickly."
Demand pushing up corporate revenues
Increased demand for products has seen corporates from different sectors - freight forwarders to airlines - report unheard-of results in Q3 and nine-months ended September 30, 2021.
Freight forwarder Kuehne+Nagel, for example, reported 47 percent turnover growth on strong global demand for transport services.
Denmark-based freight forwarder DSV reported a doubling of net profit to DKK 8 billion on higher sea freight rates and huge demand for air freight.
United Airlines is expected to end 2021 with a cargo revenue of $2 billion on higher freight rates and strong demand.
Cargo revenue for global airlines is expected to rise to a record $175 billion in 2021 with a marginal decline to $169 billion in 2022, according to the International Air Transport Association (IATA).
Sept retail sales decline; inventory levels diverge
Meanwhile, U.S. retail sales fell to $535.9 billion in September, the lowest level since March 2021, and the fifth month-on-month decline in retail sales.
Despite the month-on-month declines, US retail sales in September were still 12.5 percent higher than September 2020 and are more than $100 billion above what they were in 2019, according to the Shipping Number of the Week (SNOW) from BIMCO, an international shipping association.
In the first nine months of the year, US retail sales are up 19 percent compared with the same period in 2020 and 20.6 percent from 2019.
"The US inventory to sales ratio remains very low compared to pre-pandemic years," said Peter Sand, chief shipping analyst, BIMCO. "This is almost entirely due to the strong sales as inventory levels are currently only slightly lower than what they have been in recent years. However, for the inventory to sales ratio to remain stable, inventories should have grown at the same pace as sales. This has not been the case.
"The current supply chain crisis means it will take many months for inventory levels to be back at comfortable levels compared to sales. BIMCO expects this ratio to remain higher than its pre-pandemic level despite the end to direct government stimulus measures. Retail sales will however likely remain higher than their pre-pandemic levels due to strong private savings and a change in consumer behaviour."
The inventory-to-sales ratio has been on a declining trend for both manufacturers and wholesalers, and stable since April 2021 for retails, according to an analysis by Sea-Intelligence, a leading provider of research & analysis for the supply chain industry with a focus on container shipping.
"However, when we see at the underlying inventory levels, inventory replenishment for manufacturers and wholesalers continue to grow rapidly, and in both cases, the levels are now above any previous level measured since the data started in 1992. For retailers however, there has been a continued very low level of inventory," said Alan Murphy, CEO, Sea-Intelligence.
Part of the physical problems in the supply chain in the U.S. is capacity problems in the warehouses, Murphy added. "Seen from the perspective of the inventory size measured in $ value, we are indeed at a new record high level of $2.08 trillion in August. This is up 7.4 percent compared to August 2020 but is up only 1.4 percent compared to August 2019. From that perspective, it appears a little perplexing why a 1.4 percent increase over two years should cause such problems. The reason is that whilst the overall inventory change is not substantial, there is instead a massive shift in terms of the business sectors holding the inventory with manufacturers and wholesalers up by 6 percent-7 percent over August 2019 and 7 percent-13 percent up Y/Y. This is very likely part of the problem as some sectors see rapidly escalating inventories, meaning they need to get more warehousing space leading to the shortages, whereas other warehousing space is held by sectors not seeing an increase."