Need for quick shift to multi-point pickup behind medical oxygen logistics chaos
April 29, 2021: Along with the sudden surge in demand, the logistics companies blame extremely spread out locations of sourcing points (distributors and manufacturers) that caused a sudden shift to a highly dynamic multi-point pick up model, to which most of the traditional logistics players were unfamiliar with, as the challenge in the medical oxy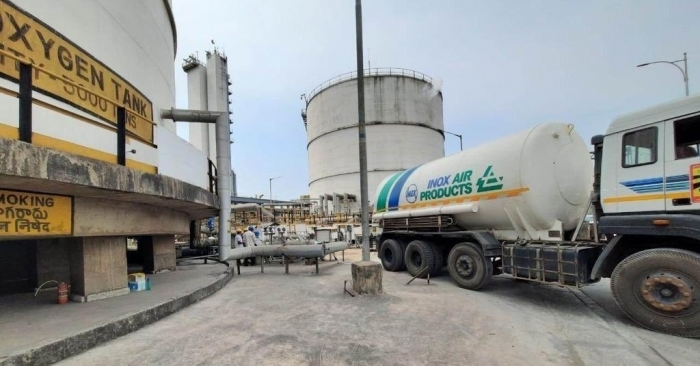 April 29, 2021: Along with the sudden surge in demand, the logistics companies blame extremely spread out locations of sourcing points (distributors and manufacturers) that caused a sudden shift to a highly dynamic multi-point pick up model, to which most of the traditional logistics players were unfamiliar with, as the challenge in the medical oxygen supply chain in India.
India is going through a deadly second wave of Covid-19 pandemic and is crossing its own records every day in terms of new infections and deaths. The country's medical sector itself is under tremendous pressure due to the lack of beds and health professionals to look after the ever-increasing number of patients. However, the most important problem faced by hospitals across the country was the sudden shortage of available medical oxygen.
An interesting thing to be noted is the fact that India still has a sufficient quantity of medical oxygen available and the production is enough to cater to the increased demand as well. However, the challenge was identified as the logistics of medical oxygen.
The logistics professionals gave a range of reasons including the sudden surge in demand, unexpected shift to multi-point pick-up model, fragmented nature of the market, unavailability of customised trucks against the demand, lack of investment into pipelines and the black market.
Rahul Mehra, co-founder, Roadcast, informed that the entire transportation network has failed to support the cause due to the highly spread out location of these distributors and manufacturers & considering that interstate transport takes about 2 – 4 days.
"The oxygen cylinder market in India is highly fragmented. In most cities, the majority of distributors are small scale localised players. The current demand has also resulted in hoarding and black marketing of cylinders that have, in turn, created a shortage," he said.
Rhitiman Majumdar, co-founder, Pickrr, said, "Due to the sudden surge in the demand for medical oxygen, the supply became a multi-point pick up system, as we call it in logistics, and became very dynamic. The sourcing started to shift very easily from one region to other which is not very conventional, especially when it is under a lockdown. And if you call in Tier 2 cities it is even more difficult."
"It is not a problem as such in terms of the whole supply chain. It is just that the supply became so random that the pick-up places changing in every day and hour," he added.
Majumdar pointed that it became very difficult for a traditional logistics company to do that because they are not used to these kinds of models.
"For example, we have people coming to us and ask if you can do this kind of delivery or deliver from this part of the region. And it will keep on changing. It has suddenly become more like an e-commerce supply chain model where they have multiple vendors," he said.
"The technology players can give visibility but not an arrangement for pick up and drop in. This is where we come in and what we could offer. This is exactly what we do for e-commerce. And this is the right thing to do," he added.
A key expert from an important Indian air logistics firm distilled it as "mafia, lack of fitted trucks and a bit of politics."
A top official of a multinational temp-controlled solutions provider blamed the poor medical infrastructure. "Historically the government has neglected the healthcare. In the budget, they allocate pennies for spending on healthcare, where even that small petty amount goes into the hands of middlemen for upgrading the infrastructure and facilities."
CV Kumar, chief executive officer, CCI Logistics, noted that it is a combination of factors that has led to this situation including the large hospitals that haven't invested in setting up their capacity of medical oxygen. He even blamed leaky pipelines, which were never checked and audited after installation.
"Normal requirements of medical oxygen is limited and catered to by distributors. The sudden escalation in cases and spiked the demand which 8s difficult to cater to," he said.
"Liquid oxygen requires cryogenic tankers which are custom built. The current tanker availability matches the normal demand. There was no additional cryogenic tanker capacity to handle this sudden surge in demand," he added.
Mehra noted that the highest requirement of oxygen is in larger cities with more population density and that they have never anticipated oxygen would require frequent intercity movement on a daily basis.
"As far as transportation is concerned, our exiting logistics network is already engaged in the movement of essentials – fruits, vegetables, medicines, petroleum etc across states. Oxygen earlier required monthly or a fortnightly logistics, now needs to be moved every day across cities and that too continuously," he said.
"While the supply of trucks and vehicles has not increased significantly in the last 6-8 months, the demand has and existing transporters are finding it hard to cater to this massive increase in the requirement. Also, with revenues being lower than usual, it is also difficult for existing smaller players to invest in vehicles at the moment, which may not be required once the pandemic is over," he added.
Dhruvil Sanghvi, CEO, LogiNext, said, "While there is a fair supply of oxygen that exists, there is a disconnect when it comes to distribution chains. That said, there are proactive steps being taken to mobilise delivery partners for this purpose. The startup community in Mumbai has reached out to the Brihanmumbai Municipal Corporation (BMC) to offer logistics support for oxygen delivery. LogiNext is in the process of launching a service in collaboration with over 50 delivery platforms in the country to help deliver oxygen cylinders, which should be ready to go live by early next week. The service will integrate an oxygen delivery option in addition to the regular delivery requirements that the platforms address."