Mobile data capture: easily scalable automation for Indian logistics
Despite the turmoil of 2020, Indian logistics has proven itself resilient. While Covid-19 has exposed some vulnerabilities, it also shone a light on underexploited opportunities for the sector to expand beyond previous estimations through digitization.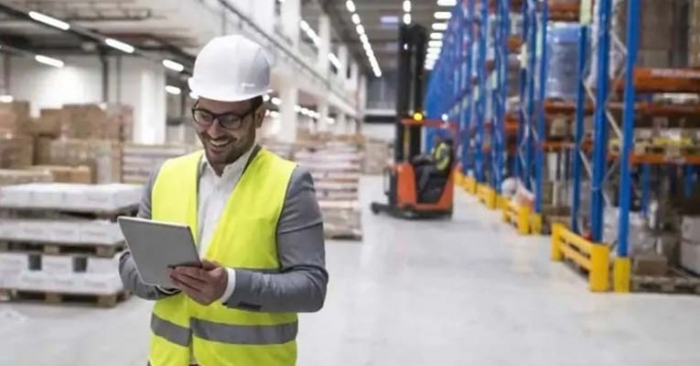 Despite the turmoil of 2020, Indian logistics has proven itself resilient. While Covid-19 has exposed some vulnerabilities, it also shone a light on underexploited opportunities for the sector to expand beyond previous estimations through digitization.
In this blog, Ebin Thomas of Anyline explains how the integration of data capture technology into standard smartphones can bring hitherto unheard of visibility to Indian logistics operations, and find hidden efficiencies throughout supply chains, from the warehouse floor to the customer's front door.
With the gradual rollout of Covid-19 vaccines around the world, it is natural for business leaders to hope for some return to normalcy after struggling through a bruising year. During this time, our logistics networks have proven themselves to be the arteries of industry, keeping the world economy afloat despite lockdowns and the many limitations to daily life.
Indeed, the Indian logistics market is still on track to grow at a CAGR of around 10.5 percent through 2025, with the significant rise in e-commerce throughout 2020 buoying the sector against drops in demand seen elsewhere. However, progress continues to be held back by two age-old problems: a reliance on limited infrastructure and time-consuming, error-prone manual processes.
With regards to infrastructure, there is no doubt that we are moving in the right direction thanks to the state's monumental investment schemes. Yet on the other side of the coin, much remains to be done. While it is encouraging to watch the rise of home-grown online players like Delhivery and Black Buck - with the latter now rising to world-beating status - the country's 'digitization deficit' carries a heavy price. In fact, reliance on analogue processes can take significant responsibility for the country's outsized national spending on logistics, which currently stands at around 14 percent of GDP, compared to 9-10 percent in the US.
Yet overcoming this obstacle will not require the same levels of investment; in fact, some of the necessary automation needed can be achieved by simply leveraging a tool increasingly found in the pocket of Indian citizens; the standard smartphone.
The efficiency of BYOD
As was recently reported in the Economic Times, smartphone penetration in India is forecast to reach 820 million by next year. This fact, along with Moore's law and the expansion of 4G/LTE networks throughout the country, are making good quality devices and coverage increasingly affordable.
A proliferation of smart devices creates a unique opportunity for enterprises aiming to increase efficiency by reducing manual data entry. Adopting a BYOD 'bring your own device' approach, companies can empower their staff to work faster and smarter on the job, without the need for investments in new hardware or training. All that is needed is a workforce app or a secure website that can be accessed by their team.
Here are three ways this innovation can be put to use in logistics.
Warehouse management
The warehousing sector is currently on a collision course with the consequences of poor data quality. While a minority of companies operate using the latest in IoT technologies, the vast majority of the country's warehousing space (90 percent) is managed by unorganized players using little to no mechanization. With the sector projected to grow again by 35 percent in 2021, easily integratable digital solutions are urgently needed to automate much of this rising wave of work.
Here is where mobile data capture can play a pivotal role. By incorporating barcode scanning into a warehouse management app, authorized employees can employ their own personal device to scan the barcodes of incoming and outgoing shipments with their phone camera, instantly bringing greater visibility to the operation. For further clarity, this can be combined with OCR (optical character recognition) technology to read and digitize bills of lading and serial numbers or make PDFs of additional documents attached to deliveries.
Tracking every package
When it comes to transiting shipments across the country or abroad, it may seem almost impossible to eliminate every blind-spot throughout the journey, especially when intermodal transportation is involved. Yet with the addition of mobile data capture, customers can be guaranteed end-to-end traceability for their shipments - and timely information of delays or issues faced along the way.
This was the finding of Dutch logistics experts CargoSnap. After incorporating mobile data capture for container numbers, alongside package barcodes and serial numbers, their customers were able to track their packages in real-time, significantly enhancing their user experience and satisfaction with each delivery. This need for transparency in transit is more relevant than ever as we race to deliver vaccines across the world. In the case of vaccine transportation, the barcodes and serial numbers of each package can be scanned at the depot and again on delivery to ensure none are lost or misappropriated along the way.
Reducing touchpoints in the last mile
A final advantage of mobile data capture that cannot be overlooked is the desire for limited touchpoints during the last mile of delivery. Concern over Covid contamination means many customers are choosing services that limit the need for personal contact. To achieve this, last-mile agents can confirm deliveries by simply scanning the barcodes on packages with their own device to mark them delivered. As with the earlier steps presented, the use of a downloadable app on the employees own devices makes scaling delivery capacity up or down far easier during peaks or drops in demand.
Reinforcing logistical resilience
During turbulent times, businesses that survive and thrive are those which can prove their stability and control to their customer base. Today, having a handle on one's data is an integral part of this process, making any reliance on manual data processing a significant liability. By harnessing the increasing ubiquity of smartphones in the Indian market, logistics companies can quickly scale up their capacity to collect better quality data without overhauling their existing systems.
Bibliography
Economic Times (2020) Indian to have 820 million smartphone users by 2022. https://economictimes.indiatimes.com/industry/telecom/telecom-news/indian-to-have-820-million-smartphone-users-by-2022/articleshow/76876369.cms?from=mdr.
Bansal, A. (2021) 'Technological advancement: Importance of evolution of the logistics market in India.' DATAQUEST. Industrial segments. 4th January. [Online] [Accessed on 16th February 2021] https://www.dqindia.com/technological-advancement-importance-evolution-logistics-market-india/.
ReportLinker (2020) Indian Logistics Industry Outlook, 2020. GlobeNewswire News Room. [Online] [Accessed on 16th February 2021] http://www.globenewswire.com/news-release/2020/04/14/2016018/0/en/Indian-Logistics-Industry-Outlook-2020.html.
Sharma, U. (2020) India's logistics sector needs a secret ingredient. Fortune India. [Online] [Accessed on 16th February 2021] https://www.fortuneindia.com/opinion/indias-logistics-sector-needs-a-secret-ingredient/104820.
Wood, L. (2020) The Warehousing Market in India 2020; Expected to be Worth INR 2,821 Billion by 2024 - ResearchAndMarkets.com. [Online] [Accessed on 16th February 2021] https://www.businesswire.com/news/home/20200521005412/en/The-Warehousing-Market-in-India-2020-Expected-to-be-Worth-INR-2821-Billion-by-2024---ResearchAndMarkets.com.
| | |
| --- | --- |
| | Ebin Thomas is the senior sales manager of Vienna based mobile data capture technology company Anyline |
The views and opinions expressed in this article are those of the author and do not necessarily reflect the views of Indian Transport & Logistics News