Digital race in vaccine journey
Transparency' is the call of the hour - from the manufacturing unit till the final shot is given to 1.38 billion Indians. Now, vaccine transportation is carried out across the globe and maintaining the cool chain integrity is a focal point, digital platform providers are developing technologies to enhance the visibility of shipments.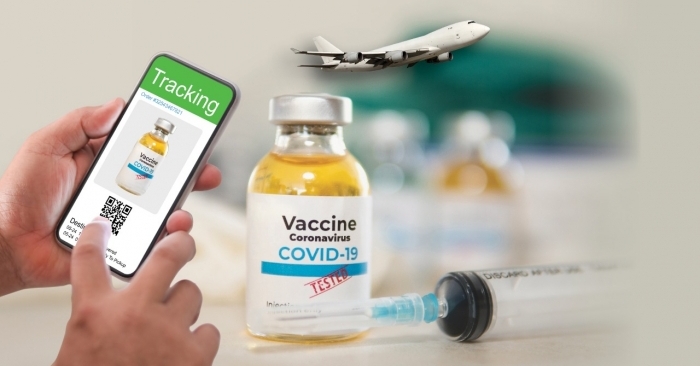 Transparency' is the call of the hour - from the manufacturing unit till the final shot is given to 1.38 billion Indians. Now, vaccine transportation is carried out across the globe and maintaining the cool chain integrity is a focal point, digital platform providers are developing technologies to enhance the visibility of shipments.
"As we get closer to an important data readout from our Covid-19 vaccine programme, I know there is a great deal of confusion regarding exactly what it will take to ensure its development and approval, and given the critical public health considerations and the importance of transparency," this was addressed by Pfizer chairman and CEO Albert Bourla in an open letter dated October 16, 2020.
'Transparency' is the call of the hour - from the manufacturing unit till the final shot is given to 1.38 billion Indians. To maintain the supply chain integrity of these temperature-controlled vaccines, the government of India has adopted electronic vaccine intelligence network (eVIN) in association with the United Nations Development Programme (UNDP). The system which was introduced in 2015, provides real-time information on vaccine stocks and storage temperatures across all cold chain points in the country and will address the needs for distribution and tracking of Covid-19 vaccine. A Nation Expert group on vaccines has been appointed to fine-tune this strategy.
eVIN, which is designed and implemented in more than 521 districts, across 21 states and union territories when launched, will be now be promoted for improved efficiency in remaining parts of India, as per UNDP. It will automate the process of indenting and supplying vaccine using order management module based on historic actual consumption of vaccines and forecasting. eVIN will be developed a step further to monitor reach till the last-mile beneficiaries.
Now, vaccine transportation is carried out across the globe and maintaining the cool chain integrity is a focal point, digital platform providers are developing technologies to enhance the visibility of shipments.
LogiNext platform used by multiple carriers and healthcare organisations for transportation of sensitive equipment, human body organs like heart transplants, blood samples, etc. have developed LogiNext Mile. The platform is an all mile logistics tracking and visibility platform that has applications in several segments of vaccine distribution.
Dhruvil Sanghvi, chief executive officer, LogiNext, observes, "The current offering for the vaccine distribution is a custom module of our existing SaaS platform and can be used by any/all participants in the vaccine distribution supply chain -ranging from the manufacturer, airport authorities, transporters, distributors, healthcare clinics, last-mile delivery agents. The vaccine distribution supply chain is a highly complicated one and will require handling of extreme-scale with more than 10 billion doses to be distributed across the world over the next 2 years. All the stakeholders involved will have to work together to come to a unified solution which works for everyone and enables mankind and industry in tackling this problem at hand. We are currently piloting with two organisations in North America. It is ready for any Indian/Asian organisation to be tested and deployed."
Vienna-based Anyline has been developing the technology since 2013 and is planning to foray into the Indian market. Its solution is used by industry leaders including PepsiCo, Porsche, European retailer Metro, etc. The company's mobile data capture can be used in multiple points throughout the supply chain to improve efficiency and ensure full traceability during the vaccine rollout. This can be achieved through a combination of barcode and OCR scanning technologies that can be easily used on any smartphone by workforces.
Ebin Thomas, senior sales manager (Middle East & Asia), Anyline, says, "For instance, during the packaging and loading process, the barcodes and serial numbers of each package can be scanned to confirm pickup, and also combined with additional information - such as the vehicle container number, license plate and even the license of the driver. The process can then be repeated on delivery, creating a fully traceable process and ensuring maximum visibility for clients. The greatest advantage of this digitised process is the removal of manual data entry, saving valuable time, and minimising human errors."
From a business perspective, the pandemic has made clear that digitisation is the differentiating factor that will determine who survives and thrives in this decade. In such challenging times, businesses have no room for slack in their systems or time for delays in their supply chains. Digitisation allows companies to discover new efficiencies in their existing processes, without completely overhauling them. Thomas states that by integrating data capture into an existing ERP system, logistics firms can track more by doing less, and identify blind spots in their supply chain process.
Sanghvi says, "Logistics has come into the spotlight in 2020 as the global supply chain had to be relooked. New rules are being written and especially for Asian markets, the push for digitisation has grown stronger. The developed countries have been a few years ahead but the pandemic is in way normalisation because it is pushing all economies to digitise. We work with several customers in South East Asia like Singapore Post which is a premier example of how a postal network has managed to use technology to improve efficiency and deliver superior customer experience."
As the client's needs vary from region to region, so as the demand for customisation differs. LogiNext Mile is the primary product that can be customised according to the needs of the enterprise. Fortune 500 companies at enormous scale have been using the LogiNext platform. The company tracks 7 billion location data points annually and each enterprise has a slightly different need. Depending on the requirements, the platform can be tweaked and made appropriate for the exact use case.
Thomas states, "By using machine learning and artificial intelligence, it is possible to create new 'neural networks' to identify previously unknown data sources. For example, if a company needs to scan a particular serial number or identity document that was particular to their region, we can train our software to recognise these. This process has become significantly easier in recent years, and we have developed a specific platform, the Anyline Trainer, to reduce the time needed to create customised data capture solutions from months to only hours or days."
Responding if the platform is created for Covid-19 or is it built on any existing platform, Sanghvi observes, "We already have a system which was being used in several healthcare instances. The Covid vaccine distribution is of course a completely new ball game and several stakeholders are and will have to come together to build a complete system. Depending on what leg of the chain LogiNext is being used, the existing product is customised according to those needs. For instance, if a healthcare organisation wants to use it or material science (manufacturing company) wants to use or it is can be used in the last mile to administer doses."
Along the similar lines, Thomas says, "However, the urgency of Covid-19 spurred on us over the last year to increase our speed of production, and following 2020, our solutions are far stronger than before. This has enabled us to support key actors in the fight against the pandemic, such as the United Nations World Food Programme, who use our technology to simplify their distribution of food aid."
Currently, Anyline's data capture technology is being used by dozens of companies around the world to lessen the burden of Covid-19, including track and trace procedures and the provision of vaccinations. "In our Austrian HQ, our technology will be used to simplify the vaccination process. All residents in Austria have 'e-cards' which record their medical information. Using our data capture technology on a standard smartphone, medical staff can scan these cards, in combination with the person's ID and the barcode of the vaccine. This guarantees a faster and safer process, meaning more people can be vaccinated at any given time," Thomas concludes.
Last year in December, LogiNext Mile was launched for Covid -19 vaccine supply chain management and tracking platform. Sanghvi says, "If one goes into the details of this entire chain- there are tens of parties getting involved and they are not already interconnected. Most shipments do not change according to temperature, vaccine composition dose, which brings us to newer challenges. Healthcare clinics, hospitals and research labs will have their set of challenges to offer and administer the vaccine usage. Last-mile delivery agents will be tackling an entirely different range of challenges from adhering to the regulations to maintaining SLAs and ETAs. And a logistics automation technology can be the backbone of this all."
On the other hand, the ministry of health and family welfare, and the ministry of electronics and IT have launched a contest to invite solutions from IT companies and start-ups to strengthen digital platform CoWIN, which will be used for rolling out and scaling up Covid vaccine distribution across India. The technical solutions are expected to address issues of portability, transportation, queue management, reporting and monitoring mechanism for any adverse event following immunisation.
This article was originally published in Indian Transport & Logistics News' January- February 2021 issue.