Warehouse Automation in India gets smarter, faster and sustainable
In this report, we spoke to industry professionals to get their thoughts on completely automated warehouses and what the future holds.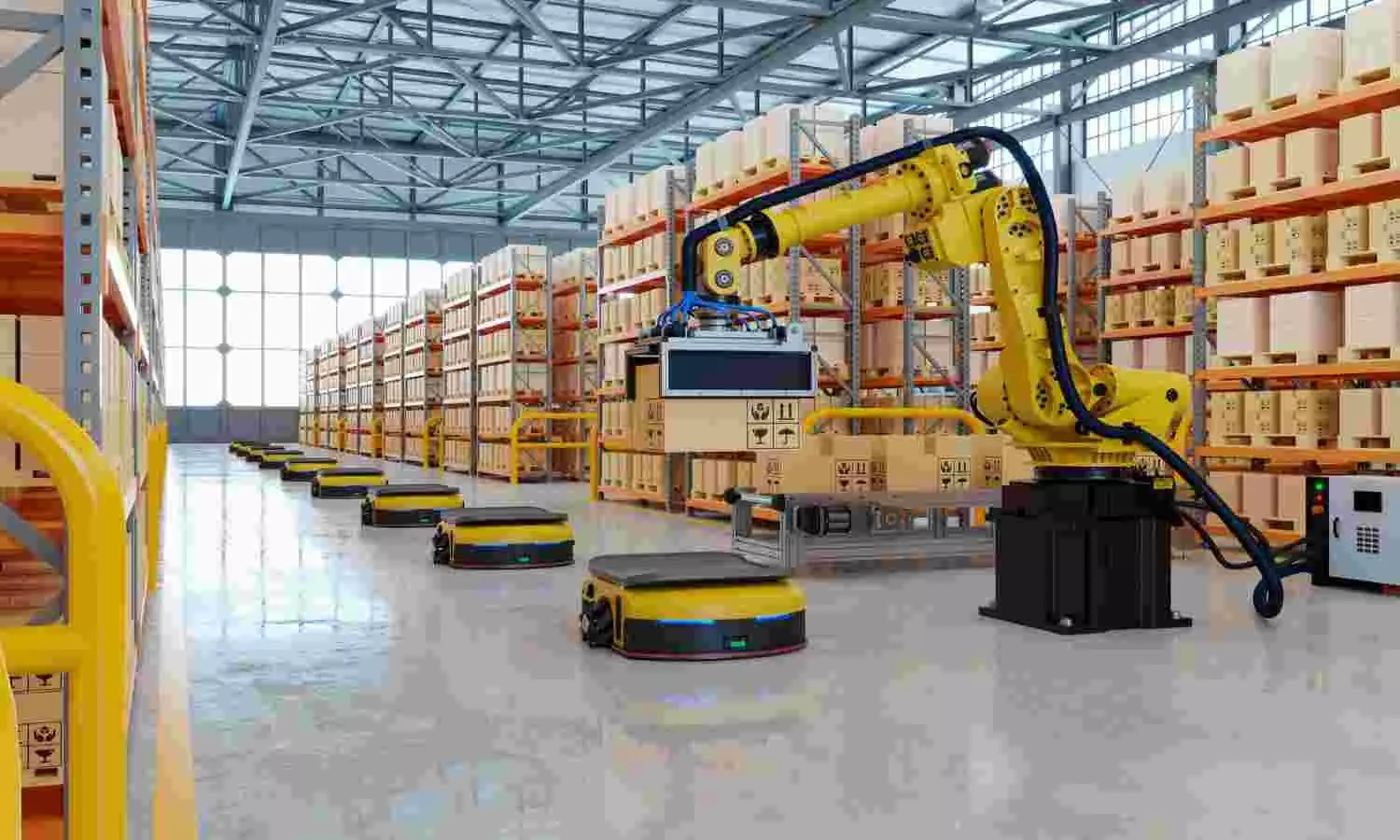 With the development of e-commerce, there is a stronger need for more responsive supply chains, as well as the ability to handle a higher number of stock-keeping units with fewer errors. Warehouses must develop into intelligent, efficient, and automated facilities in order to meet such demands.
Digitization is becoming a must in order to maintain a strong competitive advantage and increase corporate efficiency.
The warehouse industry is an essential component of India's economy, maintaining the global supply chain's speed. After gaining a boost from the implementation of GST, 100 percent FDI through the automatic method, and being granted government infrastructure status in 2017, the warehousing industry has carved out its own niche among private businesses. According to the Warehousing Market in India 2021 report, which has been released by Research and Markets, the sector, which was worth INR 1,050 billion in 2020, is predicted to grow at a CAGR of 14.86% between 2021 and 2025, reaching INR 2,028.86 billion by 2025.
Today, having a warehouse or a fulfilment centre is not enough. One of the most crucial things the consumer looks for is quick and accurate delivery. There are many businesses in the market offering the same service, but what distinguishes one from the other is that they align with client expectations. Thus, warehouses and fulfilment centres nowadays do more than just receive a package, place it in the appropriate department, and send it out for delivery. Today, it is all about how fast the service can be, and for that they are counting on digital technology and robotics.
"Automation was formerly a dream since the primary motivation for automation was to save cost. However, things had changed dramatically. The point of automation is no longer to save money, but to improve speed and dependability"

Omkar Karandikar, Head of Planning and Design at WareIQ
However, India is a place where labour is plentiful and inexpensive when compared to European countries and the United States. So, how are India's warehouses and fulfilment centres striking the appropriate mix between digital technology and labour handling?
Finding the Right Balance
When it comes to warehouses in India, we know that labour is available. However, in order to keep up with the world's delivery pace, warehouse automation is becoming increasingly vital. As a result, it is critical to strike a balance between adopting technology and training employees to utilise it effectively.
"It is challenging to achieve complete automation of warehouses and fulfilment centres in India for all sectors. Automation cost & continuous training of diversified workforce develops high synergy wrt size ,nature & requirement of sector . Not only in India, but also in other countries, the majority of fulfilment centres and warehouses adopt a hybrid approach. Where volumes are high and technology use is high, full automation is observed. I estimate that 35% of warehouses out of the total will be entirely automated in the next 5 years," said Dakshesh Shah, CEO, SK Logistics.
Flipkart, India's native e-commerce platform, announced the opening of India's largest fulfilment facility in Haringhata, West Bengal, in April. This new fulfilment facility will employ over 11,000 people and serve about 20,000 vendors from the state and the North East area.
The facility is developed with technology such as automated storage and retrieval, robotic packing arms, cross belt sorters, and a 9 km long network conveyor belt to minimise cargo transportation turnaround time by 35 percent to 50 percent.

"A completely automated FC (fulfilment centre) is a reality in India. Automation was formerly a dream since the primary motivation for automation was to save cost. However, things had changed dramatically. The point of automation is no longer to save money, but to improve speed and dependability. Even if my labour is less expensive, if I have a 10 lakh square feet of FC, I would be unable to deploy 2000 workers just to pick the material and deliver it to the dock; it will be chaotic. Furthermore, instances such as Covid, where individuals are not accessible to work, have served as a wake-up call for everyone to reconsider automation as an entity. These factors, in my opinion, are becoming a pressing need for automation in India," said Omkar Karandikar, Head of Planning and Design at WareIQ.
Every New Update Requires Employee Training
As technology advances, fresh upgrades and improved versions of the technology are deployed. As a result, training in those technologies becomes required in today 's competitive environment.
"We are constantly training our people, but this is not an easy process.Empowering people to work in new ways and to make best use of installed automation requires cultural and behavioural changes as well . When we introduce new technology, such as battery operated trolleys, we must train and prepare our people to guarantee that they can operate the new technology with confidence and monitor continuously to correct any gaps. We have a highly dynamic workforce, with the majority of people between the ages of 35 and 40 who can grasp the advancements. It's not easy, but with their high alignment, they can use their intellect and work smarter," said Shah.
"We have an elaborate way of training our workforce and we have to do it often because there will be a lot of features which are released from our partners. Many times the marketplaces will also come up with additional requirements and we will have to enable it in our FCs. For example, there were days where paper based picking was enough, but if I have to get everything done, pick, pack and dispatch in a short time, I have to get into a scan-based system, where we are today. Soon there may be a 15 minutes of delivery requirement, that is where the world is moving. In that case, we will have to switch to something like 'pick by voice'. Thus every now and then we have to upgrade ourselves, train our people, otherwise we will not survive. The game is if you don't excel, you will be wiped out, said Karandikar.
"We are constantly training our people, but this is not an easy process.Empowering people to work in new ways and to make the best use of installed automation requires cultural and behavioural changes as well ."

Dakshesh Shah, CEO, SK Logistics

Faridabad-based Atmos Systems, a division of Saifi Con Fab Systems Private Limited, creates highly customised tailor-made Conveyor Solutions for a variety of sectors. Atmos has already established the groundwork for warehouse growth and automation. As an e-commerce and logistics service provider, Atmos not only prepares its employees, but also its clients, for any technological advancements.
"We train every supplier and the employees of the other companies about how to handle our system correctly, so that they should be able to make the most out of investment in the products that take a lot of time and brainstorming to design and make the machines. In order to make the most out, they have to be very well trained, and should know how every system is working, what problems can be faced and how to solve them, how to re-organise everything in the system and more," said Faraz Alam, Co-founder, Atmos Systems.
Future is in Sustainability
There are many warehousing companies in India that are supporting start-ups, and existing companies to move materials from the company location to fulfilment centres and then deliver to the customer. With new technology and seamless business, comes the responsibility of working in the most sustainable manner.
There are various methods that warehouses may follow to provide long-term benefit. Some of these options include optimising warehouse architecture and automating both warehousing solutions and management procedures to boost energy efficiency.
To achieve a sustainable warehousing system, companies should implement other automated solutions such as order picking technologies (pick-to-light technology, voice technology, sortation systems, etc.), bar-coding, Radio Frequency Identification (RFID), and Automated Storage and Retrieval Systems (ASRS) in addition to Warehouse Management Systems (WMS).
"When it comes to sustainability, there are two factors to consider: the technology itself and the impact on the environment. People used to enter into FCs with a book in hand, marking down the quantity accepted and so on. This procedure is now obsolete, as portable devices like mobile phones are utilised as direct scanners. When it comes to technology, what was cutting-edge yesterday is no longer cutting-edge today, and this is a business unit issue. Technology advances at a breakneck pace. We might have mentioned two years ago that we utilise a scan-based system in our FC, but it is now standard. So, digitalization is no longer simply a technology; it's a business need," Karandikar explained.
Companies can realise long-term financial and business management sustainability benefits by automating labour-intensive activities, as enhanced inventory visibility can raise product correctness and even affect consumer happiness. Companies that move to bar-coding and RFID technology, for example, will undoubtedly see a drop in paper use as they embrace a largely digital strategy, contributing to environmental sustainability along the way.

In the coming days, energy savings in every warehouse will be the new thinking point for decision-makers. While it is evident that companies who adopt sustainability programmes in their warehouses will gain financially and ecologically, it is equally crucial to remember that sustainability must be handled strategically and backed by top management. Robotics and other automated technologies can help employees spend less time travelling. These reductions naturally lead to higher productivity, simpler manual labour, and lower pricing.
The warehouse industry has evolved and continues to adapt, whether it is keeping up with the digital transformation trend, offering job opportunities from blue collar to white collar levels, or maintaining supply chain management both locally and globally.