Training, technology, trust needed to grow, say Indian pharma logistics sector
Industry experts and key stakeholders of the pharma logistics sector participated in the fifth edition of the Global Pharma Logistics Summit 2022 held in October in Mumbai, where the spotlight was trained on patient care and cure with the theme 'Resilience till the point of cure'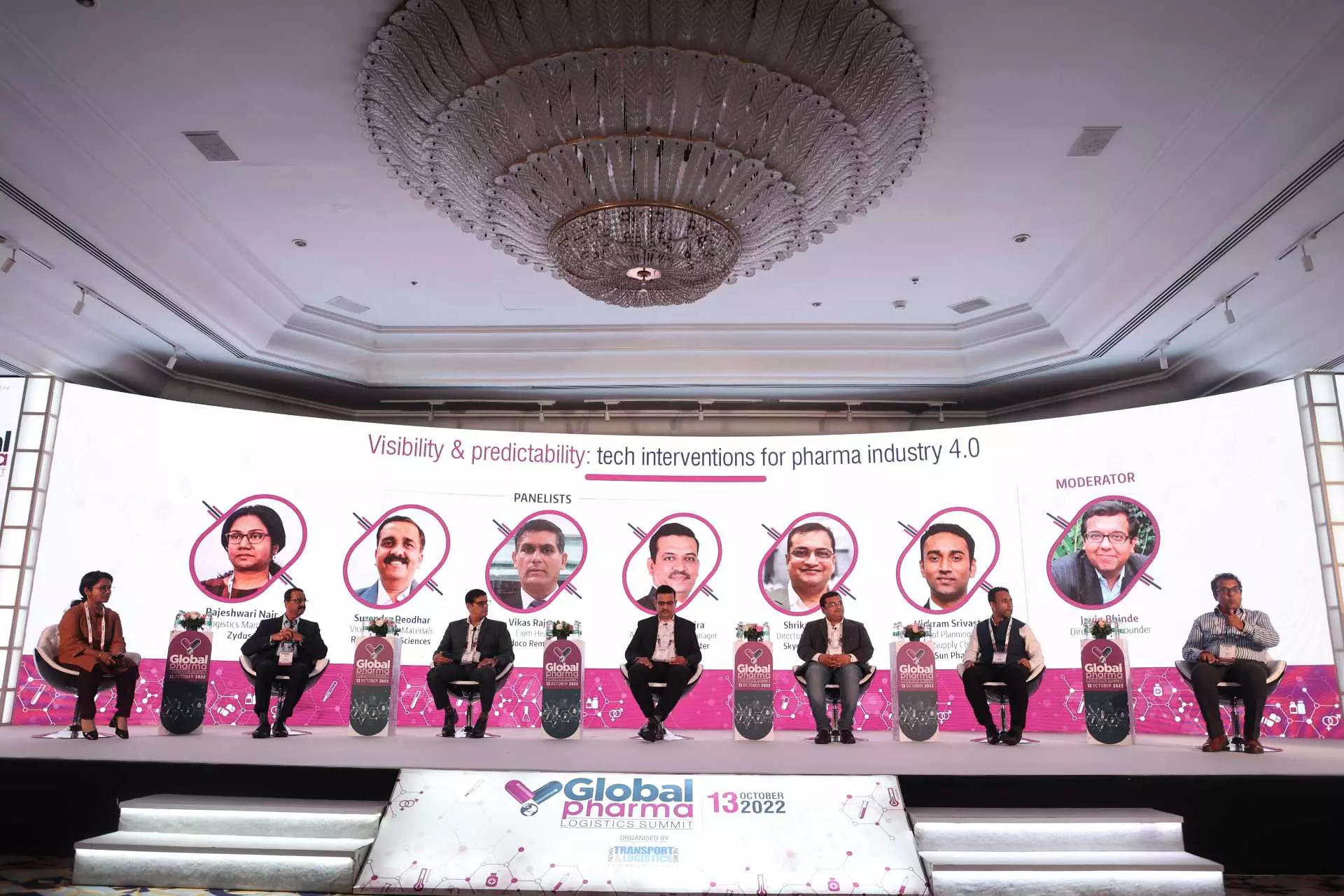 A change in mindset when it comes to transporting 'pharma shipments' and the use of technology and digitalisation for growth and agility in the industry took center stage at this year's prestigious Global Pharma Logistics Summit 2022 which was held in Mumbai this October.
Several key stakeholders from across the Indian pharma logistics supply chain batted and pledged for adopting a growth mindset and discussed challenges faced by the industry and lessons learned during the pandemic in discussions spread across four-panel discussions at the fifth edition of the Global Pharma Logistics Summit 2022.
The event was held on the 13th of October 2022 and organized by the Indian Transport & Logistics News, in Mumbai. Attended by some of the leading shippers, airports, airlines, freight forwarders, pharma companies, and logistics providers and their teams, this year the event put the spotlight firmly on patient care and cure and led with the theme 'Resilience till the point of cure'.
The first panel titled 'Becoming Better Before Becoming Big: Are We Ready For The Next Disruption?' saw experts and industry heads talk about how the pandemic brought the pharma industry's supply chain to the forefront and how the disruption brought in technology and new resilience to chart the way forward. The panel also spoke about the importance of training staff in global practices while handling different kinds of pharma shipments.
Recalling early lessons from cargo handling during the Covid-19 pandemic, Manoj Singh, SVP & Head – Cargo & Express, Mumbai International Airport- Adani Airports, said, "We had 1000 tonnes of incoming cargo lying at the airport facility during the Covid-19 and 96 pharma companies, with whom we synergized our efforts and formed a group and cleared the shipments within 15 days. We later formed a core group and had a key accounts manager for a group of pharma companies. As an airport, we had players from the freight forwarders, consolidators, and airlines working together to see that pharma shipments are cleared. In the last financial year we handled 250,000 tonnes of pharma cargo, and based on this we almost handled around 58% of India's export from India from the airport sector, as the largest player. I think this ecosystem needs to be quantified and this will help in maintaining the efficacy of the product."
Singh also added that workshops across the shopfloor of the airport, and multiple interactions with the stakeholders helped to increase these synergies during the pandemic. Batting for training, Yashpal Sharma, MD, Skyways Group said, "Training is extremely important and much cheaper than the claims, disputes, and the time that is eventually spent on resolving issues. We as an organization spent a lot of effort in training our people right from commercials to warehouse teams. This is because many times the mistakes start with the commercial team rather than the handling teams, because they don't look at the documentation right or do the checklist right, and eventually it gets passed on in an inappropriate manner to the handling team. Since the handling team is unaware of the product, the packaging, temperature requirements, they end up doing something wrong. So you need to have end-to-end training."
Talking about the pain point of speed while handling pharma shipments at transit hubs, Pratyush Kumar, GM, Demand planning and Logistics excellence, Glenmark Pharmaceuticals said, "We don't want our shipments to wait at transshipment points or at airports. That waiting time has to be minimized, or reduced altogether. During the transshipment or during changing of the flights, the handling of pharma cargo is a pain point, although improvements are there."
The second panel 'Supply Chain Therapy: Identifying Pain Points in Pharma Logistics' touched upon regulations, the new logistics policy, trucking, bio-contamination, planning, and the import pains faced by the pharma industry. Blockchain as a solution for multiple data entries and for documentation into multiple systems was discussed by panelists.
Speaking about the pain points of the CRO CDMO industry or the contract research organization and contract development and manufacturing sector, Chandan Shirbhayye, AVP & Head of Supply Chain, Aragen Life Sciences said, "CRO CDMO industry operates at the lab scale and to a plant scale but for the pre-clinical requirements. This means that they are not typical bulk shipments or container loads. So if I am importing a 5grams of HSM code (product) which is restricted or under controlled circumstances, not having an exemption or a faster route to do it always derails the whole process. Further, we come much before the commercial manufacturing or launch of that product and at the stage of discovery in the lab. And at such a time if you are unable to serve them(clients), then they move on. One pain point is how we can have harmonization of various regulatory requirements and some categorization of classification depending on the end use or the volume which is being imported."
Shirbhayye contended that processes like valuation, assessment, and declaration become challenging despite it operating under the umbrella of pharma. He added, "We are dependent on air transportation mechanism and most of our customers are abroad on the western side and raw materials suppliers are on the eastern side. So the routing of the air shipments is critical for us as timelines are counted in days. Most of the materials that we import and export are not yet commercialized materials, they are not well-developed materials, rather they are at an early stage of R&D and nobody knows their fate yet, so assessing them, valuing them, and declaring it becomes a real challenge."
Ugrasen Singh, Associate Director - Lead Imp/Exp. & Logistics Procurement, Cipla said, "For the airlines and freight forwarder industry, I would love to see the pre-Covid price levels (for air freight) make a return. While Customs has done tremendous work in creating good systems yet there is a lag when it comes to faceless assessments, as there is no information given on the customs portal."
Two innovative companies that are building solutions to provide much-needed visibility and data analytics to the healthcare supply chain also took part in an hour-long session aptly titled 'The Relief'. Adarsh Kumar, CEO and Co-Founder, TagBox, and Nitish Rai CEO and Co-Founder of FreightFox took the audience through the solutions they offered.
The third panel titled, 'Playing It Cool: Moving Temperature-Sensitive Pharma', explored how innovations in advanced packaging solutions and real-time visibility can arrest cold chain excursions and how packaging cost can supplement gross margins for all the players involved as pharma products are time critical and expensive.
Ravi Kumar Tummalapalli, MD India, va-Q-tec said, "As a shipper, we need to take ownership of how we pack the product, whether we have qualified packaging and conducted 'lane risk assessment' as a chain of activity to mitigate any risks in the supply chain. You need to evaluate what is the right packaging solution for your product for it to be safe all through the journey."
During the session, Ravi touched upon the need for sustainable solutions and the need to move towards ethical solutions in the cold chain used in domestic distribution.
Tummalapalli added, "Today if you have a 2-8 degree or 15 to 20 or minus 20-degree product, then we have specifically designed advanced materials like Phase change materials(PCMs) which are passive solutions that don't need any dry ice or electrical requirements for them. Once you condition these PCMs they can go up to about 6 -7 days and maintain the temperature of the product inside the box, without any external intervention. There is another material called VIP which is (Vaccum insulation panels), which we developed 20 years back and are pioneers in. So all our installations have dual insulation, packaging insulation panels along with PCMs. This way the VIP insulates the product from external ambient temperature whereas PCMs maintain the temperature inside the box which is the required temperature for the product."
Binu Vijay Kumar, General Manager of Supply Chain at Thermo Fisher Scientific spoke about the importance of designing cold rooms and processes around handling, picking, marking, labeling, and documentation in such a way that once the product comes out of the warehouse, it can quickly move out. He also stressed the importance of automation for physical despatches and the need for training and reinforcement of staff for business continuity management.
Coming to packaging and real-time information, Kumar added, "I think it's time shippers take charge of the situation, instead of depending on others and airlines. I think there is a lack of awareness about these new technologies and there is a lethargy in adopting them as it impacts the margins but it is impactful in the long run."
Talking about temperature excursion in the pharma cold chain, Vijay Shetty, Vice President - Distribution and Logistics, Alkem Laboratories said, "Sometimes distributors are not aware that the cancer products or insulin have to be actually carried in a proper cold chain kind of a set-up. So now when a seasonal surge in demand happens, we have limited our 'inventory days' with our distributors to ensure that they are capable of handling this surge and have the requisite facilities. In our audits, we found out that in metro cities cold chain is maintained by 70-80%, but in tier 2,3 cities it is still a big challenge. We have also tied up with 3PL players who had excellent cold chain facilities and replenish them on a timely basis to our distributors."
Touching upon, real-time information and variable data for an efficient cold chain in retail distribution, Avinash Verma, General Manager / Lead Pharma Cold Chain Category & Procurement at Reliance Retail said, "From a storage point of view, warehouses should be thermally mapped to understand the hot spots and cold spots through sensors, etc, to maintain a uniformity of temperature. From the distribution perspective, there are many devices that have come up like IoT-specific sensors, that are used for data analytics and understanding of the history, trends, and forecasts of how shipments are happening, and based on that decisions can be taken. Blockchain is another emerging technology that offers complete end-to-end visibility of the complete cold chain."
In another presentation at the event, Abhishek Thakur, MD of Odyssey Logistics outlined his company's foray into the pharma from the automotive sector and how it built up its might in temperature-controlled shipment operations and in handling pharmaceuticals all over the globe.
The last panel of the event was titled 'Visibility & Predictability: Tech Interventions for Pharma Industry 4.0', and delved into the role of various modes of logistics and partners during the pandemic, the importance of raw materials, project management, and finished goods planning and how technology aids in visibility and planning.
Vikas Rajput, Exim Head, Indoco Remedies said " As a logistics player, inventory visibility from procurement to manufacturing stage till the FG (finished goods) are ready and goods are in the warehouse is very important to us, so we can execute the shipments. Throughput or how quickly you move that cargo is very important because that's how you generate revenue and repeat the orders."
Speaking about the Turant app, which is CSC India Group's real-time temperature tracking app for pharmaceutical shipments, Pramod Pereira, AGM, Cargo Service Center (CSC) said, "Information was what everyone was seeking even as they had their own. So what Turant App does is that from the moment your cargo or truck arrives at the terminal till the cargo or flight departs, it gives complete visibility of the cargo. Previously we would get all that cargo together for that flight and then send information to the airline, but today it's on a real-time basis. The moment the cargo is cleared and ready to be uplifted, the airline sales and planning team gets an alert/email asking them to plan it on a flight. This is a value-added service that comes at no extra cost that we gave to our customers. Once the cargo has been palletized and released from our terminal, the forwarders know it has been released and uplifted and this information is updated on our system. The App has been accepted well and a lot of airlines have significantly improved their planning. We also plan our rostering, staff, and resources accordingly and are now using data analytics internally to analyze where the cargo hotspots are for us, what volumes we can predict, and plan our roster accordingly."
Making a strong case for the use of drone technology for last-mile delivery of pharmaceutical shipments, Shrikant Sharda, Director & Co-Founder, Skye Air Mobility said, "The routes created by road transport or road logistics face a lot of challenges not only from the distance point of view but also from congestion. With drones, we can create aerial logistics or an aerial path which are free from congestion and this reduces more than 50% of your lead times compared to road logistics."
Citing the use case of 'green corridors' for organ donations and transplantation, he added, "When we create specific green corridors for organ transportation from airports to hospitals, This is a high-priority activity. To undertake green corridor management, many permissions, planning, strategy, and a lot of coordination are required and this movement is restricted to city areas. When we think of rural areas or remote areas where organ donors are, we cannot handle this because there is no green corridor creation for a distance of say 100-200 km. Drones can easily handle and create an air corridor that is free from big planning requirements and connect 100-200 km very easily and handle it faster as a technology integration."