NSDC International, We One sign agreement for skill development
Deal in continuation of MoU between NSDC and Hindustan Ports to establish Skill India International Centre in Varanasi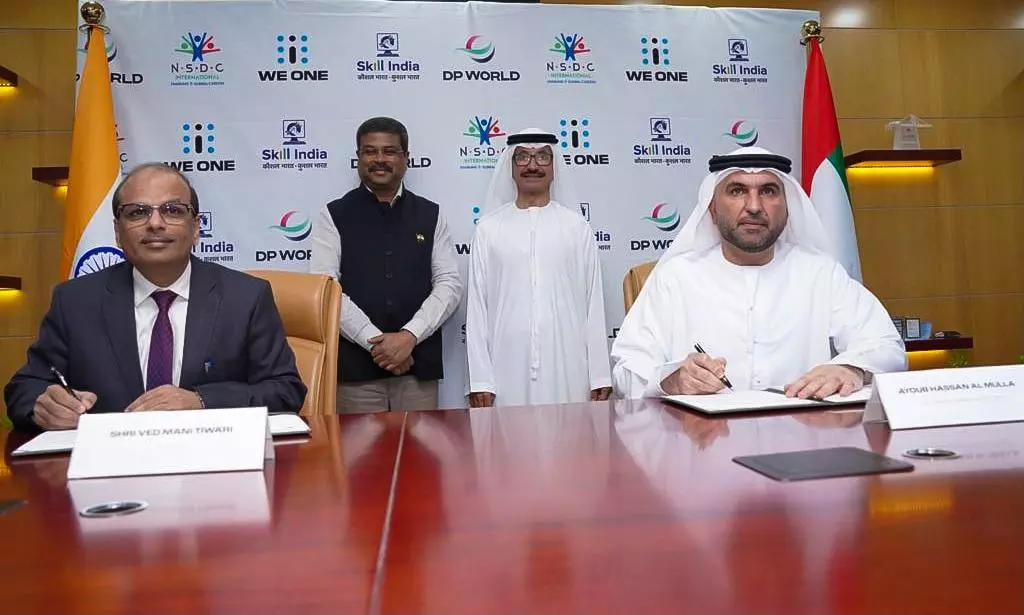 NSDC International, an enabler for global skilling solutions, and We One, part of DP World, a global leader in providing smart end-to-end logistics solutions, signed an agreement to support skill development and employment opportunities for the frontline workforce.
The agreement was exchanged between Dharmendra Pradhan, Union Minister for Education and Skill Development & Entrepreneurship and Sultan Ahmed Bin Sulayem, Group Chairman and CEO, DP World, says a release from DP World.
"The signing event comes in continuation of a memorandum of understanding inked in May 2022 between NSDC and Hindustan Ports (a DP World Company) to establish the Skill India International Centre in Varanasi as a global centre of excellence for skills. The centre provides frontline workforce with services such as skill training, counselling, mobilisation, pre-departure orientation, foreign language training, placement and immigration and post-placement support."
Ved Mani Tiwari, COO, NSDC and MD, NSDC International says: "We are a nation of abundant talent with our youth willing to learn more and aspire more, becoming the best in what they do. With this, at NSDC International, we have committed ourselves to build the potential of our young cadre and invest in their skilling, reskilling, and upskilling, making India the skill capital of the world. To take this vision forward, we are happy to collaborate with DP World for extending international employment prospects to young Indian skilled individuals."
Rizwan Soomar, CEO and MD, Middle East and North Africa and India subcontinent, DP World adds: "Our collaboration with NSDC International is a testament to our shared vision of empowering the youth by providing them with quality training to impart employable skills and developing the next generation of skilled workforce. We remain committed to providing employment opportunities for the youth, augmenting their capabilities, and enhancing their job prospects. "
More than 500 workers are now employed at facilities across the United Arab Emirates, the release added.