National Logistics Policy is for progressive, tech-inclined, competitive players
Thus the E-handbook on NLP released by the department for the promotion of industry and internal trade (DPIIT) notes that "it is the logical next step."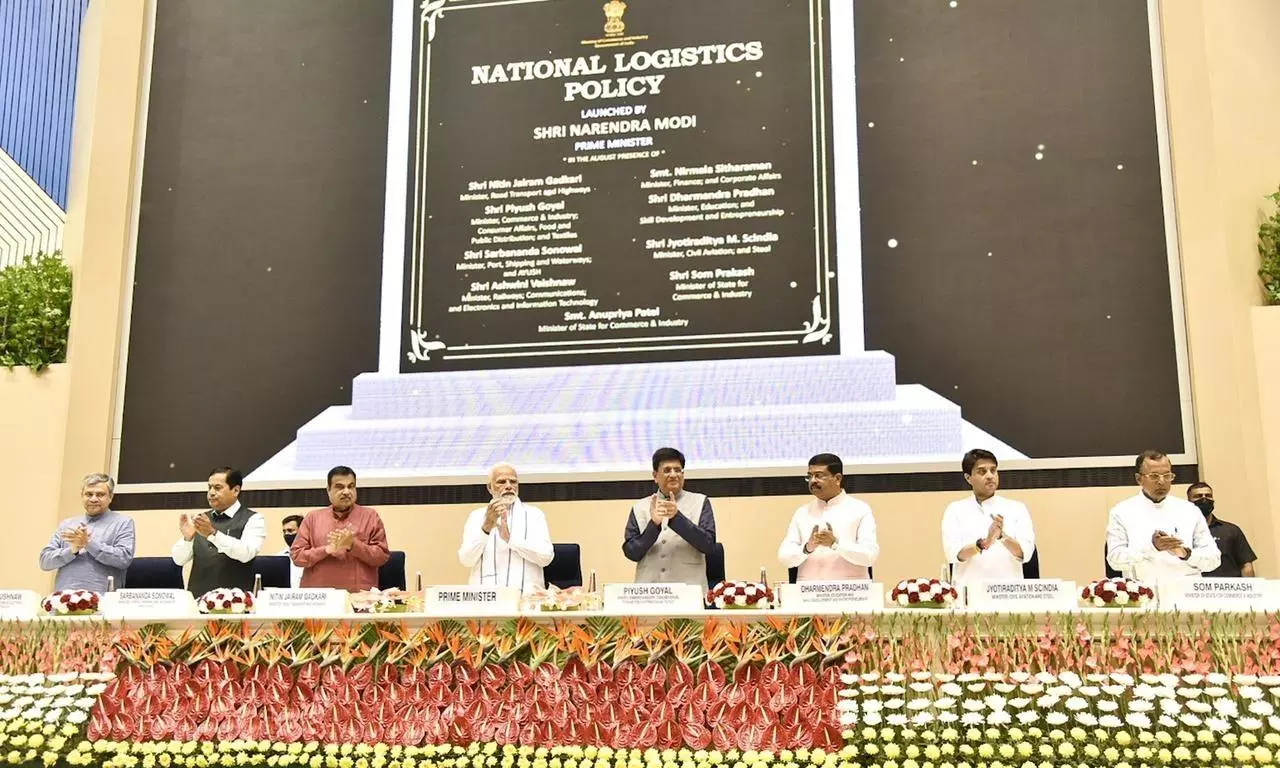 India announced one of the biggest policy changes on Saturday, September 17, 2022, when prime minister Narendra Modi launched the National Logistics Policy (NLP).

However, NLP is not an isolated development. As PM puts it, "The policy is the result of eight years of hard work." And builds on the initiatives rolled out in the recent past like PM Gati Shakti National Masterplan for Multimodal connectivity, which envisaged an interministerial collaboration for infrastructural projects, Unified Logistics Interface Platform (ULIP) which is an open-source platform that connects 30 logistics systems of 7 ministries/departments covering 1600+ fields integrated through 102 APIs and Ease of Logistics Services Portal (E-LogS) that acts as the single-portal for submission of logistics service-related issues/suggestions.
Thus the E-handbook on NLP released by the department for the promotion of industry and internal trade (DPIIT) notes that "it is the logical next step."
What is ULIP up to?

The industry is not shying away from showing its excitement. For example, Mahendra Shah, chairman and group managing director of V-Trans (India) noted that he is more excited about the difference that MMLP (Multimodal Logistics Parks) and ULIP will bring, out of all the aspiring initiatives in the policy.
Sunil Nair, chief executive officer of Snowman Logistics is happy that the NLP covered most of the expectations, and said: "a lot of action will be seen in the sector soon."
Referring to ULIP, "The integration of 30 systems from 7 different departments is one of the most liked solutions," he added.
As ULIP becomes one of the key triggers to drive logistics expansion and growth, K.K Agarwal, chairman and managing director of CJ Darcl Logistics believes that the movement of goods via railways and shipping is set to see strong growth.
"The initiatives announced by the government would help bring logistics costs down to 8-9% of GDP from existing around 15% and make our products for domestic and international markets competitive," he said.
Meanwhile, Kushal Nahata, CEO & co-founder, FarEye, points out that ULIP not only promises to bring all the stakeholders on one platform "but will also harness the power of data analytics."
"ULIP will bring in more visibility and transparency to the logistics sector and help companies become more cost-efficient," he added.
Mihir Ravani, CEO of Elixia Tech Solutions is also more interested in the visibility it provides. "The increased focus on multimodal logistics will distribute the transportation load across air, sea, rail & land, and technology will help bring end-to-end shipment visibility," he said.
Can NLP help bring logistics costs down?
NLP also identifies three targets as its agenda which include a. Reducing the cost of logistics in India to be comparable to global benchmarks by 2030, b. Logistics Performance Index ranking – endeavour to be among the top 25 countries by 2030, and c. Create a data-driven decision support mechanism for an efficient logistics ecosystem.
Nahata also notes that to make India as competitive as China, the US, and Europe, the government must bring down the logistics costs, which currently hovers around 13-14 perent to nearly 8 percent in the next 5 years.
Blue Dart's chief commercial officer Ketan Kulkarni thinks that the policy will help bring down the transportation, warehousing and inventory costs which will consequently reduce the overall logistics cost to around 8 percent of GDP in the next 5 years.
Mehul Kapadia, chief growth officer of Locus is pleased with NLP which will ultimately transform the middle and last-mile from a cost centre to a revenue generator.
Venu Knodur, CEO, Lobb Logistics says, "Customer has options to choose best transportation method based on delivery time and cost."
Taking a different angle, Sanjay Bhatia, CEO and Co-founder, Freightwalla, notes that going for a paperless system has been a long pending demand, and "implementing the same will bring down the time involved in shipping and eradicating corruption at any level," he said.
Pranav Goel, CEO & co-founder, of Porter, said that the proposed reduction of logistics costs is paving a stronger way for India to become a global manufacturing hub and atmanirbhar.
The reduced transit cost should now help India to be the epicentre of the global movement of people and goods predicted Simon Mason, chief operating officer & chief revenue officer, Writer Relocations (India and GCC).
Can NLP make India the global hub for logistics?
The policy not only writes down what to do but also puts forth how to do it with the Comprehensive Logistics Action Plan (CLAP) divided into eight action areas which include the facilitation of multimodal logistics parks, sector-specific logistics plans and assisting EXIM logistics.
Nahata of FarEye is looking forward to a push toward opening up cross-border logistics. "It will ensure that products made in the country are easily available globally and will be a massive boost for the nation's 'Make in India' policy," he said.
Anil G Verma, executive director, Godrej & Boyce believes that the NLP will provide the much-needed fillip to export growth allowing "Indian manufacturers to expand footprints globally."
Niranjan Hiranandani, national vice chairman, Naredco and MD, Hiranandani Group said, "The progressive roadmap to accomplish seamless last-mile connectivity with an integrated platform and approach will scale up India's global manufacturing hub proposition globally."
"The policy will give thrust to manufacturing, MSME, Infrastructure and real estate sectors to generate much-needed employment and investment," he added.
NLP also has an evident focus on warehousing as it included an e-Handbook on warehousing standards. "In the warehousing value chains, "standardisation" is becoming essential for reducing costs, improving efficiency, and ensuring global compatibility as well as competitiveness," the NLP e-book reads.
Finally, has the time for warehousing come?
It also admits that even though there are standards published in India there is a lack of awareness among different stakeholders.
"Warehousing Association of India (WAI) would support to disseminate, raise awareness in the sector for adoption and revise the e-handbook over time for it to stay relevant," it reads.
Hiranandani also said, "Real estate can now capitalize exponential growth of commercial real estate, warehousing and industrial parks in emerging logistics markets."
Nair of Snowman Logistics said that the e-handbook on warehousing will facilitate the standardisation and grading of warehouse infrastructure.
"The policy also covers the operational aspects, clearly differentiating the operators' performance. Furthermore, the policy aims to help all stakeholders - operators and users, both organized and unorganized, to work collectively and address any challenges each might have on one platform," he said.
Deepak Tiwari, COO, KSH Logistics also believes the same and said, "The e-handbook on warehousing standards will be beneficial in creating uniformity and best practices across warehouses."
Swarup Bose_Founder & CEO_Celcius Logistics talks particularly about the PM Gati Shakti initiative which aims to build a national master plan for multi-modal connectivity.
He said, "It is a great boost for creating a seamless supply chain network. From a cold supply chain marketplace like ours, this would be significant as it provides us with a strong base of transport infrastructure. This will be the key to creating an unbroken cold supply chain network which is the need of the hour for temperature-controlled food and pharma logistics."
Can it fill the gap of skilled manpower once and for all?
NLP is also planning to empower skilled manpower by offering courses including one of PM Gati Shakti being developed for an overall capacity building of the civil servants, dealing in infrastructure-related projects.
Kulkarni of Blue Dart expects the policy to boost employment and address manpower issues in the sector with the introduction of new logistics & supply chain courses for students.
Verma of Godrej & Boyce, said, "The Gatishakti Vishwavidyalaya will bolster employment opportunities, laying emphasis on skill enhancement across the logistics value chain."
"The policy will also aid 22 million people in furthering the goal of inclusive growth," as Goel of Porter puts it.
Also, such an initiative can attract international companies and investments to India according to Mason of Writer Relocations.
"The adoption of efficient technology coupled with standardisation of trade and transport facilities along with skill development of the workforce will make India a preferred destination for global players," he said.
Meanwhile, for Snehil Singhai, head of business development at KSH Logistics, gender equality will play a vital role in NLP implementation.
"The focus on skill and human resource development will prove advantageous for the industry," he said.
Looking ahead, Yogesh Dhingra, founder, MD and CEO, Smartr Logistics (ex CFO Blue Dart.) noted that NLP will make India future ready.
"Coupled with the implementation of PM GatiShakti and the launch of ONDC (Open Network for Digital Commerce), 2030 will definitely see a much more digitalized, efficient and adaptive logistics functioning in India," he said.
Going to be really competitive, Isn't it?
Another pillar on which NLP is built is the annual "Logistics Ease Across Different States (LEADS) survey to rank Indian states and union territories according to logistics performance across indicators and pillars while assessing and suggesting various improvements.
In fact, PM while launching NLP warned that as India goes global it is going to be really competitive and he asked the logistics companies not to shy away from it.
"Players with a progressive mindset, technology inclination, and competitiveness will be immensely benefited in years to come from the NLP," as V-Trans' Shah puts it.