Making the 'moves'
The pandemic and the rising economic heft of the Indian middle class have led to a fillip in the fortunes of the Indian relocation logistics industry. ITLN reports.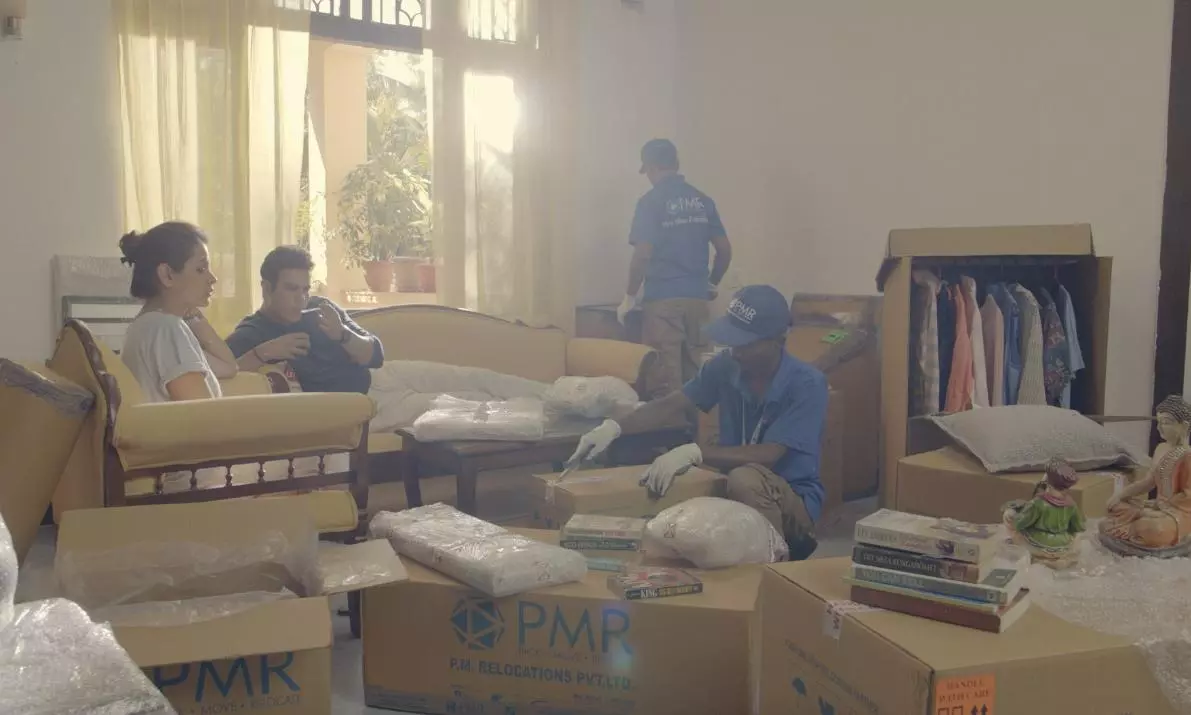 Logistics companies that are enabling hassle-free relocation services to individuals and businesses both in India and abroad and offering a whole host of ancillary services with it are changing the dynamics of this traditional industry. So where does it stand today?
Relocation of homes, businesses, or materials in the earlier days simply meant making a call for tempos or trucks and a few labourers to cart away the goods.
And yet today, there are a plethora of options to fulfil relocation needs and ancillary services available to the customer at the swipe of their smartphone.
Tech-led logistics companies that are enabling hassle-free relocation services to individuals and businesses alike both domestically and internationally are changing the dynamics of the traditional relocation logistics industry.
This is also an industry where legacy players with diversified offerings jostle with smaller, more local players and fight at different price points and towns.
While largely unorganised, good internet penetration and the pandemic have managed to bring a huge disruption in this sector, thanks to Work from Home (WFH) and rapid digitalisation. These factors in turn led to an exodus of corporate employees moving from Tier 1 cities to Tier 2 and 3 cities during the pandemic and the reverse now. Many corporates have taken the lead in proactively offering relocation aid to their employees during these times.
The Belgium-based Federation Internationale des Demenageurs Internationaux (FIDI) is­ a global alliance of quality-certified international moving and relocation companies, specialising in moving homes from one country to another and setting the moving industry's highest quality standards, with its audit partner Ernst & Young (EY).
According to the FIDI 2021/22 State of the Industry Report, the industry is still adjusting in the wake of the pandemic, "Two years since the start of the pandemic, while difficulties remain, there is still a huge appetite for moving. Many in the industry now believe that having survived the early months of Covid-19, international demand will continue to rebound, even with the arrival and rapid spread of the Omicron Covid-19 variant in the first quarter of 2022. However, there remains a degree of uncertainty about the coming months – and how quickly, and by how much, corporate demand specifically will recover."
Long periods of economic inactivity owing to Covid-19-induced lockdowns, thousands of businesses shutting shops or scaling, and the meteoric growth of e-commerce and online buying meant that industrial relocation and warehousing relocation or asset relocation began to thrive as an upcoming vertical in the Indian ecosystem.
In the last decade especially, relocation logistics went from being a custom-made segment, catering only to premium consumers like expats and diplomats to a mass-oriented market that caters to consumers of every budget and needs.
Shape and size of the industry
As per a recent report from leading procurement market intelligence company SpendEdge, employee relocation services are slated to grow at a CAGR of 3.56 percent by 2024.
Simon Mason, the chief operating officer & chief revenue officer of Writer Relocations, a leading relocation company, puts the global relocation market size at close to $10 billion based on secondary research and business estimates.
"Of this, our current addressable market is about $250 million to $312million (₹2,000-2,500 crores) approximately and our share in the addressable market is around 20 percent. We are a niche player focusing on the high-value, brand-driven, premium segment of the market. Approximately, 70 percent of our business is people movement(household relocations) and 30 percent is asset movement," he says.
Meanwhile, Uttam Digga, co-founder of the online logistics marketplace Porter says that the relocation business (including retail and people shifting only) is about a ₹5,000-crore market. "Out of this, Porter, with its on-demand service and 'Porter Packers and Movers' has a 2-3 percent market share, including both inter and intracity."
Highlighting the immense business opportunity in the relocation business, Ajay Tiwari, co-founder and CEO of HappyLocate a tech-based one-stop relocation platform founded in 2016 told the publication, "Globally, 70 percent of the relocations are triggered through corporate enterprises. There are 230 million enterprises globally, but there are very few relocation enterprise tech solutions."
HappyLocate's enterprise solutions tool X-SaaS aids employee relocations at big businesses. Using tools driven by AI and ML, they offer specialised solutions for moving needs based on the client.
The firm counts 100+ companies as its clients including biggies like Coca-Cola, Britannia, Titan, Western Union, and ABB, and has plans to hire 600 people by FY23.
A problem that HappyLocate solved was how HR personnel in many corporations spend time educating new hires, on policies, approval systems, and eligibility through manual processes and emails meant for relocation. Employee relocation packages are popular perks offered by corporates to help move their employees between locations both domestically and internationally.
"We began introducing our enterprise tech to medium and large corporates wherein we have policy reinforcements, inbuilt approval flow through which an enterprise can automate and manage their employee relocations in less than a half a minute," Tiwari said.
The pandemic push
During the pandemic years (2020-2021), people were moving out of necessity – having lost jobs, working remotely from home, needing to care for vulnerable family members, etc. Now, after settling into the new normal and reassessing their priorities, the trend in relocation is also shifting further.
When it comes to the inbound relocations vertical, Mason says, "Many multinational companies from around the world are setting up operations in India, attracted by its booming economy, growing foreign direct investment (FDI), low labour and raw materials costs, and an English-speaking workforce. Faster and simplified visa processing may see an influx of expatriates in the coming year, international assignees, and corporate relocations. This improving business environment is helping the expansion of India's vibrant global mobility sector.
With Indian MNCs and start-ups having made inroads and expanded their business abroad, many Indians working in these companies are also moving with them most notably to the Middle East, Singapore, and the UK. This has increased the demand for semi-furnished/ furnished apartments in Singapore, Dubai, and London, and moving closer to family, particularly ageing family members, is also a trend seen among Indian professionals.
Sharing details on the outbound relocations vertical, Mason adds, "Most of the assignments are going on short-term visas for 2 to 3 years, hence moving with LCL (Less-than-Container Load) shipments are preferred and helping the relocation expenses to be curtailed. Employees are moving with only essential goods like clothes, and utensils due to entitlements and tenure of the assignment and the uncertainty of the stay. Most of these shipments are hence LCL compared to FCL (Full Container Load) trends earlier."
Venu Kondur, CEO of LOBB, a Bengaluru-based company that helps the relocation service providers with the right type of truck for their desired destination, told the publication, "Since its inception, LOBB has focused on closed body container vehicles. Altogether, 90 percent of relocation service providers prefer closed body containers, hence LOBB is able to seamlessly provide them desired vehicles at the best price."
With the pandemic causing people to shift for various reasons, relocation companies seem to have seen a good growth trajectory in this period.
One firm that evinced this upward swing was the Gurugram-based relocation firm PM Relocations (PMR) which crossed a turnover of ₹100 crore for the financial year ended on March 31, 2022, despite feeling the full force of the pandemic.
Aakanksha Bhargava, CEO and President of the 36-year-old global relocation company PMR, said, "The Covid-19 pandemic had a transformational effect on the overall business. We were a part of an industry which was directly impacted by the pandemic and the lockdown."
Physically servicing across the globe, the company boasts of moving over 300,000 homes. Bhargava said "Luckily, we were approached by several of our corporates who wanted us to help them with D2C delivery of laptops and desktops to employee homes to honor the mandate of business continuity and work-from-home. Apart from this, we were approached by healthcare companies to support them in transporting healthcare equipment and machines. I would say that the pandemic definitely gave our business a pivot which not only helped us sustain but also grow assertively."
Nitin O Mahipal, CEO and MD of Pune-based Mega Pack and Carry, said, "We did notice a shift of many individuals to Tier 1 and Tier 2 or 3 cities due to the pandemic. Many are still working from home due to the flexibility received from their corporate offices. Many solopreneurs are offering online services from the comfort of their weekend homes. Therefore, many enquiries were also increasing towards shifting from metros to smaller towns or cities. However, now that the offices are finally opening up, we are also seeing the trend of these individuals making a return to metros where their reporting officers are stationed. "
Tiwari observed that with the Covid-19 pandemic blowing over, the rate with which millennials and Gen Z switch their jobs and rapid urbanisation are all concurrent with the fortunes of the relocation industry.
HappyLocate managed to raise ₹4.4 crores in the pre-series A round, led by Inflection Point Ventures (IPV) with participation from VM Ventures in December 2020 during the pandemic.
Tiwari said, "The large investors believed in the industry and have a very long-term approach to the industry. The new generation is switching jobs 2x faster compared to the earlier generation. Also, urbanisation is bringing people to urban regions. On top of it, with Covid-19 getting over, people are moving faster and relocating quicker. "
Going digital
Tech-enabled movers and relocation companies help in streamlining the process of moving and tracking goods and assets and provide relocation benefits and easy administration advantages as well.
One of the ways PMR ensures transparency is with its ERP system. Bhargava says the firm is currently halfway through the implementation of its ERP system.
"ERP system integration would help us in reducing the usage of paperwork and documentation as they can be seamlessly maintained and utilised by people across India. This will also help us efficiently work in sync within the teams to organise a seamless move experience for our customers, " she says.
Players are now leveraging technology, cloud services, and AI to help bring in more transparency for their customers. Artificial Intelligence (AI) and the use of AI-based chatbots to bring more efficiency and real-time tracking and mobile applications to enhance visibility of their goods to consumers are in effect changing the relocation space.
Tiwari also mentions how the Covid-19 pandemic has changed the mentality of larger companies to embrace relocation automation technology.
"A lot of corporates, that we used to reach out to before the Covid-19 pandemic, showed hesitation in adopting an enterprise tool for relocation perspective. However, post and during Covid-19 almost everyone grew digital conscious, " Tiwari added.
However, the biggest change, spurred by the pandemic is the move towards digital payments, says Mahipal from Mega Pack and Carry. "The biggest change in the transport or relocation industry is the burial of cash management due to acceptance of digital platforms for payment and collection. "
Speaking about the role of automation and the Internet of Things (IoT) in their operations, Mason added, "We have added significant automation into our internal customer file management to speed up what were manual processes. In some instances, this reduces processing times by over 80 percent. In addition, we are working on an anxiety reduction engine project that uses machine learning to pinpoint which customer files might be at greater risk of service escalation and to further automatically adjust the level of support. The IoT is now part of our crew tracking technology for our domestic India moving solution as this helps reduce stress for the customer and allow real-time monitoring. "
Further, Writer Relocations has also flagged off an initiative called 'Glovve' for reducing stress points in the movement of people and assets. "Glovve platform offers real-time visibility and updates to the transferee of their relocation journey from enquiry to billing. This tool will revolutionise the domestic relocation market, " Mason shared.
Bhargava agreed that automation, deep tech, and machine learning were vital in supporting large-scale as well as medium-scale businesses, particularly to identify customers.
"These tech interventions help businesses grow and simplify operations and also help gain a deeper understanding of target customers. When it comes to the relocation industry, I feel that technology can at best help us identify our target audience and gain insights into customer behaviour and purchasing decisions, " she said. Bhargava however added that the human side of the business is irreplaceable.
Concurring on the importance of the human touch in the business, Mahipal believes that though automation has bolstered transparency, it has come with its own set of challenges. "After many years of online applications, the space has become very crowded, and many offer unwanted information or a restricted approach to customer service. We need smart automation and digitisation that gives information that is actually useful and easy to use. However, customers should be allowed to approach the customer service representative any time of the day, and not be restricted by an IVR (Interactive Voice Response) at the time of resolving an issue. "
Do watch out for the second story, coming out next Tuesday, in our in-depth two-part series on relocation logistics.