India's budding flower power
ITLN traces India's evolving flower logistics sector story through the journey of Bengaluru's rose farmer and MD of Indo Bloom Ltd Mammen Mappillai as he draws on his experience as an early exporter of Roses from India and shares his enthusiasm for the future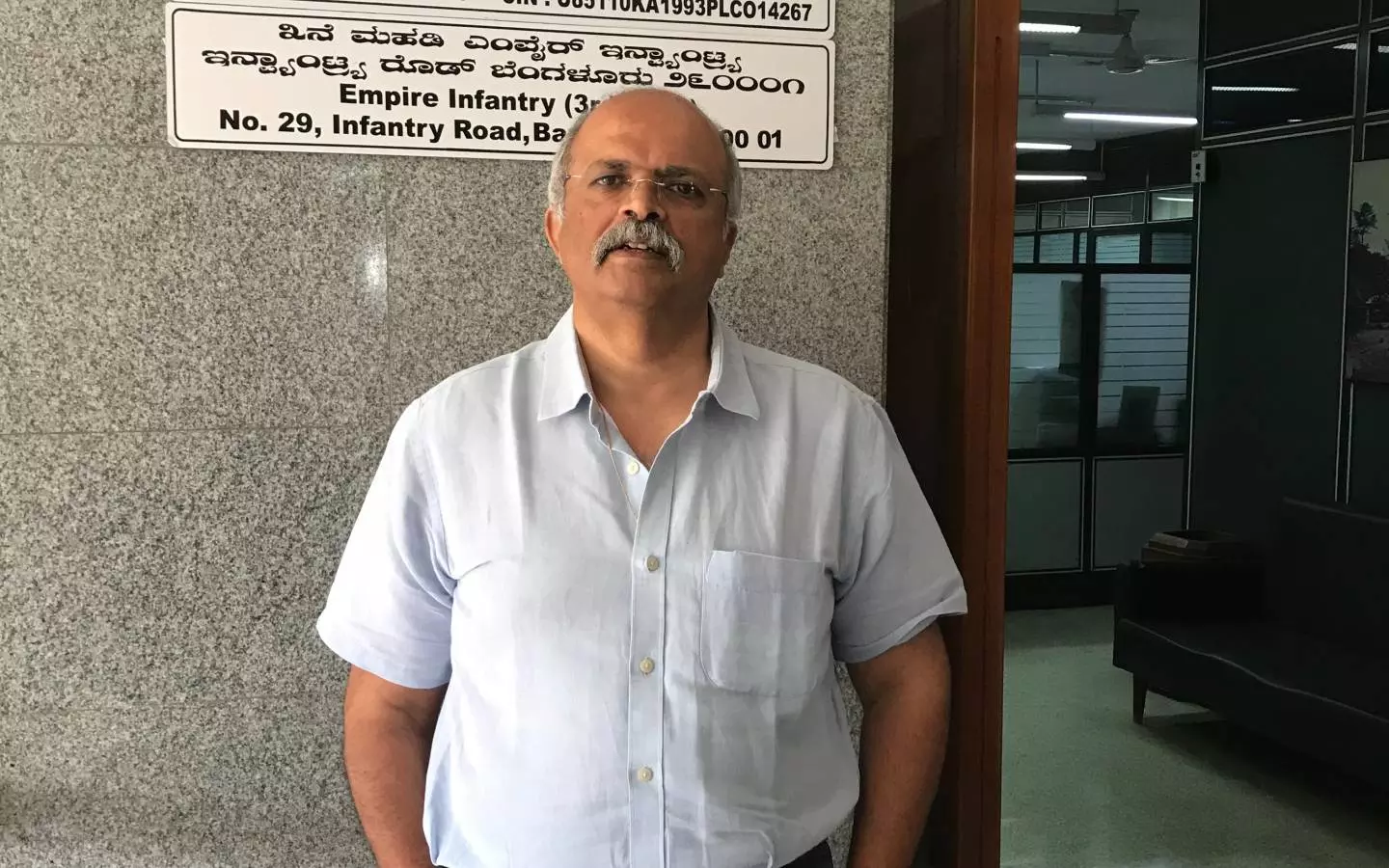 Flowers is an emotion business, says Mammen Mappillai, MD of Indo Blooms Ltd and rose farmer from Bengaluru, India who has been growing roses in two of his farms and exporting them for close to 30 years. Starting out as a 32-year-old with no support or information about floriculture Mappillai describes his journey as a 'roller coaster ride' mirroring perhaps India's own burgeoning perishable logistics business.
Now hailed as a sunrise sector by the Indian government now, apex trade body APEDA (Agricultural and Processed Food Products Export Development Authority) cites that India exported 15,695.31 tonnes of floriculture products to the world for the worth of Rs. 575.98 Crores/USD77.84millions in 2020-21. The major export destinations included USA, Netherland, UAE, UK, and Germany during the same period.

His journey also traces a coming of age of the perishables supply chain for flower logistics in India where the grower/producer, clearing agent, transporter, customs, the airlines, and the consignee make up important cogs in the wheel. Inspired by the Dutch who are experts in floriculture, Mammen's foray in the nineties began with a visit to some of the large Dutch flower auctions including the Aalsmeer Flower auction which is the largest flower auction in the world.
"In those days there were no greenhouses in India as the culture was just not there. We found a Dutch consultant and went there, saw their auctions and systems, and were awestruck. We realized that there is a channel and potential to sell this product," he says.

Starting with a single farm in September 1993, Mappillai would earlier grow roses and chrysanthemums but began focussing on roses at a later point owing to water shortages. Today with two farms in Doddaballapur and a staff of 45 people, he grows 15 different colours of roses and cultivates one of the biggies of the rose market - the red roses!
However, not all was well in the nascent perishable transport and trade back in the 90s India. "In the first year, I recall that we had to send the exports to Bombay, clear it in the domestic cargo and then put it on the international cargo from there. There were a tremendous amount of issues related to heating. At the old Bangalore Airport (HAL Airport), there was no perishable centre and few international flights. Instead, they had a 300 sq feet icebox which was not usable and a cool room/port came in much later. Once the airport shifted to Devanahalli, they built up the perishable centre there and now there is a dedicated area with multiple rooms where they can maintain perishables at different temperatures and maintain their efficacy."

When it comes to flower logistics, two levels of checks are done including the phytosanitary certification and customs clearance before the flowers take to the skies. Mappillai adds, "Even after the perishable centre at the old Bangalore airport was set up, there was no permanent customs person or X-raying happening in a controlled environment. Flowers had to wait in the hold and customs officials had to come and clear it. Flowers are a perishable commodity and you are responsible for them till it gets sold. So we took it up with APEDA who did tremendous work and in a quick span of 2-3 years they aided in building cool rooms in all the export hubs like Bangalore, Bombay, and Chennai."

Earlier, Mappillai recalls that clearing a consignment of roses would not be done at a cool temperature. He recalls trucks lining up for clearances and signing multiple invoices to ensure all the documents are in place.

Batting for digitalization and efficient processes that have streamlined operations at Bangalore International Airport Limited (BIAL), Mappillai avers, "Now a set number of trucks are docked at BIAL, the shipment is unloaded, held at a certain temperature and inspection happens and in under one hour it is done. Earlier we had to sign multiple invoices, papers, get multiple copies, someone has to run and submit it and if there is some correction, some benefit will get held up. We had to wait for the hard copies to come back after customs signature, whereas now these invoices come automatically into my mailbox and you get the copies of documents within the same day or by the next day. It's all technology at work and it is much better now."

JOURNEY OF THE ROSE

Talking about the journey of the rose from the farm to its destination markets, Mappillai reveals that once the roses are cut in the farm, they are then kept in buckets from the harvest stage and these buckets have water of 5 to 7 liters and so only the end of the cut stems are in kept water. Further, the roses are kept in the cold room within half an hour of harvest and they remain for 5 hrs minimum to cool down and hydrate. After hydration and once the rose has cooled down, they are then taken out for grading, bunching, sorting and then are divided into exportable flowers and non-exportable ones.
"We put the roses back in the cold room and they remain there till they have to be shipped out. Normally we pack it, then it goes in a cool truck to the airport and from there it goes to whichever market you are supposed to send it by air. Usually, if this whole cold chain is properly maintained throughout its journey, then it should last a week after it is sold in those markets. Mostly when you buy directly from a farm it lasts longer," he explains.

Mappillai adds, "We send these roses in dry packs to our consignee in Japan or New Zealand who is our man on the ground. He then processes them and puts them in wet packs and from there they go into auctions and to supermarkets or malls. Each market has different systems and these roses sell at different prices based on that. Roses are a perishable product and one of the most perishable of most perishables. We don't have tomorrows! We used to supply roses to various markets, but now we concentrate on Japan and New Zealand."

AT THE AIRPORT

A far cry from yesteryears, the current scenario is such that every facility is present at BIAL including customs clearance and X-ray. "Now the truck gets unloaded straight into the cold room/ cool port which has a holding temperature and after the official procedures, it goes into a room where it is maintained at 2 degrees. The X-rays and phytosanitary certification is done there. Earlier the phytosanitary had an office in a different building but now they have a permanent centre at the airport and most of the inspection happens there. With respect to the phytosanitary certification, the protocol varies from country to country," Mappillai shares.
According to the APEDA's data for FY 2020-21, Bangalore Airport is the leading airport for flower exports in India and for the handling of perishables. One out of every 3 flowers exported from India is shipped through BIAL today. Earlier this month, in lieu of Valentine's Day, it facilitated 515,000 kgs of roses to 25 international and domestic destinations compared to 270,000 kgs shipped in 2021.
Further, around 200,000 kgs (~7.3 million stems) were exported to international destinations this year compared to last year's 170,000 kgs, as per data shared by BIAL. A spokesperson from BIAL told ITLN that flowers make up a 3-4% share of the overall perishables that move from Bangalore Airport. The Plant Quarantine Inspection and Certification facility at the BIAL terminal also enables seamless and faster transit of flowers. With such seamless transfers and digitalization, processes are geared in such a way that all farm-fresh commodities reportedly reach their destinations within 24 hours of harvest.

"While pharma shipments need to be stored in accurate temperatures, flowers need a cold chain and need to be in a mild to moderate temperature. The temperature needed for roses is between 2-5 degrees. The cool port which is a temperature-regulated infrastructure at BIAL is the only facility that the flowers go through from where they are shipped within 24 hours from when they arrive at the airport. Our operational efficiency ensures that all processes including the customs and plant quarantine approvals are done quickly within our premises and it is very easy to process it. After the initial clearances, the customs also gives the flowers 'priority clearance' within 24 hours from when we receive it - which is key," said a spokesperson from BIAL.

PANDEMIC CASTS A SHADOW

However, since 2020, the Coronavirus pandemic has also affected the perishables sector which is struggling to find its feet amidst a break in the global supply chain and rising air freight prices.
Mappillai recalls, "From four shipments of 500 kilos each week, we have come down to hardly one shipment a week because of the freight costs post-pandemic. We have been unable to send shipments to Japan, which was one of our main markets and now we mostly export a limited quantity of roses to New Zealand."

Flower exports are slated to be low this year, owing to good domestic demand and high freight rates, weaning even cultivators like Mappillai from exports. Mappillai says, "Before the pandemic, we used to pay Rs 180 - 200 and today we pay Rs 530-585 a kilo. During the Valentine's Day time period, freight rates had gone all the way up to Rs 850. It is getting frightfully expensive and we are getting priced out of the market now. Despite freight rates from India being high, we lucked out as several countries were facing issues in sending out flowers. I am not a Valentine's Day player and do these shipments around this occasion only to sustain my market in that particular period."

With more commercial cultivators getting into the fray in India and a maturing of the floriculture trade taking place in India, the domestic market interestingly has seen a sudden demand spike thanks to the wedding market- where roses are the star attraction.
"Earlier our main focus was only exports but now post the pandemic we are forced to supply to this market as well. As each country has a different set of requirements my farm was mainly directed and standardized to supply to Japan and southern hemisphere markets including Australia and New Zealand. But now since the last two years, different colored roses have become a thing for the Indian market, especially for wedding markets which now have the trend of having colour themes at weddings," he adds, citing that local markets also have a supply of 50-60% of red roses now.

Even with his chequered journey as an entrepreneur, Mappillai is cautiously optimistic about India's flower exports as he declares that what is conducive to this sector is that 'India has every climate that you need'. He believes the sector which is showing green shoots in Pune, Bengaluru, Ooty, and Nashik needs to be handheld and nurtured especially in the areas of water supply, power supply, and end-to-end cold chain logistics so that it can grow to its full potential.