Gravity model of logistics helps us mitigate impacts of supply chain disruptions: JCBL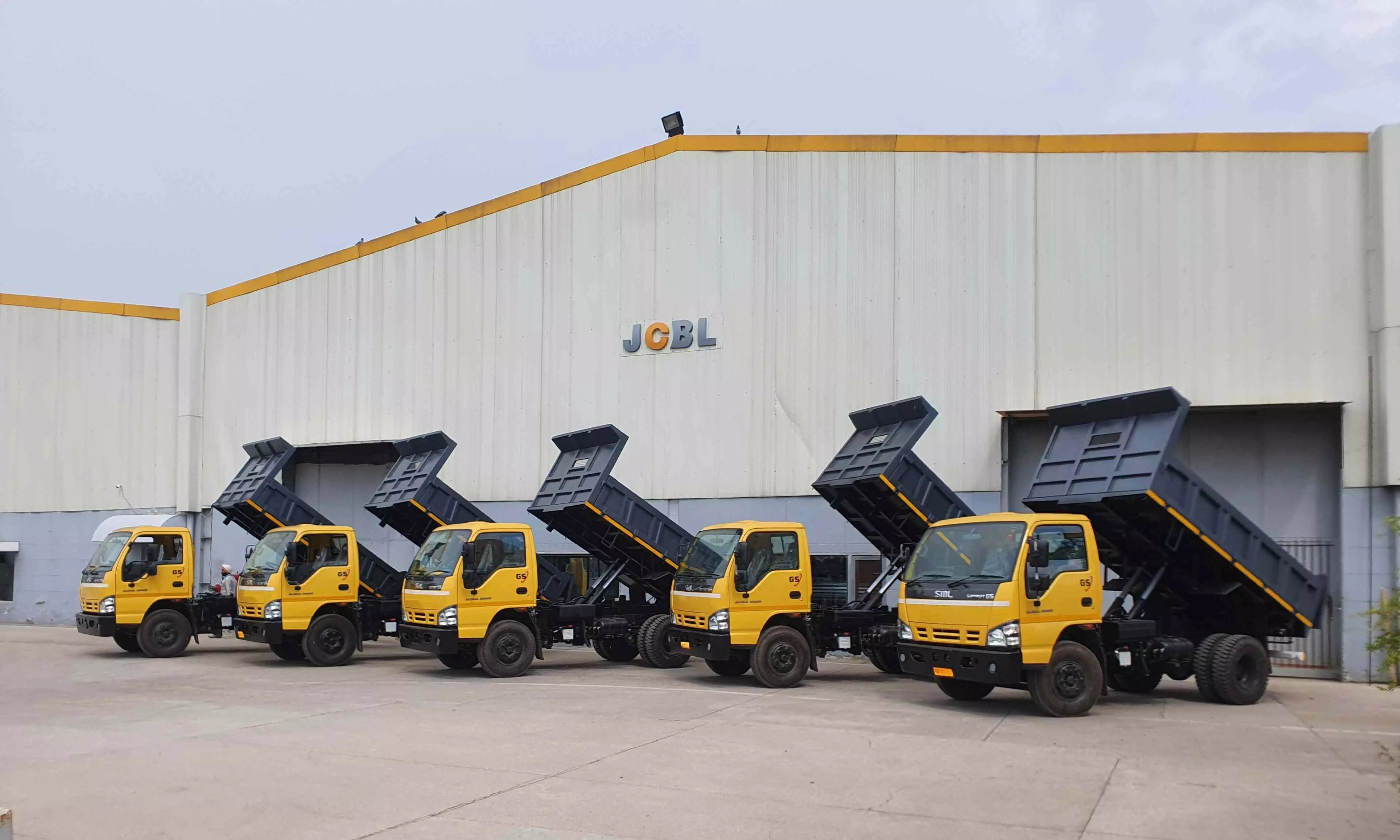 JCBL is one of the leading commercial vehicle fabricators in India for the last three decades and engages in manufacturing for the biggest OEMs (like TATA, Ashok Leyland, Mahindra, Bharat Benz, SML Isuzu) by producing over 15,000 solutions every year. Managing Director Sandip Chakroborty and Director Sanjeev Babbar of JCBL joined us recently to discuss the demand for trucks, tippers, trailers, tankers, and bowsers, how the mobility solutions provider is increasing their capacity and their thoughts about Indian logistics.
Give me a brief about how it all started for JCBL.
Sanjeev Babbar: JCBL started its operations in 1989 to manufacture high-quality customized mobility solutions and started as a white label contract manufacturer to Swaraj Mazda limited (now SML Isuzu ltd) for buses, ambulances, load bodies and cargo boxes at Lalru Punjab, with installed capacity to produce 800 to 1000 load bodies/cargo boxes within range of 4.5 to 10 tons GVW.
Eventually, we diversified in other applications, viz tippers, containers, reefer vans, and water tankers to cater to requirements from private, govt and defence departments through our OEM.
Within a short span of 6 to 7 years, JCBL had established itself as one of the biggest applications builders in North India and was approached by other leading CV OEMs viz Tata motors, Eicher Motors, Ashok Leyland and DICV to do similar applications for them to cater to their PAN India requirements.
We increased our manufacturing capacity at our North facility to do 6000 mobility applications per annum for goods and passenger applications, and also built up another facility in Chennai, South India to do 3000 to 4000 goods applications in 2008.
Today apart from white label supplies to leading CV OEMs, JCBL caters to mobility solution requirements of the ministry of health, MOD, ISRO, DRDO, NACO, various STUs, prime fleet operators for luxury sleeper and intercity buses, political parties and VVIP for Election vans, motor homes, armoured vehicles, heavy haulage trailers, fuel bowsers media vans, etc and many more producing thousands of customized best in class mobility solutions variants every year.
Sandip Chakroborty: JCBL Marrel, which is a 100% subsidiary of JCBL Limited started the facility in South India- in Chennai, in 2008 which was specifically for the requirement of Volvo trucks. This started as a tipper manufacturing company and that is our major product even today. Today, it is catering majorly to Ashok Leyland and Daimler India Commercial Vehicles. For Ashok Leyland and Daimler India Commercial Vehicles, we hold a business share of more than 40 percent in their tipper requirements for their South plants. At Ashok Leyland, we supply to their Hosur plant and their North plant as well. We also supply to Bharat Benz. Currently, our capacity for manufacturing tippers is 450 to 500 a month and we are increasing by expanding our capacities and taking it to 700 tippers per month. So, our major product is tippers, not only box tippers, but also in mining tippers i.e., rock body tippers.
Apart from tippers, we are one of the largest manufacturers of POL (Petroleum, Oil & Lubricant) tankers and water bowsers. We have a state-of-the-art automated plant for POL tankers where we manufacture the petroleum tankers as per the specifications of the oil marketing companies, that is, IOCL, HPCL, BPCL, and Reliance. We also manufacture mobile dispensers for the diesel and petrol segment. We also supply specialized stainless steel water bowsers for the Indian army. We manufacture flatbed trucks and tip trailers also.
How do you perceive the Indian automotive and automotive logistics market? What are the current trends, particularly after the COVID-19 pandemic?
Sandip Chakroborty: For the last three years or maybe more, the entire automobile segment has had to suffer. Firstly, it was because of the transition from BS4 to BS6 in the Indian automobile segment. Soon after, as we were trying to manage that crisis, the Covid-19 pandemic started which led to a lot of lockdowns, factories not working, and business was at a standstill. So, it was a very tough period.
But then for the last one year or to be precise, the last 8 to 10 months, there has been an increase in demands coming in from the commercial and business segments. I believe there was a suppression of demand because of the lockdown. Secondly, the government is taking initiatives and investing greatly in infrastructure which is where our products are mainly used. So, there is a huge demand that's coming in for tippers and trailers. As per our projections and discussions with our OEMs, we are expecting this demand to continue to rise for the foreseeable future i.e., the next 2-3 years at least.
Although in our segment, there are cyclical months. For example, the months of July, August & September are typically rainy months; with flood-like situations in the eastern part of India i.e., Assam, Bihar, and Odisha which leads to demand slightly going down, but overall, after Covid-19, the market is looking very good. It is expected to reach the 2018 levels by 2023-24 in the M&HCV (medium and heavy commercial vehicle) segment. Thus, the next two to three years are looking quite buoyant and positive.
Can you give us an idea about how you perceive the nature of demand in terms of cargo movement and trends like the e-commerce expansion?
Sandip Chakroborty: We manufacture most of our cargo vehicles in the North plant (Lalru, Punjab). The e-commerce segment is definitely increasing and also it is being boosted by government initiatives in terms of improving the infrastructure, especially the road infrastructure. For example Delhi to Agra or Meerut, and even Lucknow to Kanpur. The travel time has been reduced to less than half of what it used to be earlier in all those locations.
Also, there is one highway coming up from Chennai to Bangalore that will cover the distance in two hours which normally used to take five hours. Plus, there are Delhi-Mumbai routes and other such roadways construction taking place across the country. So, that is also going to boost the e-commerce segment and the movement of materials. Thus, I see a lot of positives in India.
Sanjeev Babbar: we can divide the demand into three segments which are seeing a significant boost.
1. Highway/ infrastructure products:- Demand from CV OEMS for tippers, containers, load bodies, and trailers are at their peak, and we are running at full capacity. MHCV sales are already at pre-pandemic levels for our OEMs viz TML, AL, and DICV in this segment.
2. E-commerce/ logistics:- It has emerged as one of the big sectors in the transport industry, nearly half of the logistics requirements of this are met by road transport and especially the last mile distribution done by LCV and SCV. We are working on requirements of specialized good carriers for these companies for the northern cities. 20 to 25 % of sales of OEMs are coming from this segment alone.
3. Scrapping policy/ green India mission:- 10 to 15 % of the sales are contributed to the scrapping of vehicles aged more than 15 years owned by Govt department, apart from this big logistics companies are replacing these vehicles with more efficient and zero emissions EVs for short distance /last mile connectivity to bring down the TOC and also contribute towards Green India Mission. Some of these Demand creator companies are DHL, Rivigo, Gati, Trackon, Xpressbees, etc for our CV OEMs.
What do you think is the impact of the global economic slowdown that is anticipated on the automobile industry and JCBL in particular?

Sanjeev Babbar: Global auto sector growth looks challenging due to lower demand and higher input costs.
An increase in energy prices due to ongoing war, higher cost of production due to an increase in input cost along the entire supply chain, and higher interest rates factors have changed the outlook from stable to negative growth.
Whereas, the Indian auto industry looks exceptionally promising with steady sales in Q1& 2 and increasing sales in Q3 due to festival season and strong demand in Q4, which will support volumes climbing to 12.5% this fiscal and another 4 to 5 % next fiscal as per SIAM reports and forecast models.
To summarize a relatively strong macroeconomic environment, easing of semiconductor shortages, lots of government initiatives to boost domestic consumption viz vehicle scrapping policy, change in the basic customs duty of auto parts, investments in infrastructure and highways, going for alternative technology and use of green energy in automotive, and make in India initiatives are leading to a growth path as compared to regional and global peers and JCBL is set to leverage this growth opportunity.
Can you break down the demand to the kind of solutions you provide to some of this e-commerce demand?
Sanjeev Babbar: E-commerce/ logistics companies want customized application vehicles in various categories of SCV, LCV, and ICV depending upon their requirements viz ICV vehicles (7.5 to 10 tons) GVW play an important role in the cargo distribution needs of an e-commerce company. We manufacture 20 ft to 40 ft container with partitions, 3 side opening, anti-theft security and surveillance features, Reefer trucks for inter-city movements of goods, LCV and SCV caters to distribution and movements of goods within the city limits for fruits, vegetables, parcels and logistics, white/ industrial goods, FMCG, Auto parts, Beverages etc and we need to develop a customized application around the same.
The estimated growth figures in this segment are with an impressive CAGR of 23.6% in terms of revenue in the next 3 to 4 years.
How are you going to scale up the capacity in the near future and what are you looking up to?
Sandip Chakroborty: Our POL tanker capacity is also going to be increased because with POL tankers we are seeing a shift due to the government initiative of moving from the top-loading tankers to bottom-loading tankers. All the Southern India terminals are getting converted into bottom-loading anchor terminals, so a lot of demand is also coming from the oil manufacturing dealers and their transporters, so even for fuel tankers, we are expanding our capacity.
Apart from that, we cater to a sizable number of defence vehicles. We currently have contracts with the Indian Army for various flatbed applications for the transportation of their dozers and excavators, etc. The Indian Army is focusing a lot on the border road areas, so we also work with the Border Roads Organization. So with that, we are expanding our capacity to 50 percent more than what we currently do.
What is the kind of demand coming from the Indian army?
Sandip Chakroborty: The focus now in the Indian army is that they talk about Indianisation, so there is a lot of focus on being 'Atma Nirbhar'. There are regular RFPs and RFQs coming from the Indian Army.
Sanjeev Babbar: The government has announced a budget of INR 1.52 trillion towards the procurement of indigenous equipment for modernising our forces. List of 411 pieces of equipment with RFP/RFQ in the process to be procured from domestic manufacturers, which also includes goods, logistics, surveillance, troops movement vehicles, armoured vehicles, trailers, etc. An estimated value of INR 175000 cr worth of orders will be procured from Indian OEMS / manufacturers in the next 5 years. MOD has also set a target of exporting defence equipment worth INR 35000 cr by 2025 and we shall take full advantage of this big opportunity.
Can you give us an idea about your internal supply chain? How do you streamline your supply chain? Also, how did you manage that during the COVID and lockdown situations?
Sandip Chakroborty: In Chennai, we try to follow what we call a gravity model, which means all parts of our supply chain, supply parts and critical parts, we try to develop our vendors as near to us as possible.
We have most of our suppliers and supply chains within a 200 to 300 kilometres radius. That is one way we're trying to minimize the impact. Yes, we were affected during the Covid-19 pandemic time, but now situations have improved, and I don't see much of the challenges in the movement of the goods concerned.
In our industry of fabrication, it is very difficult to follow the just-in-time kind of supply model. We have to carry a certain level of stock with us. But the only thing we can do is to see how we can reduce the logistic time so that we can fill in our stocks as quickly as possible. We are studying how regularly we need to restock and keep all our corners covered as far as material supply and stock are concerned.