Automotive supply chain: A paradigm shift in the making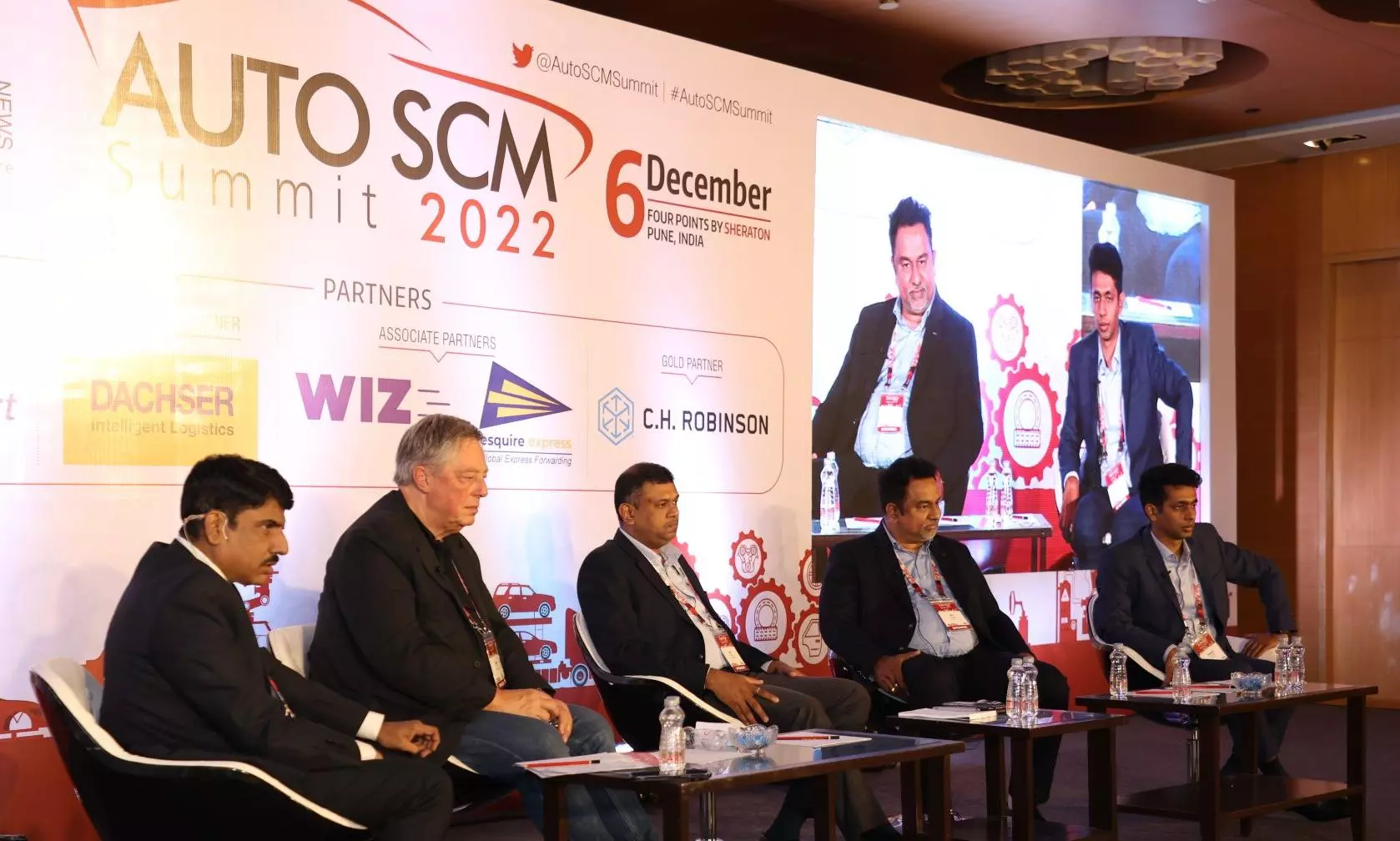 Automotive supply chain across the world is at crossroads after the Covid-19 pandemic. Traditional models of the value chain have collapsed and going back is impossible. With more disruptions expected, AutoSCM Summit 2022 discussed market demand for 2023, the future of the JIT model, technological advancement and the entry of electric vehicles.
The supply chain management worldwide is getting ready for another disruption in 2023 as global macroeconomic factors are affecting the demand, particularly for automobiles. After the disruptions of the last two years, logistics professionals are still debating on the suitable model to adopt in automotive and figuring out the role of technology in that. However, one thing the experts agree on is the future would need a new supply chain for automotive as the adoption of electric vehicles (EVs) is gaining traction.

Indian Transport & Logistics News organised the sixth edition of the premier automotive supply chain management conference AutoSCM Summit in Four Points by Sheraton Hotel, Pune on Tuesday, December 6, 2022.
Presented by Frankfurt Airport, the networking event had Dachser as Supporting Partner, Wiz Freight and Esquire Express as Associate Partners and C.H. Robinson as Gold Partner. The event attracted the best minds in the country and beyond to discuss and debate the evolution, pain points and future of the automotive supply chain industry. The attendees and speakers included Original Equipment Manufacturers (OEMs), component manufacturers, logistics companies, freight forwarders, airports, airlines and EV stakeholders.
Themed "Reimagining Automotive Supply Chain: For an Age of Digitalisation and Disruption", the one-day conference had carefully curated panels and presentations to ensure maximum attendee engagement and attention. The panels were divided among topics to understand the demand vs supply, the evolution of the Just-In-Time (JIT) model, technology interventions and the emergence of electric vehicles.
2023: Opportunities and challenges
Roland Weil, vice president sales - cargo, Frankfurt Airport shared his concerns about what is in store for air cargo and the automotive sector in 2023 which includes lower freight rates and increased capacity while delivering his opening remarks at AutoSCM Summit 2022.
"A320 conversions are rolling in. Every quarter two or three aircraft are going into North Atlantic and European routes. We are going to see Boeing 777 conversions coming into the market with 300 ERs ready for delivery by the end of 2023. There are numerous production lines for that aircraft set up around the world. Considering the uplift capacity of the B777-300 ER converted freighters with 47 PMCs compared to 39 on a 747-400 or 800, that is an increase in capacity. The cost to operate such aircraft will also be much lower. The question is whether this will result in the retirement of B747s that are still flying. We will see how the market will respond to that increased capacity," he said.
Binu George, sales head, Indian Subcontinent, Dachser, was optimistic about the challenges ahead as he notes that there are many out-of-the-box solutions available even though he agrees with the disrupted nature of the supply chain of automotive.
"Last two years, the automotive supply chain has seen the worst kind of disruption and I don't think any bigger disruption will hit us. Because right now we have many solutions available. All we need is the right solution provider. The shipper or the consignee needs to understand who performed in the last decade and particularly the last two years. Even though cost plays an important role in the supply chain, they need to understand what value addition they are having which includes digitalisation," he said.
Amit Borkar, vice president - new mobility, ARaymond, pointed out that the disruption is a real opportunity for the industry and new players are coming into the sector which includes new electric vehicles.
"Covid-19 pandemic-caused disruption is now a real opportunity for this industry. We have new players like OLA who are aggressively building their capabilities and are now causing disruptions of a new kind that can have a huge impact on the industry in the long run," he said.
CargoFL - an operating system for logistics
Deepesh Kuruppath, founder & CEO, CargoFL, an operating system for logistics, spoke at the event and presented the idea behind his company and the solutions they bring in.
CargoFL provides its tech to both corporates and transporters helping them achieve digitization, automation and optimization of their logistics.
"The way we look at the logistics industry is from two angles. On one side we have all businesses and manufacturers like pharma or automobile, on the other, we have truck owners or trucking companies that provide different types of trucks."
He stressed the need to optimise local transporters and empower them with efficient processes.
"For example, the local truck owners here in Pune, with 10 or 15 trucks, will not have a tech to be optimised on their side. Enterprises go for local transporter to become cost-efficient, but they engage with big transporters to become process-efficient. What if we can make these local transporters process-efficient using tech and make them available to shippers."
And that's what CargoFL does.
The whole point of JIT logistics is customer satisfaction
JIT is certainly an innovative and useful model of logistics that has proved its worth since the 1970s when it was first invented by Toyota. However, the Covid-19 pandemic was a big blow for anybody who followed JIT logistics as they ran out of important raw materials and components to manufacture. Companies went to what is called Just-in-Case (JIC) model to deal with this disruption. The second panel tried to find out whether the industry will go back to JIT or we will stay with JIC. Our panellists had different opinions because it all depends upon customer satisfaction at the end of the day.
Phani Krishna, general manager, West, DSV, started by talking about how JIT was introduced in India back in the 2000s when European car manufacturers started building manufacturing plants in the country, tried to follow the same JIT model they followed in Europe when India was not ready and how logistics services providers got involved to solve the issue.
"When the Covid-19 pandemic hit, everything just collapsed to an extent where the JIT was questioned as the right model for the automotive industry. However, JIT is there to stay. As normalcy is gained, people are going back to the JIT model."
However, Somil Shrivastava, head of supply chain management, Magna Automotive, thinks that there were many more failures of JIT than successes and believes that the essence of JIT has gone.
"People are not very excited about the JIT model. If a manufacturer wants to follow JIT, he will push inventory to the component manufacturers or the tier two and three suppliers. I know OEMs that get supplies in JIT but if it is out of 30 or 40 kilometres of radius, then they have to keep seven days of stock in the warehouse," he said.
On the same line, Mandar Vaidya, director materials management - region India, ZF Group, reminded us that JIT is built on the premise that the end-to-end value chain is very reliable but we don't live in that world anymore.
"India has never been in a stable situation. We were always growing suddenly or stopping suddenly. Immediately after the Covid-19 pandemic disruption, people started building buffers and the buffers were built in almost everything. However, things are getting a little bit back to normal. We are actively looking at what buffer can be taken out and what needs to remain. There is an effort to go back to JIT but we still keep some JICs. It is a mixed model and it will remain."
Digital transformation that extends to entire value chain
The event also took a deep dive into the world of digitalisation and the technologies used in the supply chain of automotive with the third panel. The discussion ranged from selecting the right partner to have the ability to integrate and from providing real-time visibility to predicting the arrival of shipment. It also ventured out to understand the differences and boundaries between digitisation, digitalisation and digital transformation.
Sanjay Suranglikar, senior general manager - central purchase, TATA AutoComp, stressed the need for companies to look for the right partners for digital transformation, push for better user interface and the ability to integrate the software with different systems in the company.
"Whatever the software we implemented, we always integrated it with the SAP so that we can have a common thread in the backend which allows different systems to communicate with each other. We have always given priority to solutions that have high impact and low complexity," he said.
Krishna Giridharan, head automotive vertical - South Asia, C.H.Robinson, stressed the importance and demand for real-time Transport Management Systems (TMS). he also noted how the TMS in C.H. Robinson works to give end-to-end solutions for all requirements in the supply chain and at the same time keep the ability to integrate with other service providers.
"When software is developed, even if it is a TMS, it is more co-developed with the customer. So with the data they give, we are able to churn well, do predictive analysis and bring back value."
Building trustless supply chains through Blockchain

Supply chains powered by blockchain ensure a single source of data truth, end-to-end product traceability, and automated processes between multiple partner organisations.
Srinivas Mahankali, chief business officer, Blockedge Technologies, a cloud-native company that offers blockchain tech to eliminate the need for trust (trustlessness) between mutually non-trusting entities, in his presentation noted that blockchain can remove middlemen in the supply chain.
"If you have trust, the cost of connecting parties for transactions is less. Higher the trust, the lower the cost. Today we pay a lot of money to the middle parties because they have invested a lot of money to provide the so-called trust. But they are misusing the trust, they can lose information to malware hackers and they can manipulate it."
"We take our customers through the part of digital transformation by leveraging cloud, advanced data engineering and AI capabilities. We have very advanced platforms that enable organisations to implement cloud foundations and data laying, data warehouses and data analytics platforms, cutting their cost and time by almost 80 to 90 percent," he added.
EVs demand a completely new supply chain
An Arthur D Little report published in September 2022 said that the electric vehicle (EV) adoption rate in India currently stands at about 2 percent. It gives two reasons for that: high price differences with the traditional internal combustion engine (ICE) models and the absence of adequate charging infrastructure. However, the Indian government has an EV penetration target of 30 percent for passenger vehicles, 70 percent for commercial vehicles, and 80 percent for two-wheelers and three-wheelers by 2030.
Kshitij Bajaj, co-founder, Dandera Ventures said, "EVs are gaining a lot of acceptance in logistics because of governmental push and people understanding EV as the future."
He also noted that by Nov 2022, the Indian EV market has sold about 35,000 three-wheelers and they are cheaper, easier to maintain and the RoI is quicker. "The customer has already started enjoying the RoI. For an electric vehicle, if calibrated properly, you can have a return on investment in one and a half years, which is better than ICE vehicles," he added.
Regarding cost disparity, Bajaj noted that it has come down. "It is only going to get better with time as better vehicles, technology and better players who are investing in R&D and have solutions to problems rather than coming up with EVs and asking us to buy and use them," he said.
With all the new startups coming in, Bajaj thinks that in the next six months to a year, we will see a lot of new products that make EV adoption very easy.
Talking about battery technologies and recent EV fire incidents, Gautam Pal, head of business-fleet electrification, Sun Mobility, admitted that there are no concrete regulations in terms of battery technology. "However," he said, "The Indian government has been pushing for some of these recently while the battery technology companies like Sun Mobility are innovating for safety by monitoring different parameters and making them fire containable at a cell level."
While asked what stops logistics companies from buying more EVs, Prasad Sreeram founder and CEO of COGOS Technologies noted a few challenges. "Not many people will jump on to EV adoption till the industry proves the benefits and RoI. We are currently operating in 350 cities but when it comes to EVs we are only in five to eight cities. The workforce involved needs to be trained. This is not about replacing diesel vehicles. It requires change management."
He also noted that EV adoption in logistics has to be market and demand-driven. "It will only happen if we find something very specific to the purpose. We need to have use cases which can be only fulfilled by EVs and not by diesel vehicles. I would recommend OEMs, fleet owners and customers to work together for specific use cases and make electric vehicles for those specific purposes."
On the same note, Bajaj believes that we are going towards modularity. "Vehicles are going to be modular in nature where from one utility to the other all you have to do is change a couple of parts. So you can swap it out and have a completely different vehicle," he said.
Ruby Abidi, director air cargo, cargo-partner, noted that EVs can bring dual benefits for freight forwarders and logistics companies: They can optimise their supply chain with new EVs and they have to take care of the movement of EVs and their components between countries and inside.
"Once EVs obtain the desired level of penetration, there will be huge shipments of EV components coming to India from China, Korea and Japan as we are dependent on these markets. As freight forwarders, what we require is procedural specialists who can tell shippers what documents are required, how well we can handle them, and what are the self-checklists," she said.
She also pointed out that EV components, especially lithium batteries, are forbidden to carry in passenger aircraft, they require freighter aircraft and, technically, India is not a freighter market.
"With more penetration coming in, we would require more freighters. Batteries are also a little high-yield cargo because of handling, safety and packaging requirements," she said.
However, she also took a step back and said that innovations are happening every day and these disruptors can bring in solutions by which batteries can be transported on passenger aircraft.
This article was originally published in Indian Transport & Logistics News' January- February 2023 issue.