Attend 6th edition of the automotive supply chain conference AutoSCM Summit
The finest opportunity for automotive professionals for networking will be held at Four Points by Sheraton Hotel, Pune on Tuesday, December 6, 2022.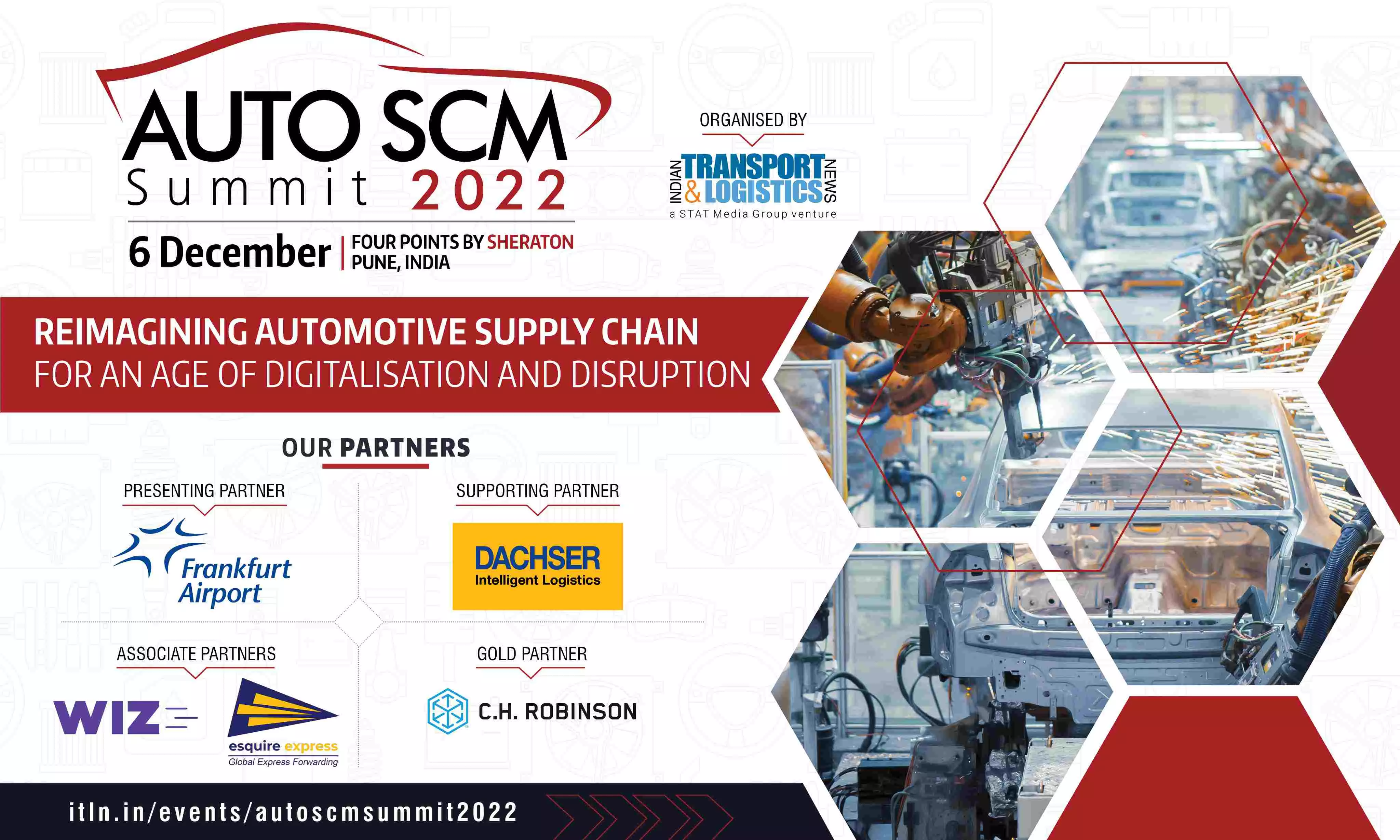 Indian Transport & Logistics News is delighted to invite you to the sixth edition of the premier automotive supply chain management conference AutoSCM Summit in Four Points by Sheraton Hotel, Pune on Tuesday, December 6, 2022.

Presented by Frankfurt Airport, the networking event has Dachser as Supporting Partner, Wiz Freight and Esquire Express as Associate Partners and C.H. Robinson as Gold Partner.
We will be bringing the best minds in the country and beyond to discuss and debate the evolution, pain points and future of the automotive supply chain industry. The attendees and speakers will include Original Equipment Manufacturers (OEMs), component manufacturers, logistics companies, freight forwarders, airports, airlines and electric vehicles (EV) stakeholders.
Register now: https://www.itln.in/events/autoscmsummit2022/register.html
Themed "Reimagining Automotive Supply Chain: For an Age of Digitalisation and Disruption", the one-day conference will have four panels and multiple presentations to ensure maximum attendee engagement and attention. The panels are divided among topics to understand the demand vs supply, the evolution of the Just-In-Time (JIT) model, technology interventions and the emergence of eclectic vehicles.

Panel discussion-1: Automobile demand: Are we heading to a new disruption?
The global automotive logistics market was valued at $160 billion in 2021 and is expected to hit $264 billion by 2030, poised to grow at a compound annual growth rate (CAGR) of 5.7% during the forecast period 2021 to 2030. However, the automobile manufacturers, component suppliers and logistics partners have a lot to deal with before it gets there.
For a few years, the automotive industry was affected by the issues on the supply side, however, the question is right now on the demand side due to global economic concerns. Are automobile makers prepared for another disruption, this time from the demand side? What logistics partners of these shippers should expect?
Panellists
Roland Weil, Vice President Sales - Cargo, Frankfurt Airport
Binu George, Sales Head, Indian Subcontinent, Dachser
Pravin Nerpagar, Supply Chain Lead - Global SCM, TATA Motors
Amit Borkar, Vice President - New Mobility, ARaymond
Rajiv Ranjan, Head - Supply Chain Management, Knorr-Bremse Systems
Satish Lakkaraju, Senior Vice President, Global Head – Air Freight & Pharma, WIZ (Moderator)
Presentation: CargoFL - an operating system for logistics
Deepesh Kuruppath Founder & CEO, CargoFL will talk about how his company is building an operating system for logistics that provides logistics tech to both corporates and transporters thereby helping them achieve digitization, automation and optimization of their logistics and supply chain functions.
Panel Discussion 2: What is the future of Just-In-Time logistics in automotive?
Automobile parts had a market value share of more than 75% in the global automotive logistics market in 2019 compared to finished vehicles. The automobile is one of the industries that truly leveraged the benefits of globalisation and invented the Just-In-Time (JIT) model of logistics. The model is very efficient in terms of cost, time and inventory space used however the Covid-19 pandemic exposed the gaps in the model and since then the conversation was on the shift to Just-In-Case. Even though there is truth in this argument, JIT is something the world can ignore and move on to, particularly for the automotive industry.
Even then, JIT would not be the same as it was before the pandemic and the world has learned a lot since then. Thus, it would be interesting to contemplate what the JIT would look like in future. How far are we from solving the shortage of semiconductors?
Panellists
Phani Krishna, General Manager, West, DSV
Somil Shrivastava, Head of Supply Chain Management, Magna Automotive
Manoj Singh, Senior Vice President & Head - Cargo, Mumbai International Airport - Adani Airports
Mandar Vaidya, Director Materials Management - Region India, ZF Group
Om Vijayvargiya, Head of Supply Chain Management, Schaeffler India
Lakshmi Ajay, Associate Editor, Indian Transport & Logistics News (Moderator)
Panel Discussion-3: Winning the digital future of automotive: Technology solutions, innovations
One of the key learnings for the supply chain professionals from the pandemic was that the chain needs to be more resilient and agile so that they can respond to new instances very quickly and have the automotive components and automobiles moving around the world smoothly.
How does the automotive industry adjust to these challenges and soften the difficulties? One of the ways by which you can do them is by bringing visibility to the supply chain and digital technologies to streamline.
But do we have all the required technologies available? What are new solutions and required areas of innovation?
Panellists
Krishna Giridharan, Head Automotive Vertical - South Asia, C.H.Robinson
Mohan Kadam, General Manager - SCMG, Dana India
Satish Lakkaraju, Senior Vice President, Global Head – Air Freight & Pharma, WIZ
Manish Shrivastava, Deputy GM, SCM, Spark Minda
Mandar Kothawade, Head of Logistics, Gestamp
Sanjay Suranglikar, Senior General Manager - Central Purchase, TATA AutoComp Systems
Javin Bhinde, Director & Founder, Syncore (Moderator)
Presentation-2: Blockchain for automotive supply chain
Srinivas Mahankali, Chief Business Officer, Blockedge Technologies will talk about how his company is developing some of the most advanced technologies for the automotive industry which has use cases in the supply chain.
Panel Discussion-4: Future is electric but how futuristic is the supply chain?
The global electric vehicles market size is projected to grow by 2030 at a CAGR of 21.7 percent. But is the logistics industry across modes prepared to tackle the complexities it has to offer? For many, it is still a nascent industry and their logistics requirements are evolving. The industry has its own challenges like the charging infrastructure, the dangerous good nature of its batteries and wastage issues.
How far can logistics companies value addition and help the EV industry to be the automobiles of the future and thereby the future of the automotive supply chain?
Panellists
Kshitij Bajaj, Co-Founder, Dandera Ventures
Ruby Abidi, Director Air Cargo, cargo-partner
Gautam Pal, Head of Business-Fleet Electrification, Sun Mobility
Prasad Sreeram, Founder & CEO, COGOS Technologies
Libin Chacko Kurian, Principal Correspondent, Indian Transport & Logistics News (Moderator).
Follow our social media handles for more updates and see you in Pune on Tuesday.