Logistics industry gives a thumbs up to Union Budget 2018
February 1, 2018: Finance Minister Arun Jaitley in his Union Budget 2018 speech announced that Rs 1.48 lakh crore has been allocated for railway capit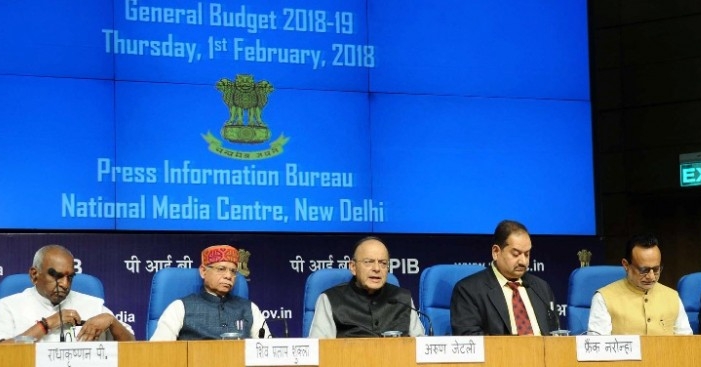 February 1, 2018: Finance Minister Arun Jaitley in his Union Budget 2018 speech announced that Rs 1.48 lakh crore has been allocated for railway capital expenditure for FY 2018-19. Most of this money will be spent on capacity expansion, since it is a priority for the national transporter, Jaitley said. He also proposed a target of doubling 18,000 kilometre of lines and said gauge conversion is underway to eliminate capacity constraints.
The minister said 36,000 kilometre of rail track renewal has been targeted in the coming year while 4,267 unmanned railway crossings on broad gauge routes are to be eliminated in the next two years. "Work on Eastern and Western dedicated freight corridor is also in progress. Maintenance of track infrastructure is being given special attention," he said.
Meanwhile, the minister also stated that the government is confident to complete National Highways exceeding 9000 kilometers length during 2017-18. He also said that the ambitious Bharatmala Pariyojana has been approved for providing seamless connectivity of interior and backward areas and borders of the country to develop about 35000 kilometres in Phase-I at an estimated cost of Rs 5,35,000 crore. To raise equity from the market for its mature road assets, NHAI will consider organizing its road assets into Special Purpose Vehicles and use innovative monetizing structures like Toll, Operate and Transfer (TOT) and Infrastructure Investment Funds (InvITs).
The logistics industry players have lauded the union budget and the government's push for digitisation, MSME sectors, National Logistics Portal, rural economy and other important measures.
"India has the opportunity to grow its share of global trade in which food and textiles are important segments. Initiatives like improved minimum support price and operation green; increased outlays towards fisheries, aquaculture and animal husbandry funds; and setting up of food parks will strengthen the overall food ecosystem. We also congratulate the Government's on broader electrification and use of technology in railways and for considering new technologies such as Block Chain and Artificial Intelligence," said Julian Michael Bevis, Senior Director, Group Relations South Asia The Maersk Group.
"We welcome government's decision to allocate of Rs. 5.35 Lakh crore to develop 35,000 km under phase 1 as part of Bharatmala project. We also welcome other important initiatives like the decision to boost the MSME sector by allocating Rs 3,794 crore in the form of capital support; initiative to set-up National Logistics Portal as a single online window to link all stakeholders and decision to allocate Rs 2.4 lakh towards smart cities development will push the need for express companies like TCI Express," said Chander Agarwal, Managing Director, TCI Express.
"We welcome the proposal of the National Logistics Portal as it will improve the transparency and visibility of cargo movement across the country," said Raaja Kanwar, managing director, Apollo LogiSolutions. "Bharatmala project is a positive development, coupled with eWay bill implementation which will result in faster turnaround times for on-road transportation."
He further said, "With the announcement of 1.48 Lakh crore allocated to Railways, we hope that there is a thrust on improving freight logistics apart from better passenger connectivity. This will help the logistics industry drive up efficiency through rail networks in terms of costs and CO2 reductions." He also agreed that the mass formalization of MSME sector will spur local manufacturing which will increase the need for logistics services across the board.
Meawhile, Rajiv Agarwal, MD & CEO, Essar Ports, said, "The budget clearly displays that post demonetisation, GST implementation and bank recapitalisation, the economy will witness an 8 percent growth and buoyant tax collections. The stress is towards recharging the rural economy by shoring up infrastructure, ensuring livelihood, doubling farm income and increasing agri exports. On the infra side, large spends are being done this year: Rs 14.3 lakh crore on rural infrastructure, Rs 14.8 lakh crore on the Railways, and Rs 5.9 lakh crore on overall infra spends. These investments will provide impetus to growth, demand and employment generation."