Deliver goods at the speed of cheetah: PM while launching National Logistics Policy
"Cheeteh ki gati se saaman uthana hai aur le jaana hai (pick up and transport goods at the speed of a cheetah)," he said.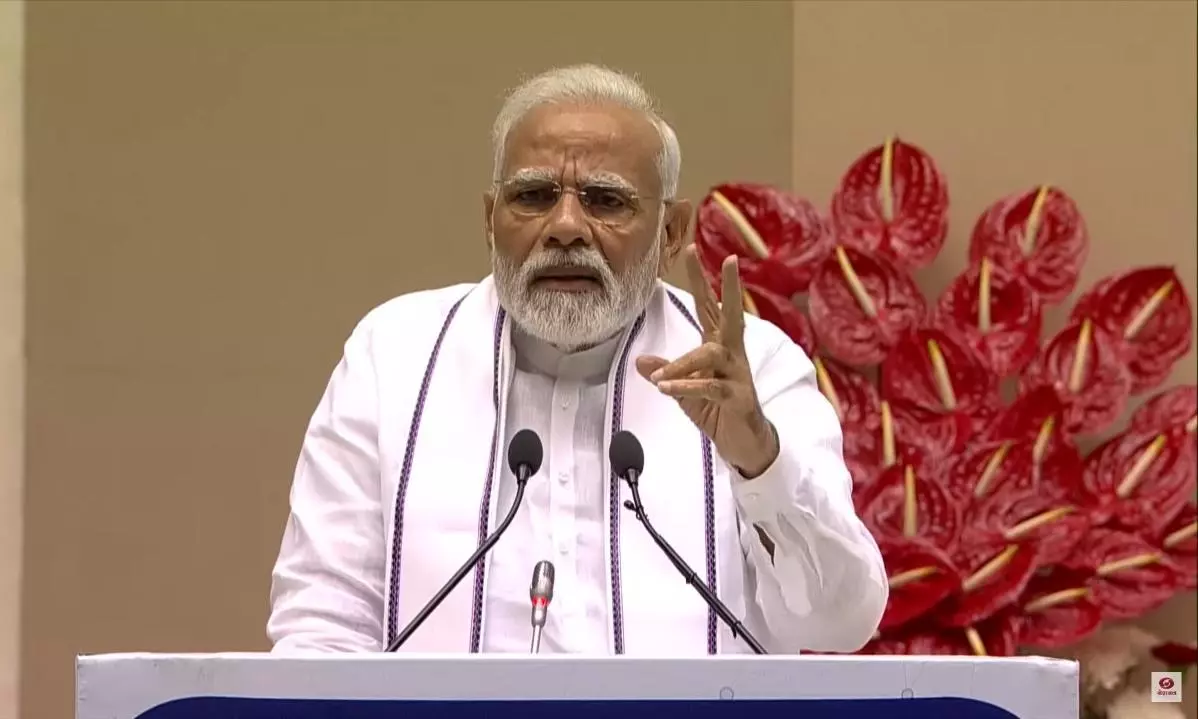 Prime minister Narendra Modi today announced the launch of the much-awaited National Logistics Policy (NLP) at a function held at Vigyan Bhawan, New Delhi and stressed the need for the logistics industry to step up its performance in terms of the speed at which goods are moved and to be competitive with developed countries.
"Cheeteh ki gati se saaman uthana hai aur le jaana hai (pick up and transport goods at the speed of a cheetah)," he said.
PM also said, "The National Logistics Policy is a result of 8 years of hard work and was started to make last-mile delivery faster, remove all hurdles in the movement of goods, save both time and cost of our people and reduce wastage along the supply chain."
With the policy in place, the government wants the country to be among the top 25 countries in terms of logistics performance, improve coordination between stakeholders, reduce manufacturing costs and introduce sector-specific logistics plans.
To all the stakeholders, along with the introduction of the 'policy', he urged to improve 'performance' as well. "Since only the combination of these two will ensure 'progress'," he said.

He noted that NLP will be the driving and guiding force for the logistics industry and there is no excuse but to perform well.
PM also noted that there is a humanistic face for the newly introduced policy regarding the truck drivers who will be directly benefited from the policy. However, he also reminded, "If we can implement the policy in the right way, the truck drivers can do their job and sleep at night."
He noted the country needs to bring down the logistics costs from 14 percent to a single digit as soon as possible. "India is the fifth biggest economy now and we need to become a developed one. As we move forward in that direction, we need to be competitive with the developed countries and we need to embrace the competition without shying away from it," he said.
Meanwhile, he also mentioned other steps taken by the government to improve logistics efficiencies and achievements. He noted that National Logistics Policy follows the same path as PM Gati Shakti in improving the coordination between the ministries, departments and other stakeholders.
He pointed out that turnaround times at ports were brought down from 48 hours to 24 hours, new waterways are being built for the movement of goods and 35 multimodal logistics parks are being built, while Kisan Rail and Krishi Udaan were initiated during Covid-19 for the movement of goods from rural regions. "We now have 60 airports where our farmers can avail the benefits of Krishi Udaan," he said.
Looking at the future, PM also noted the importance of drones in logistics and he also pointed out that drones are already deployed in the movement of medicine and vaccines in regions with difficult terrains such as mountains. We have a very robust drone policy in place and I'm very sure that drones will play a crucial role in logistics near future."
R Dinesh, vice chairman, TVS Supply Chain Solutions, said at the announcement: "With outsourcing increasing in the sector, we believe the utilisation of all the assets which have been created will happen. And that will have a positive impact on the livelihood pf entrepreneurs, especially the small transporters and the medium companies by digitally linking and growing together."
He added later: "Obviously, this will increase our export competitiveness and most importantly, reduce our carbon footprint, which has also been a commitment from the logistics sector. We make a promise that we will proactively work with you to make this happen. We are looking at not only creating jobs but creating wealth and management for everybody who are associated with this sector. So thank you very much for giving us this opportunity."
Amitava Saha, founder & CEO, XpressBees Logistics, who also spoke at the function, said: "With Indian economy poised to grow faster, new age companies and the logistics sector which I represent, are beginning to resemble the incumbent players of the industry in scale and reach. Over the last few years, the Government of India has been a major enabler across industries with digital innovations like UPI and ONDC and now it's the turn of the logistics industry with the launch of NLP. This programme will not only ease inter-ministerial coordination which will result in lower logistics cost but it will also help speed up the movement of goods and services across the country, which in turn will free up capital which will also help the industry to grow further. The programme also envisages an open data network which will help which will enable seamless sharing of information. So, even the smallest operator or truck driver who owns less than 10 trucks, which comprises 85 percent of the trucking workforce of the country will get benefited. They know where to go so that they can pick up the return load to ensure a better return on their time and effort."

Sudhir Unnikrishnan, SVP & managing director of Blume Global India, said, "The new logistics policy opens new global avenues for technology companies like ours and we are happy with this welcoming move. In a country like India where road transport forms the backbone of logistics, an integrated infrastructure will enhance seamless connectivity across all modes of transportation. We also believe this will help in creating a more sustainable environment by providing an open, neutral platform across all trading partners. The combined aim of NLP and Gati Shakti is to bring logistics costs below 10 percent and we completely agree that digitisation and ULIP will enhance cargo movement with better accessibility of the available data. Undoubtedly, connected infrastructure will bring in better visibility, cost efficiency, skill development and a better tomorrow"
Pervinder Singh Chawla, co-founder at OnMove by Zast Logisolutions, said, ''With a strong focus towards creating a single-window e-logistics market, the generation of employment, skills and making medium and small enterprises competitive, the policy will streamline the supply chain process. In India, where road transportation dominates the logistics sector, with a dominant share of 60 percent, the shift towards multimodal infrastructure with a mix of rail, shipping, road, and air transport, will help reduce the congestion on roads along with low crude import bills. The policy addresses the pre-existing concerns in India's logistics sector from a global perspective. The comprehensive areas mentioned in the policy, like process re-engineering, paperless supply chain, seamless multimodal transport and modern connectivity for ease of doing business & reducing logistics costs, will help the country reach its economic goals. The sector-specific logistics plan and strengthened cooperative federalism will make India a Global Digital Logistics Hub. Gati shakti Vishwa Vidyalaya will act as a Human Resource for drivers and others. New courses and skill development training programmes at UG and PG level will boost the Indian economy by enhancing the employment rate. The NLP also formalises the logistics sector by introducing a Unified Logistics Interface Platform (ULIP). Ease of Logistics Services Portal (E-Log) will build a Digital Regulatory Interface. The reduction in transaction costs will catalyse the trade while enhancing competitiveness and driving MSMEs sector through cost-efficient logistics. Overall, the NLP is a holistic approach to help India set a global benchmark and become one of the Top 25 Logistics Performers in the world.''
Zaiba Sarang, co-founder, iThink Logistics, said, ''NLP aims at reducing the logistics cost from 13 percent to a single digit. Drones will soon contribute to agricultural logistics from the remotest regions of the Himalayas or remote islands their product will be made accessible to the Metro region of India. ULIP, ELOG, Gati Shakti and many more initiatives will try to deliver a cheetah speed to the logistics of India. NLP gives the smallest of people in the ecosystem to get access to information that was available to key stakeholders only. Currently, logistics is providing livelihood to more than 22 million people, with one of the initiatives aimed at upskilling and increasing employment opportunities. At the grassroots level, NLP also helps truck drivers to get a peaceful night. Along with the normal people in the ecosystem, it will also help the shramik class to get respect and dignity.''
Rampraveen Swaminathan, MD and CEO, Mahindra Logistics, said, "We welcome the National Logistics Policy (NLP) announced today by Hon'ble Prime Minister Shri Narendra Modi. As India aims to become a $5 trillion economy by 2024-25. Connectivity and superior infrastructure will be critical to achieving these goals. The National Logistics Policy (NLP) comes as a big boost for the sector, as it aims to promote seamless movement of goods across India and potentially could lead to a reduction in the cost of logistics and accelerate GDP growth. It will further have a positive impact on the nation's supply chain and will help to augment warehousing capacity and take products closer to the consumption points. The enhanced focus of the policy on enhancing human capital and operating standards are welcome initiatives to increase the formalization of the sector. As one of India's largest Third-Party Integrated Logistics (3PL) solution providers, we at Mahindra Logistics Ltd. are aligned with the Government's vision of making India a better and easier place to do business. We remain focused on delivering integrated solutions to help enterprises become more agile and cost-efficient, and support India's growth story."
Imthiaz, Co-founder and CEO, Raaho, said, "While the focus on improved road infrastructure and highways is appreciable and a single interface as well as drones are immediate needs of the future we're getting for, ZETs or Zero Emission Trucks and associated charging infrastructure need focus as well. Incentivised adoption can lay the ground for adequate research and over the next decade, we may have largely bid farewell to internal combustion engines. Niti Aayog reports mention 4x growth in trucks by 2050, and we're well aware of India's target of 45% lower emissions by 2030. With road freight movement expected to reach 9.6 trillion tonne km by 2050, we clearly need sustainability as a cornerstone of not only logistics but all policy making."
"The policy clearly is building for Bharat and not just India, with its focus on connecting the hinterlands. This, in turn, will ensure return loads and lower dead miles as supply and demand come together in a transparent marketplace across India. Surely, digital freight networks will grow exponentially as a result of the policy and bring about greener commercial transportation - for a better tomorrow," he added.
Kami Viswanathan, Senior Vice President, FedEx Express, Middle East Indian Subcontinent and Africa (MEISA) Operations, said, "The development of an integrated and efficient logistics ecosystem is a crucial enabler for India to become a US$5 trillion economy and improve trade competitiveness. As India looks to modernize infrastructure and supply chains, it's evident that technology is the key to unifying all involved stakeholders and to help manage complexity better."
Vineet Agarwal, MD at Transport Corporation of India, said, ''Push towards seamless multimodal transportation and modern connectivity will be a game changer as it will shift the transportation stress from just road to other modes as well. It will help us drive the ESG goals and focus on a better cost structure. The paperless supply chain initiative, strengthened cooperative federalism, ease of Logistics services portal (e-log), and standardisation of the warehousing sector will help India become one of the top 25 Logistics performers in the world. The Unified Logistics Interface Platform (ULIP) tenant of the NLP will enhance visibility for customers and enable logistics companies like us to adopt digitisation at a much larger scale."
"Gati Shakti Vishwavidyalaya will act as human resource for the drivers and other such training programmes will be provided to the workforce. NLP is an encouragement for all the stakeholders in the Supply Chain segment & will be one of the key pillars for India to become a USD 5 trillion economy. It will surely provide the 'Cheetah Speed' to the logistics industry and make India a global logistics hub,'' he added.
Shashi Kiran Shetty - Founder and Chairman - Allcargo Group, said, "The launch of NLP is a visionary move by the government which will bring transparency through digital integration in addition to boosting speed and efficiency. It will enable fast-paced logistics infrastructure development, better coordination among multiple stakeholders, simplify processes and documentation and boost last-mile connectivity. The NLP will usher in more inclusive progress for our country with greater employment generation opportunities and efficient logistics services delivery, especially for small businesses. It brings a holistic approach to making India self-reliant and a global manufacturing hub. With an ambitious goal to bring down logistics costs by up to 25 percent, this could lead to a paradigm shift in the logistics industry in India and will boost India's export competitiveness in the global market. The NLP will act as a guiding and driving force for the new phase of growth"
Rizwan Soomar, Chief Executive Officer and Managing Director, DP World Subcontinent, said, "The launch of the National Logistics Policy is a seminal moment for India's logistics sector. The multi-pronged approach by the Government adopted in the policy to suggest regulatory and procedural reforms across infrastructure, services and human capital provides a comprehensive strategic direction to the sector and will be a key catalyst in attracting investments. The focal push for digitisation through platforms like ULIP and E-LogS is crucial to support the designed Services Improvement Framework in improving regulatory inter-operability, standardisation of logistic processes and in bringing the entire multimodal network onto a single digital dashboard, enhancing visibility and transparency for all stakeholders. The suggested Services Improvement Group will significantly bolster coordination across governance frameworks to energise the logistic chains to contribute geometrically to the PM GATI Shakti National Master Plan, improving efficiency and reducing logistics costs."
"The policy's focus on promoting green logistics, by increasing the freight share for sustainable modes of transport like rail, inland waterways and coastal shipping is also a welcome move. The Comprehensive Logistics Action Plan and its carefully crafted eight pillars will help operationalise the NLP in its quest to build sound logistics infrastructure in the country helping make Indian exports competitive and provide a gateway for businesses to seamlessly mesh with global value chains," he added.