Jet Freight plans to operate an Indian all-cargo airline with international reach
In an exclusive interview, Richard Theknath, chairman and managing director, Jet Freight, revealed his plans which includes an Indian all-cargo airline with international connections, expansion to the Indian domestic logistics market, sea freight and 50 percent year on year growth.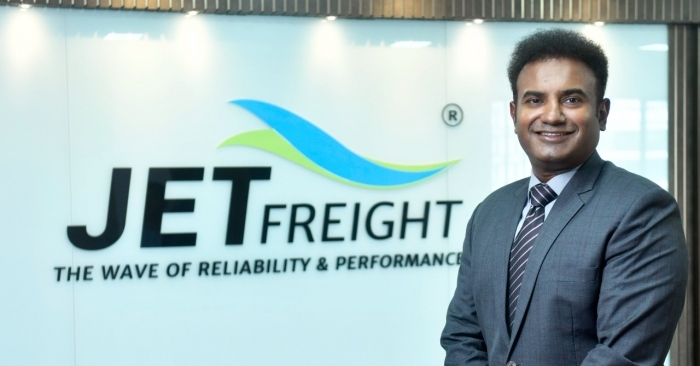 February 9, 2022: Jet Freight Logistics is a three decades old Indian freight forwarding company with a focus on air freight. In December 2021, Jet Freight migrated from NSE-Emerge Platform to NSE & BSE Main Board. The three-decades-old family-run business was recently involved in the domestic air freight movement of Covid-19 vaccines in India.
Richard Theknath, chairman and managing director, Jet Freight, has been working with this company for more than 20 years now and heading this business for the last 10 years now. In an exclusive interview, he revealed his plans to Indian Transport & Logistics News, which includes an Indian all-cargo airline with international connections, expansion to the Indian domestic logistics market, sea freight and 50 percent year on year growth.
Listen to him also talking about the increasing cargo charter companies coming to India, agri produce export shifting from Mumbai to Bengaluru or Kerala Airports, new types of cargo getting exported with increasing volume like mobiles.
Give me a brief about Jet Freight and the kind of business you do?
We've been mainly in the business of air freight forwarding and we feature amongst the top two or three in the country, in terms of air international exports. So we have lion's share in all the exports that go out of the country by air and we are featuring among the top two or three customers for airlines like Air India and Emirates. We are Air India's number one customer Emirates' number one customer and for many airlines top two or three customers. We are present in 12 cities in India; we have our own office in the UAE, UK and Netherlands and very soon in the US also.
How Covid-19 pandemic affected your business?
2020 was a difficult year for us because our cargo capacity went down drastically due to the reduced passenger traffic. Fortunately, we had good relations with the airlines and still had business compared to most people. We did a lot of consolidation at that time as many smaller companies started giving us their business.
We tried some innovative ways of sending cargo out. For example, with the product known as Sea-Air, we send cargo by sea to UAE and from there we'll send it by air. Similarly, by sea to Europe and from there by air to the US. So we tried all new things and gave our customers different options to save money and move the cargo faster.
By the end of the fiscal year, we were doing almost as good in terms of numbers. In terms of volumes, we are still at half of what we had, but the rates have doubled, tripled and so fortunately for us, the margins also have increased.
As soon as Covid-19 happened, all the big stakeholders, the airports, the airlines, the ground handling agents, big freight forwarders, all of us got together to start the business. One of the biggest priorities was getting the vaccine out. We could restart the business within 15 days of the first lockdown because the government, police and customs supported us.
Do you think that this level of collaboration will continue?
Yes, I think this pandemic actually bought all stakeholders together, made us stronger and realize that there's no point in competition at the same time we have to take care of each other. The government has recognized the importance of cargo, exports and exporters, who are earning foreign revenue for the country. They removed all the obstacles and tried to support them in every way possible.
What we should expect from the freight forwarding market in 2022?
Everybody is talking about the prices coming down, everybody wants the price to come down, and I also want the price to come down. But it's a simple market, demand-supply issue. The prices are going to stay or probably even increase for both air and sea. Volumes in sea freight will also be the same, but the volumes in air freight may increase, not immediately but mid this year, once we have crossed this hurdle of this new variant.
I see more cargo charter companies coming into India. We are dependent on passenger airlines even for charters.
Are you talking about the all-cargo airlines?
Yes, all-cargo airlines. The government of India is incentivizing the entire aviation industry with schemes like the GatiShakthi. They're also trying to promote agri exports by benefiting farmers. They want to make India the food table of the world, they want to reduce the food wastage and once reduced it will be exported.
Jet Freight is handling the highest volume of export agri produce by air in the country today. So, all these could be linked to more charter companies coming in and I see that there will be a drastic increase in terms of cargo export volumes by air and the biggest product would be agri produce.
What is happening in the aviation industry and how the Indian airlines are evolving with the Air India take-over by Tata and the entry of Akasa Air?
I'm very happy with this entire takeover because we've been giving cargo to Air India for the last 20 years now and we've been the number one agent for them in the last 10 years. We've been giving them a lot of business. The Tatas will have almost 30 percent share in the total Indian aviation market because of all their products in Vistara and Air Asia. That's a huge thing.
They will lead the market going forward and that is very good for us because we need capacity. We got so much cargo but we don't have the capacity today.
With Akasa Air, the aircraft types are going to be small. So the capacity for cargo will be limited. But we use smaller aircraft of SpiceJet, Indigo even today. So for us, it's only going to be more capacity.
Internationally, these airlines are mainly going to the East and US and Europe. For example, recently Air India started a twice a week flight to Frankfurt from Mumbai. So, they are increasing the number of aircraft and the number of routes. They have big plans for the US because we have a very small share of that market and the market is huge. If you have passengers travelling, not only into main places like New York but even smaller places like Washington, we will be moving cargo to those smaller places more often.
Are you looking into the US as a market where you can expand your business?
Yes, I was in New York last week of November and early December of 2021 and my plan was to set up an office there because our business with the US has increased. We are going to have our own office in the next couple of months. We have already done all the groundwork and homework. The office will be on the East Coast either near JFK Airport or EWR Airport or New Jersey.
How big is Jet Freight?
We are number one with Air India and Emirates, the two airlines with the biggest international capacity out of India. Before Covid, we used to handle 200 tonnes of air freight every day. Now, we are close to 100-120 tonnes every day, but that's a very large volume. We are present in all the major airports within India, wherever international flights are landing. For example, in Kerala, we have four offices. We were the first to deploy cargo from the new Kannur International Airport on Air India Express flight. We have big plans for every new upcoming airport with international loads potential.
Who are your clients and what are the types of cargo that you move?
Sea freight is very large, but even the sea freight guys send a sample by air. So our customer base is very large and we are doing a lot of volumes for all products that are going by air. We move products like couriers, pharmaceuticals, agri, engineering goods, vaccines and everything goes by air.
We have started doing a lot of and have been invested heavily in sea freight. Now we're doing a lot good volume of sea freight. We're doing a lot of imports, something which we were not doing earlier. And we are also focusing on domestic logistics, which is also something we were not doing.
What do you want to do in the Indian domestic logistics market?
We are focusing on large companies like JioMart, to help them move goods, where they have the B2B businesses. We don't focus on any B2C, it's only B2B. For example, we have an exclusive deal with a company called Fraazo, where we are doing the logistics of supplying them with two and three-wheeler electric bikes.
Give me an idea if there is a change in the mix of the cargo categories you handle after Covid-19?
I wouldn't say the mix changed, but the location changed. Mumbai used to send a lot of agri products before but because the prices in Mumbai went up, a lot of it moved to Ahmedabad, Lucknow, Kerala and even Bangalore.
The government of India is trying very hard to see that a lot of new products are exported and as a result, we are seeing a lot of new products. Like something I never did maybe five or four years back was mobile phones. Now we're doing a huge amount of mobile phones out of India by air. Garments exports have also increased. I'm pretty positive that even more products coming in as time goes by.
Where these agri produce from India are going?
UAE is one of the biggest markets for agri produce. A huge volume of agri goes from India to the entire Gulf, Middle East countries. The highest volume goes wherever there's an Indian population out of India. So UK, Singapore, US, Europe.
Tell me about the hazardous and over-dimensional consignments that you handle.
For example, we recently moved an entire sugar mill from India to a place in Africa.
So, we do large projects and move ODC consignments. Although we try to use experts, we deal with the customer directly. We also do hazardous and dangerous goods both by air and sea and we have our own team that focuses only on that. However, this is a very premium product and very few people are doing it within India. We have the capability and the services to handle that kind of cargo by air or by sea.
You recently migrated to the main board of the NSE and BSE. Tell me how important is this as a milestone, since you hit the capital market.
We want to position ourselves as a very compliant company that wants to grow. And by doing this, the market will have an idea of what our ambition is. Because once you're on the main board, you have to keep on going and you cannot be satisfied with what you have.
The large logistics companies like DHL and FedEx grew well because that country at that time grew. India is sitting on that same opportunity right now. Indian companies should try to take this challenge, try to become multinational and try to take on these big multinational companies. Most companies are going down the road of having a joint venture or getting a buyout by multinational companies. I would like to see an Indian company trying to grow its business globally.
Can we expect any big collaborations or acquisitions from Jet Freight this year?
We have some big plans and we are approached by many companies. We'll be tying to get into the domestic logistics market for agri produce to benefit our exports. So we are looking at some companies and we'll be hearing very soon.
And another development is that we have now got our own cargo airline licence. So we are looking at collaborating and setting up our own cargo airline.
Can you give me an idea about the cargo airline that you want to set up in terms of the routes that you may go or when I expect this?
In the next four to six months is what we're looking at. Our plans have been pushed forward because there's a new variant. There are a couple of licenses, permissions and all that they're getting a bit difficult to obtain. The biggest routes for us would be the US, Europe, UK, UAE some points in the Far East, China, Hong Kong and Africa.
What are the types of aircraft that you would like to have?
We are looking at Boeing 777s and 747s
How about your financials.
The company has grown by 30 percent year on year, and profitability is almost doubling. And we see even a similar thing happening by the end of March 31, 2022. Our aim is to see that we at least do 30 percent growth year on year. Because of us coming in the main board, there are few JVs that we are working on, that will help us increase to almost 50 percent growth year on year, if not more.