FROM MAGAZINE: Indian warehousing narrowing but not falling short
A crucial jigsaw piece of the logistics puzzle— warehousing— is inviting exponential attention not for its growing storage capacity but for its capacity to grow lean and 'smart'. Dynamics in the Indian warehousing sector are soaring, quite literally, to unconventional heights and responding to trade agitations and radical uncertainties by housing d
A crucial jigsaw piece of the logistics puzzle— warehousing— is inviting exponential attention not for its growing storage capacity but for its capacity to grow lean and 'smart'. Dynamics in the Indian warehousing sector are soaring, quite literally, to unconventional heights and responding to trade agitations and radical uncertainties by housing digital infrastructure, which is being put to test as you continue to read.
The Indian supply chain is experiencing one of the tightest pulls. The current plunge in oil prices triggered due to the tension between Saudi Arabia, Russia and other major oil producers is likely to cushion India's deteriorating growth rate and manufacturing output, further growing the piece of warehousing pie for the manufacturing sector. On the contrary, the novel coronavirus outbreak has crippled imports from China, where the first outbreak occurred, and threatened feedstock availability for the manufacturing sector to sustain and, let alone, grow the Indian output.
This firm dichotomy between perceived market optimism and depression has positioned the warehousing sphere in a unique position to decentralise and spread to parts of India where the storage capacity can be scaled to new limits. However, due to exponential growth in ecommerce and third party logistics (3PL), the investment trends in warehousing are narrowing the storage landscape to metropolitan areas. Keeping the current market situation at center and front, the story touches on many factors— technology, policy developments, leasing trends, automation, and cold storage— that are forcing the warehousing sector to shed the traditional methods and match the global warehousing standards. The warehousing landscape in India is seemingly set out to dissociate itself from the infamy of being a cluster of unorganised warehouses and, in the face of current crises, the growth trend in warehousing sector may be narrowing but not falling short.
Manufacturing sector in India occupies 80 percent of warehousing landscape. And contrasting to the manufacturing sector's protracted slowdown in the country, logistics and warehousing sphere observed a record leasing activity, enfolding 33 million sq. ft. in 2019, as reported by property consultant CBRE. This exponential trust in logistics and warehousing has partly been seduced by the raging ecommerce businesses and rocketing 3PL services, with former accounting for 18 percent of the leasing share and latter 48 percent. Parts of India –Bengaluru, Delhi, Mumbai, Chennai, Hyderabad – that contribute the most to ecommerce growth naturally benefited the greatest from this leasing action. To put it mildly, 60 percent of the total space occupancy during the year was narrowed down to three cities: Bengaluru, NRC and Mumbai.
The regulatory march has been loud and clear, too. From implementation of GST to granting infrastructure status to the logistics sector along with the 2020 budget schemes—Krishi UDAN and Krishi Rail, which are initiatives expected to facilitate transport of agri-products through air and rail respectively, have reduced high transaction cost and instructed National Bank for Agriculture and Rural Development (NABARD) to grid 162 million tonnes agricultural capacity warehouses across India. Government initiatives such as national logistics policy and, soon to be announce, national ecommerce policy are evidently forming sophisticated warehousing clusters around metropolitan areas and attracting heavy investments as mentioned earlier.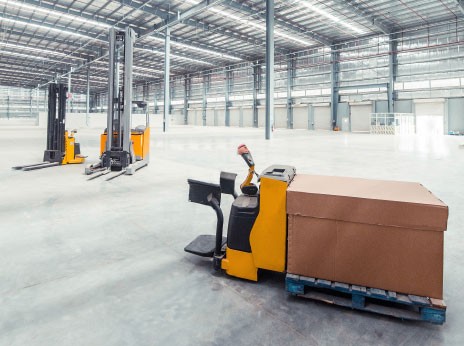 Embassy Industrial Parks Bilaspur, Gurugram
Utility vehicles (L-R): Reach truck, Forklift and Pallet truck
Elaborating on CBRE report about leasing activity, Jasmine Singh, who is the nation head – industrial and logistics services and senior executive director advisory and transactions services at CBRE South Asia Pvt. Ltd., opined "From an increasing number of policy incentives to tech-enhanced warehouses, the sector is now seeing a change in every aspect of its operation. With traditional retailers strengthening their online channels and e-tailers looking for physical outlets, the integration of retail and logistics real estate continues to unfold, thereby driving demand for warehousing footprint."
Observing the increase in efficiency brought by implementation of technology, Singh added, "As technology permeates the sector, demand for quality space is increasing and corporates across segments are opting for large, modern warehouses. New digital technology is enabling more timely and transparent information flow among supply chain participants and is driving the evolution of supply chains from the current linear model to a responsive and dynamic ecosystem capable of catering to complex consumer demand while fulfilling various purposes."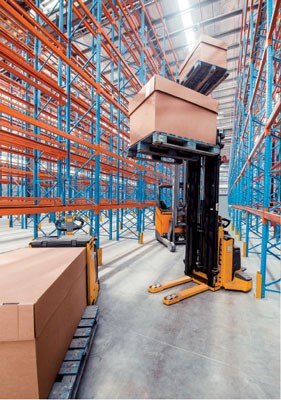 Embassy Industrial Parks Bilaspur, Gurugram
Inspecting the narrow landscape
Proximity of a warehouse, to any metropolitan city, is directly proportional to its efficiency. Mumbai, Bengaluru, NCR etc. face the biggest challenge of space and have a reputation of not being economic if the operations are not well optimised. To understand the practical measures being incorporated in the narrow lanes of these city warehouses, let's flick through how Embassy Industrial Parks (EIP) is circumventing challenges of space and efficiency in their warehousing facilities located at Chakan, Pune; Sriperumbudur, Chennai; Farrukhnagar and Bilaspur, Delhi NCR; and Hosur, Tamil Nadu; and Kothur, Hyderabad.
EIP is catering 3PL clients for their multi user facilities and targeting sectors like auto, fast-moving consumer goods (FMCG) retail and pharmacy companies for their space requirements. Citing general operations and workings of digital infrastructure at EIP facilities, Aditya Virwani, who is the chief operating officer (COO) at Embassy Group, informed that "EIP facilities are enabled with automation with free movement floors where material handling equipment operates in random, non-defined directions and has an infinite number of travel paths. From a common maintenance perspective, the parks have AI enabled cameras that capture vehicle data and help in effective security system management by keeping track of the vehicle movement and sending relevant data to the in house clients. EIP's effective visitor management systems are enabled at all facilities. They are provisioned with automation ready buildings which help the end user customise it to their business requirements."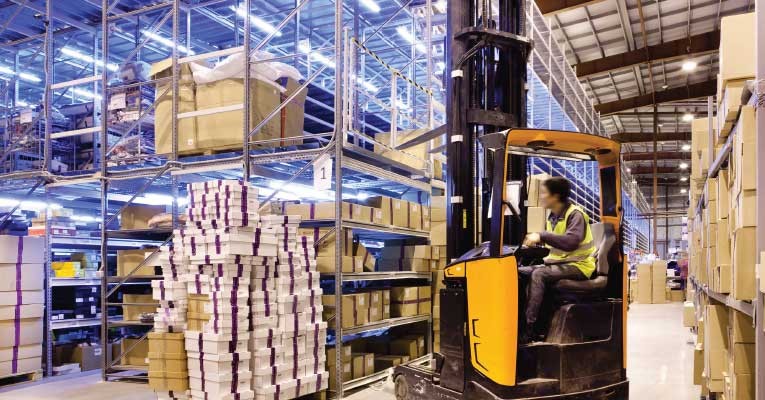 Pressing further on implications of technology
Ecommerce has paved way to one of the boldest technological advancements in logistics, especially in operations at and around storage facilities. To learn more about cutting edge technologies that are currently in practice and quantify the outcomes, Shayak Mazumder, who is the CEO and director at Eunimart, elucidated a few cases and shared his observation that "Technology in its part has changed the way businesses manage their operations forever. Today's customers want instant gratification and faster fulfilment. Warehouses are using advanced technology to manage their storage and fulfilment. Amazon for instance uses Chaotic storage. Chaotic storage is a system wherein incoming products are placed randomly on available shelving space, within a given warehouse, with disregard for itemised locations. JD.com, a giant in the ecommerce field has launched fully automated warehouses in China that can process about 2,000,000 orders in a day employing just four people to manage their warehouses."
Eunimart specialises in cross-border ecommerce coupled with AI solutions and has been a proponent of virtual warehousing, which enables merchants to physically store their inventory anywhere, instructing their supply chain to work as a network. The network is consulted as an order arrives, irrespective of where the product is stored, to identify the best possible way to fulfil the order as quickly as possible.
Sharing his insights on the functions of distributed warehousing and virtual warehousing, Mazumder concluded that "Virtual warehousing is on the rise and is helping retailers strategically place distribution centres close to the consumers reducing outbound transportation costs while keeping inventory costs and turnaround time in check.
Distributed warehousing has now become the norm in Indian. The idea of micro-warehousing and micro-fulfilment hubs is gaining significant traction, and technology has been at the heart of this implementation. Technology is increasingly being deployed to improve efficiency and utilisation of space, resources and capital; increase in visibility and flexibility of use to the end customer; make products agile by improved demand prediction capabilities and flexibility to ramp up or reduce capacity accordingly; and improve employee productivity in terms of output by automating routine tasks."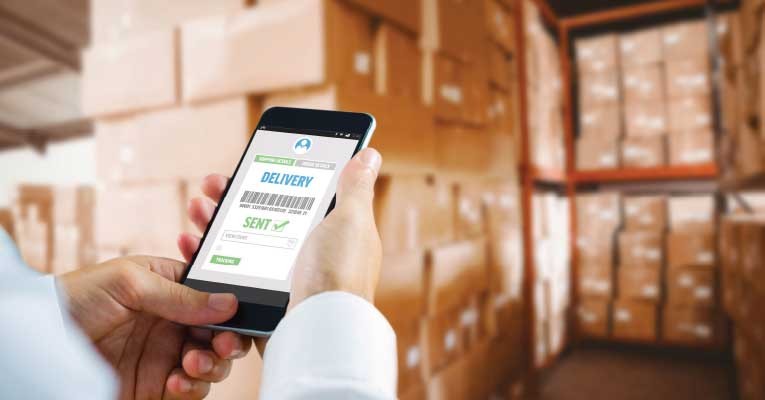 Challenges and silver linings
While fiscal and technological environments for warehousing in ecommerce and 3PL are looking good, other sectors remain a challenge. In India, around 40 percent of harvest is wasted and significant amount of these perishable goods is discarded due to the absence of large scale climate-proof storage capacity. The total cold storage capacity shyly stands at 226.7 lakh tonnes (lt) as against the required capacity of 350 lt. Responding to this defect, government has set up two schemes to provide financial assistance and propagate cold storage facilities in the country: one under agriculture ministry – Mission for Integrated Development of Horticulture (MIDH), and another by the Ministry of Food Processing Industries –Pradhan Mantri Kisan Sampada Yojana (PMKSY).
The impacts of coronavirus have left a prominent trace on each link of the supply chain. In face of this development, Indian pharmaceutical industry is observing a relaxed intervention by the US FDA (Food and Drug Administration), which recently announced that it will stop routine inspections of food, drug and medical devices overseas through April. This may draw pharma companies' exaggerated interest in examining the cold storage facilities and push them to think of ways to further suite the facilities to their needs. Cold storages will see a trend of local inspections.
Longstanding trade agitations across the world and the unfortunate coronavirus outbreak have severely hindered raw materials supply for import and export for the manufacturing sector. Due to which warehouses in India are not being utilised remotely to the capacity. However, crude oil is seeing one of the biggest price drops in years. This drop in crude oil prices is expected to overcome high manufacturing cost of feedstock for the downstream industry. In the midst of India's political unrest, economic slowdown and unabating radical uncertainties, there lies a hope of manufacturing independence.
This story was originally published in Indian Transport & Logistics News' March - April 2020 issue.