India to maintain strong trade growth over the next three months, says DHL Global Trade Barometer
Dec 7, 2018: The latest DHL Global Trade Barometer (GTB) suggests that the global trade will continue to grow over the next three months. With an overall index of 61 points, the GTB's analysis of international air and containerised ocean trade flows indicates that the development of the previous quarters will continue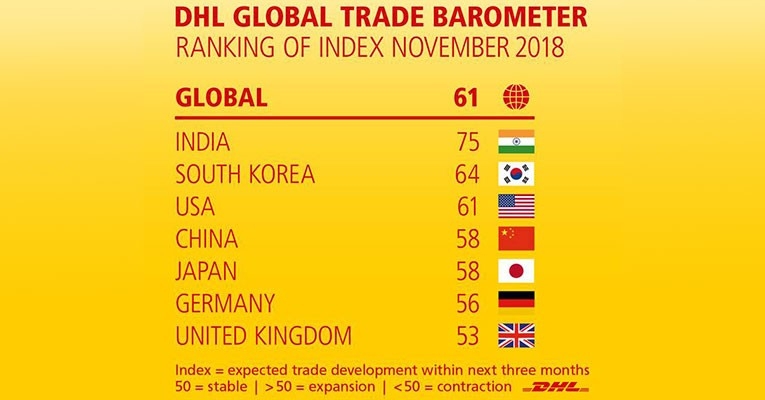 Dec 7, 2018: The latest DHL Global Trade Barometer (GTB) suggests that the global trade will continue to grow over the next three months. With an overall index of 61 points, the GTB's analysis of international air and containerised ocean trade flows indicates that the development of the previous quarters will continue: Indices for all seven countries that constitute the GTB index are above 50 points, which corresponds to a positive growth forecast according to the underlying methodology.
The pace of growth, however, is further slowing in all index countries. This deceleration will be particularly strong in Asia (except for China): Index values for India, Japan and South Korea have dropped by eight, six and five points respectively compared to the previous release of the GTB in September. With an overall index of 75 points, India, however, continues to be the country with the strongest trade growth forecast.
Indian ocean trade (with an index of 80) is expected to outperform air trade, although the outlook for air trade also remains solid at a level of 65. The Indian air trade outlook is propelled by air imports, especially by the strong outlook for machinery parts and high technology air imports. On the export side, air exports of temperature or climate control products are expected to perform strongly. However, the air exports outlook is dampened by a weak prognosis for basic raw materials and chemicals & products, for which the GTB predicts a negative growth for the upcoming three months.

Speaking on the global trend, Tim Scharwath, CEO of DHL Global Forwarding said, "The DHL Global Trade Barometer clearly shows that the state of global trade remains solid. Both, air and ocean trade, continue to grow around the world. However, given the smoldering trade conflicts, especially between the US and China, and economists' expectations that the global economy could cool down, it is not entirely surprising that trade momentum has weakened slightly,"
The DHL Global Trade Barometer is based on large amounts of logistics data that are evaluated with the help of artificial intelligence. The indicator has been developed in cooperation between DHL and IT service provider Accenture. It is published four times a year.