India jumps 14 places in ease of doing business ranking
October 24, 2019: India climbed 14 places to rank 63 in the Ease of Doing Business survey of World Bank and became one of the most improved economies for the third time in a row.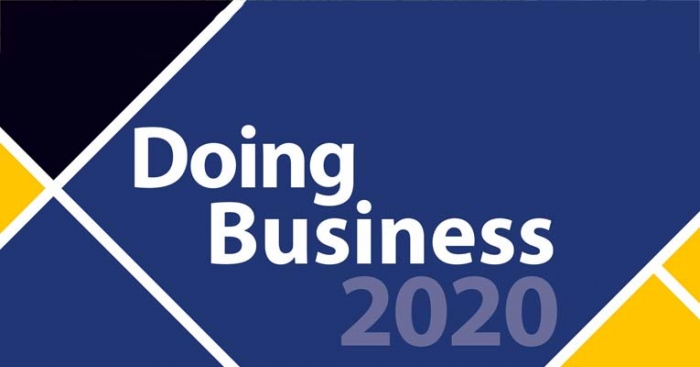 October 24, 2019: India climbed 14 places to rank 63 in the new Ease of Doing Business survey of World Bank and became one of the most improved economies for the third time in a row. Titled as 'Doing Business 2020: Comparing Business Regulation in 190 Economies', the 17th in a series of annual studies reported that 115 countries made it easier to do business with 294 regulatory reforms implemented between May 2018 and May 2019.
The study documents reforms implemented in 10 areas of business activity in 190 economies over a 12-month period ending May 1, 2019. Business-friendly environments are associated with lower levels of poverty, and improved regulatory efficiency can stimulate entrepreneurship, startups, innovation, access to credit, and investment. India has consistently jumped from 130 in 2016 to 100 in 2017 to 77 in 2018 and 63 in 2019 now.
David Malpass, President, World Bank Group, said "Governments can foster market-oriented development and broad-based growth by creating rules that help businesses launch, hire, and expand. Removing barriers facing entrepreneurs generates better jobs, more tax revenues, and higher incomes, all of which are necessary to reduce poverty and raise living standards."
With sustained business reforms and favorable Govt. policies, India has consistently made giant strides in @Worldbank's #EODB rankings - moving from 130th rank in 2016, to 100th in 2017, 77th in 2018, and 63rd this year! #IndiaMeansBusiness @WorldBank @EODB_India @PMOIndia pic.twitter.com/kDYbnhyvNM

— Invest India (@investindia) October 24, 2019
South Asia was the region with the highest share trade reforms with the most notable improvement in Saudi Arabia, Jordan, Togo, Bahrain, Tajikistan, Pakistan, Kuwait, China, India, and Nigeria. While all regions reformed aspects of international trade logistics, 25 economics made it easier to move goods across borders. The Indian improvement was the result of reforms in making it easier to start a business, get the construction permits, trade across borders and in resolving insolvency.
Sharad Kumar Saraf, President, FIEO said "Such improvement bespeaks volumes of the systematic improvement and transparency brought by the Government in various areas of economic activities. The new Government put the focus on far-reaching reforms which has resulted in improving our ranking from 142nd position in 2014 to 77th position in 2018 and 63rd position now. We are on our course to come in the top 50 countries by next year as promised by the Prime Minister."
"It is equally heartening that India is amongst the top 10 economies improving the most across 3 or more measures adopted by the Doing Business Report. India's improvement in resolving insolvency, starting a business, delay in construction permit and trading across the border has led to such improvement. However, we need to move forward so that we may reflect similar improvements in other 6 areas of the measures adopted by the World Bank," he added.
The 149 paged study reads: "India, which has conducted a remarkable reform effort, joins the list for the third year in a row. Previously, only Burundi, Colombia, the Arab Republic of Egypt, and Georgia featured on the list of 10 top improvers for three consecutive Doing Business cycles. Given the size of India's economy, these reform efforts are particularly commendable."
"Leaders of India and China adopted the Doing Business indicators as a core component of their reform strategies. Prime Minister Narendra Modi's "Make in India" campaign focused on attracting foreign investment, boosting the private sector—manufacturing in particular—and enhancing the country's overall competitiveness. The administration's reform efforts targeted all of the areas measured by Doing Business, with a focus on paying taxes, trading across borders, and resolving insolvency. The country has made a substantial leap upward, raising its ease of doing business ranking from 130 in Doing Business 2016 to 63 in Doing Business 2020," says the report.