FROM MAGAZINE: Improving infrastructure in the Maximum City
In 2018, the Globalization and World Cities Research Network (GaWC) listed Mumbai as one of the most economically robust alpha-level cities in the world, underpinning Mumbai's position as an emerging world city. With Mumbai also being a major cargo center of India accounting for 57 percent of air cargo export, a lot is being done to improve the Max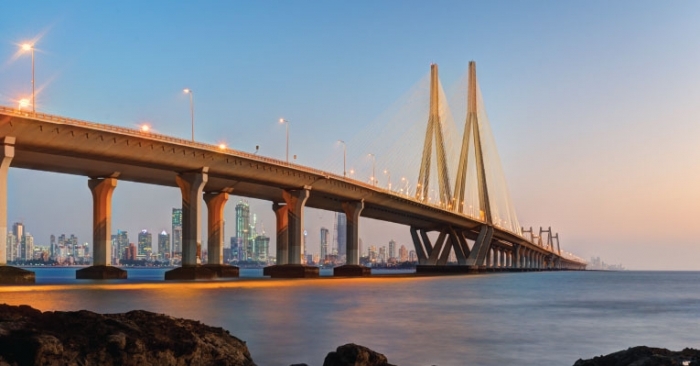 In 2018, the Globalization and World Cities Research Network (GaWC) listed Mumbai as one of the most economically robust alpha-level cities in the world, underpinning Mumbai's position as an emerging world city. With Mumbai also being a major cargo center of India accounting for 57 percent of air cargo export, a lot is being done to improve the Maximum City's cargo and logistics infrastructure, covering the road, rail, waterways and air network.
Mumbai, one of the largest metropolitan areas (603.4 square kilometres) in the world, is considered as one of the world's top 10 centres of commerce in terms of global financial flow, contributing significantly to India's GDP. Various multi-million dollar projects are underway to improve the city's transportation and logistics.
Mumbai's Chhatrapati Shivaji International Airport (CSIA), which connects to over 500 cargo destinations, is a major gateway for pharmaceuticals, perishables, and engineering goods to India. CSIA has exclusive terminals for cargo operations and is in the process of increasing its pharma handling capacity at Mumbai to 4,50,000 tonnes.
GVK – MIAL, one of the custodians of the air cargo terminal in Mumbai, has brought significant developments in infrastructure, improvements in process and efficiency for benchmarking their facilities and services with the global standards. In fact, GVK MIAL is the first airport in India and third in Asia to obtain The International Air Transport Association's (IATA) Center of Excellence for Independent Validators (CEIV) Pharma accreditation, a global industry recognition supporting the air transport industry and is in full compliance with pharmaceutical manufacturers' requirements.
GVK MIAL has been at the forefront in developing infrastructure at CSIA by enhancing capacity and creating robust process management. With the introduction of CSIA's first air cargo community portal, GMAX has provided access to world-class technology enabling a smooth flow of cargo and an increase in freight penetration. Besides, technology has enabled stakeholders access to mobile applications that offer real-time tracking of shipment that helps in delivering customized handling solutions for its clientele.
Additionally, CSIA has further commissioned India's largest export Agro terminal in April 2019, with an annual capacity of 1,60,000 tonnes strengthening the export business of Indian stakeholders. CSIA will also be soon launching its 'Cooltainer' operations that will have a temperature-controlled transportation facility for managing the movements of pharmaceuticals between terminal and tarmac with no downtime or loss in temperature; this service goes live from December 2019.
"Our approach towards modernisation has always complemented our endeavor to maintain a market leading position in the Indian air cargo industry. Mumbai air cargo terminal holds market leading position in Indian airports with the highest air cargo throughput handled to the tune of over 0.6 million metric tonnes per annum. The figure re-establishes our strength and success in the air cargo domain," states GVK MIAL's website.
Meanwhile, the Navi Mumbai International Airport, a green field airport project located in Mumbai's Kopra-Panvel area, is under development in an attempt to decongest Mumbai. Upon its completion, Mumbai will be the first city in India to have more than one airport. The airport is being built through a public-private partnership between the Airports Authority of India (AAI) and the government of Maharashtra, together with Mumbai International Airports Ltd (MIAL) who is expected to hold 74 percent of the equity. The airport will be able to host new-generation aircraft like the A380 and B747-8.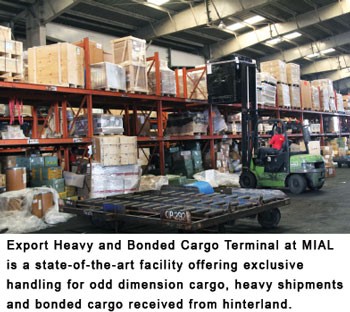 The new airport will be equipped with modern amenities and facilities for domestic and international passengers, as well as the capacity to transport cargo. Facilities at the airport will include cargo terminal buildings, two parallel runways for independent operations, taxiways, an apron area, cargo complex, aircraft maintenance site and long-term aircraft parking, as well as additional infrastructural facilities such as car parking, a power supply system and water treatment plant. Limited operations at Navi Mumbai International Airport is now expected to be complete by mid-2020 (originally 2014). The airport facility will be capable of handling ten million passengers a year upon completion of the first phase, 25 million a year in the second phase, and 45 and 60 million a year in the third and fourth phases respectively.
When it comes to road infrastructure, the proposed Mumbai Trans Harbour Link (MTHL) has been planned to facilitate decongestion of the island city by improving connectivity between Island city and main land (Navi Mumbai) and development of Navi Mumbai Region. The link was envisaged about 35 years back. Earlier, three attempts in the year 2006, 2007 and 2013 by the government authorities to take up the project in various modes including public-private partnership (PPP) and engineering, procurement and construction (EPC) did not succeed. The Maharashtra government decided that the project will be owned and implemented by Mumbai Metropolitan Region Development Authority (MMRDA). The government designated the project as a regional development project.
Accordingly, the Mumbai Metropolitan Region Development Authority (MMRDA) has undertaken the implementation of the Mumbai Trans Harbour Link Project, connecting Sewri on Mumbai side to Chirle on Navi Mumbai side. This important link having length of about 21.8 kilometres is being implemented considering the importance of connectivity between the island city and the mainland. On completion of this project, the commuters travelling from Mumbai towards Navi Mumbai, Navi Mumbai International Airport, Jawaharlal Nehru Port, Panvel, Alibaug, Pune and Goa will not only be saving travel time but will also save in terms of fuel. This will also help alleviate the traffic congestion in the island city and facilitate development of Navi Mumbai area.
Hyperloop dream to become a reality soon
The much-awaited hyperloop project may become a reality soon. Virgin Hyperloop One is likely to start construction of the 60,500-crore Mumbai-Pune hyperloop project in 2020. The ultramodern, superfast transport project aims to reduce the travel time between the two cities, located around 200 kilometres apart, from four hours to about 25 minutes.
The project will be implemented in two phases. The first phase will be completed within four years and the second phase in another four years. The Maharashtra government has already accorded infrastructure status to the hyperloop project. The first phase of the project is 11.8-kilometres-long and will cost $500 million or Rs 3,550 crore. Virgin Hyperloop One will make the investment for the first phase with the backing of DP World, Dubai. The second phase will cost over $8 billion or Rs 57,000 crore. The project is likely to be implemented in 60:40 debt equity ratio.
The hyperloop will be able to transport people and goods at nearly 700 miles per hour in depressurised environments via magnetic levitation. It will be able to accommodate more people than a subway at the speed of an aircraft and with zero direct emissions, according to Virgin Hyperloop One.
Western dedicated freight corridor on the anvil
Covering a distance of 1,504 kilometres, from Jawaharlal Nehru Port Trust (JNPT) in Mumbai to Dadri via Vadodara-Ahmedabad-Palanpur-Phulera-Rewari, Indian Railways' Western Dedicated Freight Corridor is expected to pass through Haryana, Rajasthan, Gujarat, Maharashtra and Uttar Pradesh. It is proposed to join the Eastern Corridor at Dadri. All contracts for the corridor have been finalised and are in progress.
The Western Corridor primarily comprises of container traffic from JNPT and Mumbai Port in Maharashtra and other ports, including Pipavav, Mundra and Kandla in Gujarat. This corridor also facilitates transportation of fertilisers, food grains, iron and steel and cement, among other commodities. Besides building freight corridors, plans to develop multi-modal logistics parks, freight terminals and theme parks alongside the corridor is on the anvil.
Once Indian Railways' dedicated freight corridor connector is complete, on-dock rail infrastructure at Bharat Mumbai Container Terminals (BMCT) at JNPT, the country's busiest container harbour, will carry containers to and from the terminal via 360-TEU trains on a regular basis. In total, JNPT handles more than half of India's containerized freight passing through major public ports, with fiscal 2018-2019 volume hitting an all-time high of 5.1 million TEU.