HyperloopTT moves ahead with first commercial hyperloop system in the UAE
April 19, 2018: Hyperloop Transportation Technologies (HyperloopTT) has revealed the signing of an agreement with Aldar Properties PJSC, a leading rea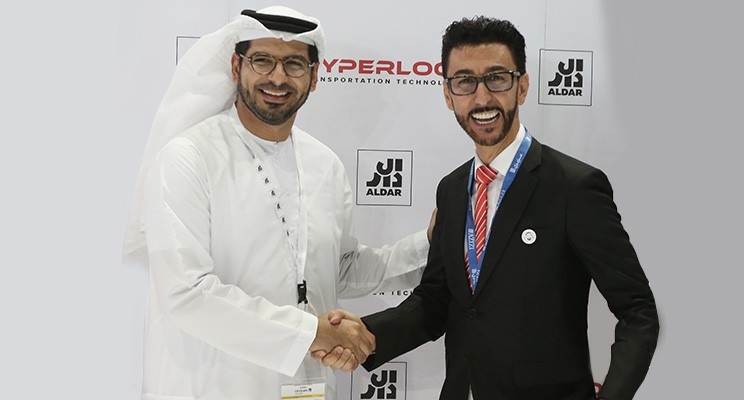 April 19, 2018: Hyperloop Transportation Technologies (HyperloopTT) has revealed the signing of an agreement with Aldar Properties PJSC, a leading real estate developer in Abu Dhabi, which will allow HyperloopTT to start construction of a Hyperloop system as well as HyperloopTT's XO Square Innovation Center, and a Hyperloop Visitor Center.

The construction site is located in Aldar's Seih Al Sdeirah landbank in Abu Dhabi and in close proximity to the residential development Alghadeer. It is conveniently located on the border of the Emirates of Abu Dhabi and Dubai, close to the Expo 2020 site and Al Maktoum International Airport.

HyperloopTT plans construction of the line in several phases starting within the ten kilometer allocation, with further development aimed at creating a commercial Hyperloop network across the Emirates and beyond.

Earlier this month HyperloopTT began construction of the first full-scale passenger and freight prototype system in Toulouse, France, and expects delivery of the first passenger capsule later this year. The capsule will be assembled and optimised in Toulouse, France, prior to use in the Emirates.

"This agreement creates the basis for the first commercial Hyperloop system in the world here in the Emirates, with the goal of eventually connecting Abu Dhabi to Al Ain, Dubai, and Riyadh, Saudi Arabia," said Bibop Gresta, chairman of HyperloopTT. "With regulatory support, we hope the first section will be operational in time for Expo 2020."

"We are delighted to be working with HyperloopTT as they look to bring one of the world's most revolutionary transportation technologies to Abu Dhabi," said Talal Al Dhiyebi, CEO, Aldar Properties. "Alghadeer sits at such a strategic point within the UAE – close to major growth areas of both Abu Dhabi and Dubai, that it makes sense to pair it with rapid transport opportunities. We believe that Hyperloop technology can have a major positive impact on the lives of all of those living within our communities, and we look forward to this possibility becoming a reality."

"A forward-thinking nation like the UAE is ideal for building the most revolutionary, most efficient, and fastest transportation system in the world," said Dirk Ahlborn, CEO of HyperloopTT. "With this historic agreement in Abu Dhabi, we take a big step towards the world's first commercial system."