Hyderabad set to become DP World's multi-modal distribution hub for South India cargo
September 27, 2019: DP World will make Container Multimodal Terminals Ltd (CMTL), its Hyderabad Private Freight Terminal (PFT) as a multi-modal distribution hub for South India cargo.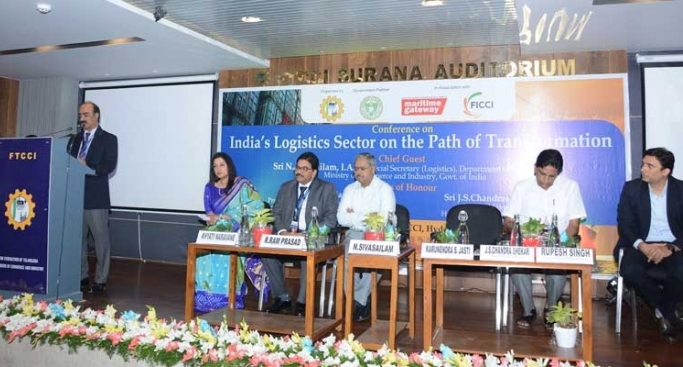 September 27, 2019: DP World will make Container Multimodal Terminals Ltd (CMTL), its Hyderabad Private Freight Terminal (PFT) as a multi-modal distribution hub for South India cargo. The company has already established private freight terminals and rail-road linkages connecting the city with other trading hubs across the country.
The global trade enabler will leverage its rail-road transport connectivity and warehouses. The announcement was made during the conference themed 'India's Logistics Sector on the Path of Transformation' in Hyderabad. The company said Hyderabad will act as the catalyst to drive more trade in the state of Telangana.
Commenting on why DP World chose Hyderabad for its distribution hub, Riwan Soomar, CEO & managing director, DP World told us on the sidelines of an event in Mumbai, "It is in the centre of south India, there's a lot of industry around. So, the specificity of the [location], was the reason we went for it in the first place. It was also to take away the cargo from road to rail. That is a huge opportunity for us. We are working hard with some customers around our facility to give more dedicated and reliable train services connecting both Chennai and Nhava Sheva in order to ensure that we have the road to rail conversion and take the trucks off the roads as much as possible and use much more of rail."
Chandrashekhar Pitre, regional head commercial & marketing, DP World Subcontinent said in a statement, "Connecting major trading hubs through multi-modal logistics will help our customers to move their cargo more efficiently and in a cost effective manner. We are already using Hyderabad as a distribution hub for heavy industries and steel and are planning to extend it to other cargo. The city is a major producer of pharmaceuticals mostly vaccines which would require temperature sensitive storage and transportation. With our own PFTs, rail siding and cold logistics assets we are well positioned to help pharmaceutical and other sectors with tailor-made solutions to address their logistics needs."
CMTL houses a Multi-Modal Logistics Park (MMLP) at Thimmapur (near Hyderabad in Telangana state) with proximity to National Highway 7. The MMLP is equipped with a railway siding and over 250,000 sq.ft. of warehousing to cater to the needs of both domestic and EXIM trade.
The conference was organised by the Federation of Telangana Chambers of Commerce and Industry, Hyderabad. It was attended by N Sivasailam, special secretary (logistics), ministry of commerce and industry, government of India and Jayesh Ranjan, principal secretary, industries and commerce department, government of Telangana.
Speaking about infrastructure to be built for the road to rail conversion, Soomar said, "The important thing is to have the crediting mass of cargo which actually makes 90 TEUs, which is needed for the train services to start. We are actually taking that step forward and making sure there is a reliable service that customers can depend on, so that it is more certain that it's leaving on certain days of the week. This actually ensures that customers can look forward to putting their cargo in those services and work backwards to see that manufacturing and everything else is tuned to ensure they meet the train in time. The reliability and certainity of departures and arrivals are very important which ensures that the road to rail conversion actually happens."
"The second important point is that, we offer various solutions, like storage. When a cargo has to be stored for some time and then make the train, we provide that service. We also offer last-mile and first-mile. If the cargo has to be taken from the factory and taken to our facility to be stored and then meet the train, we offer that service too. We offer a lot of digitisation capabilities for ease of doing business. We want to make sure we are a one-stop shop not just for exim cargo, but also domestic cargo which is a large part of what we do in Hyderabad," added Soomar.