He is a karma yogi: Jalpa H Vithalani of The Global Group
June 21, 2020: Current times, as tough as they may seem, have tried to rekindle and elevate the value of togetherness. Minding the healthcare crisis, the Covid-19 pandemic has made families come closer both in person and in thoughts.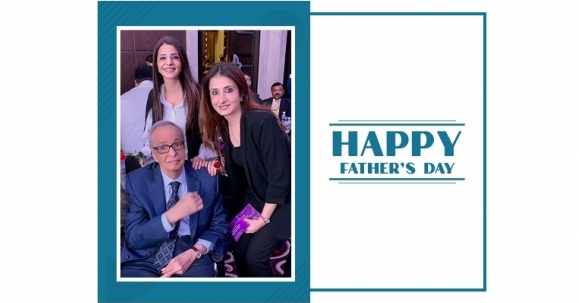 June 21, 2020: Current times, as tough as they may seem, have tried to rekindle and elevate the value of togetherness. Minding the healthcare crisis, the Covid-19 pandemic has made families come closer both in person and in thoughts.
There is a sense of heightened care for each other in the air and today we have a perfect opportunity to acknowledge the hard work fatherhood entails, and celebrate Father's Day.
How did your father bring the company together and made it what it is today? What drove him, and what qualities you think helped him get here.
My father is a self-made man. He started working at 18 years of age at a jewellery store in Kalbadevi. When he started his own business with costume jewellery, he shared that he used to operate from one tiny room. He was the designer, the typist, the person who packages the goods, prepares the export documents and goes to the courier office to ship the order. It was a one-man show! Dad has always had a great sense of aesthetics and design. Even today I realise his creative sensibilities were way ahead of his time.
With his hard work and determination, he grew to become the largest exporter of costume jewellery out of India and the Chairman of the Plastics Export Promotion Council of India. His clients ranked among top designer stores like Harrods, Macy's back in the day. He used to carry 200 kilos of samples as he travelled for orders around Europe. He took Mum on a two months honeymoon; which combined his business and around the world ticket cost them 9000 rupees in those days.
In 1970 my father was offered the GSSA for Kuwait Airways in Bangalore. So the first office of The Global Group started at Devatha Plaza on Residency Road. We still have that office. Dad had no background in Aviation; but he was the customer of the Airlines as an exporter and as seeing his professional approach and international standards in operations, they appointed him as GSSA, taught him the ropes of the business and the rest is history – the way he took the business to this level with his amazing team. Today Dad has established a conglomerate of 40 offices in 16 cities across India with a team of 750 members of the Global family. Today The Global Group is ranked among the top three GSSA organisations in India.
Providing top quality service with our team of knowledgeable experts was his focus. The goodwill he has earned with his level of commitment and for his value system and ethics is his wealth. His team is his wealth.
Dad is a peoples' person, our business is relationship-based and the connections he built have deepened and flowered over the years.
What are some of the qualities, picked from your dad, that really help you in making better decisions or handling tough situations?
My father always had an Eagle's vision and he tends to see a larger perspective of things. Whenever a tough situation has come up his first response is don't worry. He steps back and would put his intellect, wisdom and knowledge at play; taking his core team into confidence in his decisions. I must add that he has an innate sense of knowing when it comes to evaluating people, things and situations. I have honestly never seen him not come up with a solution, if I may say so.

My father has always taught me, follow your passion and everything else will follow. This has truly been my mantra and it's giving me joy all along the way.I
have always seen him use his wealth wisely. He is a karma yogi and also engages in social contribution to the society at large in his quiet way.
He made us travel extensively, even as he went for business trips when we were little and we had the most beautiful experiences whether it was staying in a simple ashram in Haridwar or a fancy hotel somewhere in Europe. So today we are able to enjoy life, in the way it presents itself.
My father has always led us by way of example.
I started a business in floriculture thanks to him. The seed was planted by Dad, he has a farmers license and had a passion for farming. We were one of the first to bring greenhouse technology to India back in 1998. It was a backward integration process since we were already shipping perishable cargo on the Airlines.
I have founded an Art gallery, which actually birthed in a dream. Without knowing about my dream, Dad offered me the same place which I saw in my dream, to open this gallery.
So he has been beyond just a biological father, but like a guide who has been on the journey with me…so tuned in.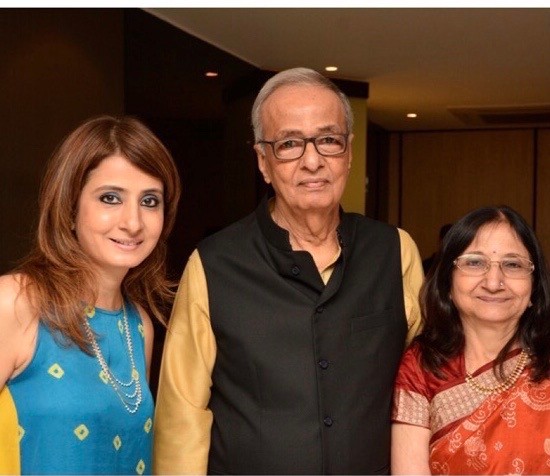 Tell us about an occasion when you and your father worked together and delivered on a project. An occasion that has stayed with you.
We are representing Finnair for Cargo and it overlapped for a leg of two years or so that we were also representing the Finnish Tourist Board in India.
We were already highly successful with the Finnair flights (GSSA for both pax & cargo at that time) and our travel arm JTB Travels was promoting Finland extensively. So we worked very closely with Dad on this project.
It was fantastic wherein we combined the synergies and strengths of the GSA business, travel and took the promotion of Finland in India to another level. So it was all hand in glove.
I was personally involved along with my sister Toral who heads the Tours division in the promotion activities. We brought 'real' Santa Claus from Lapland during the inaugural flight and took him to schools, orphanages in Delhi. Took music shows to Finland, took the crew of 'Musafir Hoon Yaaron' by Deepti Bhatnagar, the popular travel show to promote the destination.
Travel has been a passion, to design these elements together was thrilling. To design itineraries and highlight the beauty of the country which is so different in winter and summer was really stimulating. We even wrote the script for most segments of the shows, with the kind of knowledge we had on the destination.
I got my own personal experience in film making when I sat in a studio for 200 hours and put together a 10 minute documentary on Finland, for the visit of the Finnish President to India. This was shown at the Embassy in Delhi and highly appreciated. We were all present to soak in these moments.
We were filling up the flights (both cargo & passenger), engaged in promotional activities for Finland and the entire exercise was fulfilling and phenomenal. We even presented Finland to the Bollywood industry. We had no connections to Bollywood but somehow Toral and myself ambitiously organised a fantastic event at JW Marriott. 150 bigwigs from the Industry showed up at 7:30 pm in the evening. This was like an achievement in itself!
A recent occasion, which has stayed with me and always will, is when Dad received a Lifetime Achievement Award for his contribution to the Air Cargo Industry, being one of the veterans; by the Air Cargo Club of Mumbai. It was a moment of joy and pride for the entire Global family.
Imbibing your dad's culture and your's, what do you have to say to the younger generation?
I would say follow your passion, you become associated with your work then…it is no longer about doing it, but 'becoming it' as I see for Dad and Aviation and Logistics – he loves it, it is a part of his DNA…A
Always work within your set of values and principles. This is very important and something that I have learned. Do not compromise on ethics and service standards.
It is a gift to have a mentor or a guide in your parent and be wise enough to recognise this, value it and learn from them.
While each individual is unique, we may have some of our parent's talents and gifts inherently within our blood and may not realise this in the beginning.

I learnt simple things from him, like never refuse a cup of tea when you go to somebody's office, as you will get some more time with the person.
Dad has great style and flair and panache with his style of dressing, the way he conducts his business and a great eye for attention and detail. I've also learned that one must take risks in life from him. If you limit yourself you will never attain your full potential. So go out there, enjoy yourself and prove your mettle. Bring in your uniqueness and creativity into your business; after you transcend the learnings.