Global air cargo rate data platform TAC Index announces Indian entry
August 17, 2021: The Hong Kong-based global air cargo rate data provider TAC Index announced its entry into the Indian market with the publication of the first two Indian outbound indices to the USA and Europe.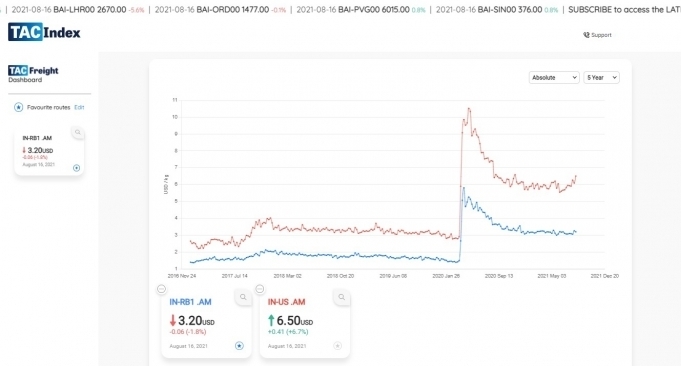 August 17, 2021: The Hong Kong-based global air cargo rate data provider TAC Index announced its entry into the Indian market with the publication of the first two India outbound indices to the USA and Europe.
In an exclusive interaction with Indian Transport & Logistics News, TAC Index managing director John Peyton Burnett reported that they are having a big push in India and have already gained traction, particularly amongst the pharmaceutical companies.
Global pharmaceutical companies, and other shippers, have frequently requested TAC Index to publish out of India. Pharmaceuticals post-Covid-19 is a product in strong demand and India is a global hub particularly for Active Pharmaceutical Ingredients (API). Burnett noted that India is a heavy spot market with pharma as the main use for air freight whilst auto is still in the doldrums.
"Post Covid-19, just by looking at the charts you can see a huge price dislocation as demand for air cargo surged and passenger belly hold capacity collapsed, the latter particularly affecting the Indian market. Outbound India rates are changing on a daily, weekly, monthly basis which makes it very hard for shippers to plan ahead," he said.
He also informed us that these are just the first of a series of routes to be released both outbound and inbound for India as there is a strong demand for price indexation; strong inbound from the US and Europe to India and globally outbound from India. Burnett said, "We will be publishing routes, pending thresholds being met, as requested by our customers."
At the moment TAC Index has 52 routes published globally and it aims to have the top 50-100 origin-destination pairs by revenue published before year-end.TAC Index is a neutral, third-party data provider with unique data sets that cannot be replicated. The transactional data is sourced from freight forwarders.
How does TAC Index work?
Market indexation enables price and service to be disconnected and thus move the focus of negotiations away from price and more towards service levels. Forwarders provide the transactional data of seven days from Day 1 (Monday) 0000 UTC to Day 7 (Sunday) 2359 UTC which includes spot, ad hoc, allocation, BSA, charter AWB data at midnight on Sunday UTC and then TAC Index has 12 hours to clean and filter the raw data before publishing between 12-2 pm UTC on Monday.
"Users are generally using the weekly data sets to see if they are in line with the market. If a user's data starts to converge or diverge away from the market then this is a signal for the user to take a closer look at what's happening in their business," Burnett said.
It is at the point of publication that the TAC Index is at its highest value. The value of the data then degrades exponentially thereafter. "We have a number of customers who use the TAC Index data as an input for dynamic price modelling purposes. This is an example of a prescriptive capability of the TAC Index, he added.
Thereafter multiple tools and capabilities are available to the market once it has been indexed. These broadly fall under two categories; benchmarking and risk management. Burnett also reported that they see a move towards using the index as the settlement price for contracts. "A lot of our shipping customers use indices for their container business outbound in China. They are now looking to apply the same tools to air cargo," he said.
For example, a shipper could now request a new contract that doesn't have to be linked to a fixed price, instead, the price can be linked to the TAC Index plus or minus a premium.
"The premium or discount can be negotiated before the contract is executed to reflect the service level. i.e. I am happy to pay 10 percent above TAC Index IN-US as I require a better service (on-time performance, cool chain etc)," he added.