FM Logistic triples India business; plans to double warehousing space
FM Logistic India, the country arm of the French parent multinational 3PL company FM Logistic, on Tuesday announced that it has recorded a turnover growth of 58 percent during the first half of this financial year and aim to finish the year at 35-40 percent growth while launching its new global strategy "Powering 2030."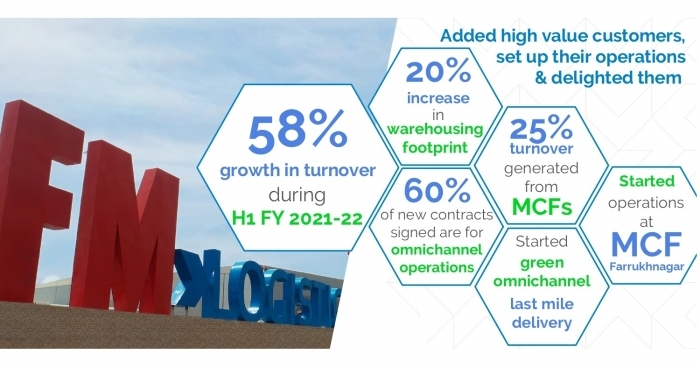 October 27, 2021: FM Logistic India, the country arm of the French parent multinational 3PL company FM Logistic, on Tuesday announced that it has recorded a turnover growth of 58 percent during the first half of this financial year and aim to finish the year at 35-40 percent growth while launching its new global strategy "Powering 2030."
Alexandre Amine SOUFIANI, MD, FM Logistic India, informed that they have tripled in size in terms of turnover, warehousing space and employees since its Indian inception in 2016 (by acquiring Pune base Spear Logistics) and plans to double the warehousing space, from 6 million sq ft to 12 million, by 2026.
While noting that 25 percent of the total turnover in H1 FY2022 came from the multi-client facilities (MCF) operations, he said, "We are focussed on developing Grade A MCFs, dedicated warehouses near our customers' manufacturing centres, and modern urban logistic hubs - all interconnected with transportation and last-mile delivery network."
Spear Logistics was mostly into the business of moving auto and engineering goods, while GST allowed FM Logistic to diversify its focus into many other verticals as well and the recent demand drivers were grocery, FMCG, retails and omnichannel operations.
Read more: Warehousing penetrating deep into Indian geography with smart, quality assets

Interestingly, 60 percent of its new contracts signed during this period were for omnichannel operations. He noted, "The main impetus for this growth has been on account of great focus on developing the omnichannel and e-commerce service offerings for customers in the FMCG, FMCD, pharma, auto and engineering sectors."
In India, according to the company, FM Logistic is one of the top 3 contract logistics service providers as it is exclusively focusing this part of logistics (which covers the entire supply chain from doing customs to last mile delivery). The company has its presence in 40 Indian cities and over 70 customers. "Last year, despite the pandemic FM Logistic India added 10 lakh sq ft of warehousing space under its operations. This amounts to a 20 percent growth in its footprint," SOUFIANI said.
As an asset-heavy company, in contract to many of its competitors, FM Logistic plans to own majority of its warehousing infrastructure through its real estate arm NG Concept.
Global ambitions of FM Logistic
Globally, present in 14 countries, FM Logistic aims to double its revenue to €3 billion in 2030 with a strategy centered on omnichannel supply chain services, urban logistics, sustainability, distribution and customer experience. The company on Tuesday outlined its strategy, "Powering 2030", at a press conference.
To achieve these objectives, FM Logistic is ready to cater to the rising demand for omnichannel commerce, especially in urban centres, which is driving demand for outsourced logistics services. "FM Logistic has a comprehensive strategy to drive profitable growth. In a time of rapid change, our priority is to help our customers build sustainable omnichannel supply chains. Therefore, our 9-year plan puts customer experience and sustainability at the core of everything we do" said FM Logistic CEO Jean-Christophe Machet.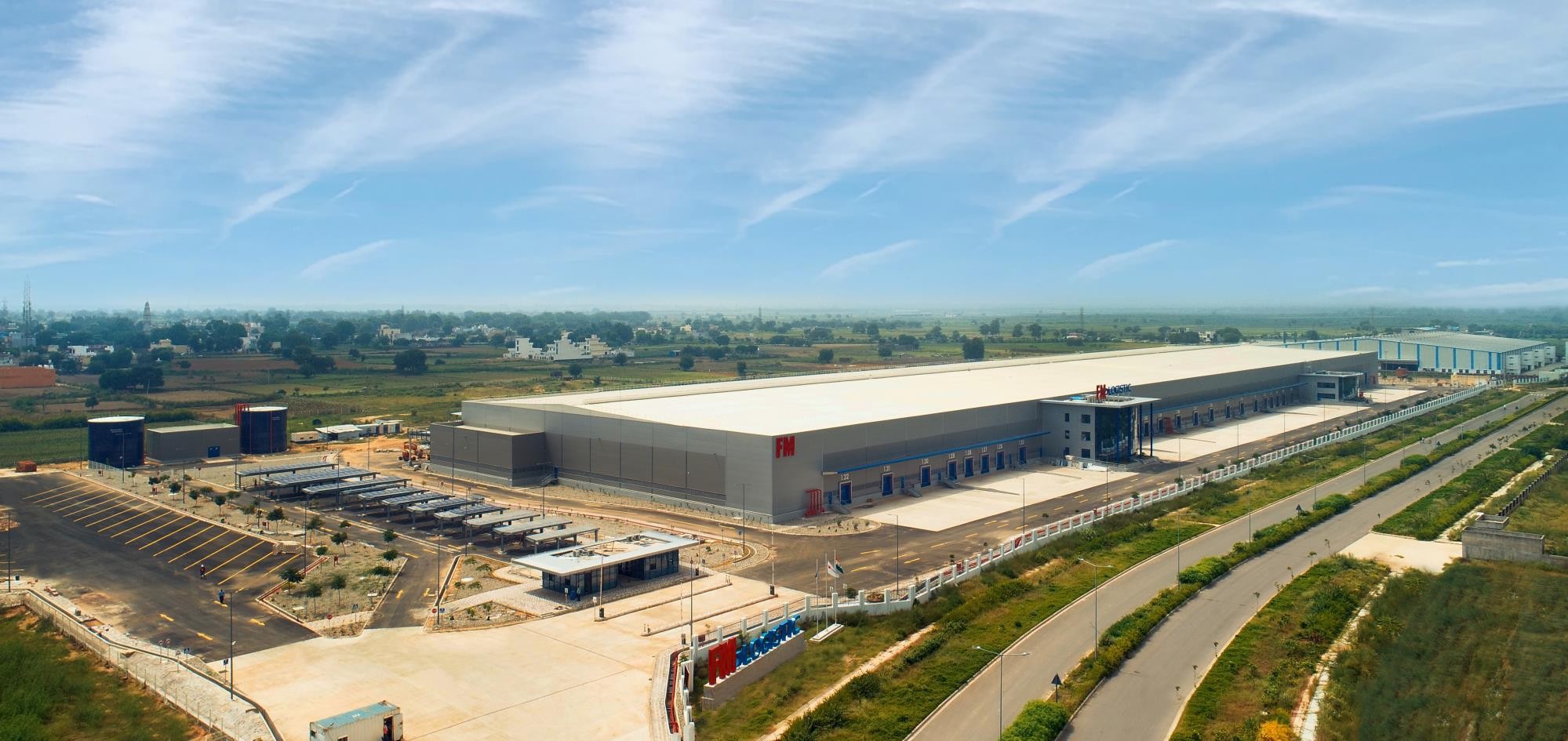 SOUFIANI also announced the opening of FM Logistic's first multi-client facility built by its own means through NG Concept at Farrukhnagar, NCR near Kundli–Manesar–Palwal ring road.
Major Indian contracts of this year
1. A leading international e-commerce company has awarded FM Logistic India with a contract to manage their dry grocery hub in Bengaluru spread across 1 lakh sq ft. This is an extension to the grocery hub being managed by the 3PL service provider in Gurugram.

2. FM Logistic has entered into a contract to manage the end-to-end logistics activities for a leading beverage manufacturer. As part of the agreement, the company will manage customs clearance, secondary distribution, warehousing & handling and packaging of fragile items.

3. FM Logistic has started managing the in-store logistics operations for a leading international home furnisher. On a daily basis, 300+ orders are processed through various sales channels like click & collect, home deliveries and walkin orders.

4. A leading kids wear brand has boarded FM Logistic to carry out warehousing operations for their e-commerce fulfilment, processing approximately 2, 000 orders per day at FM's multi-client facility in Bhiwandi.

5. FM Logistic will be carrying out end-to-end supply chain services for a leading food manufacturer at its Bhiwandi MCF. Value-added services and distribution activities are part of the agreement.

6. On the distribution front, the company has signed contracts with leading players in the FMCG and engineering sectors.
To further strengthen its omnichannel fulfilment capacity, FM Logistic will be expanding its network of large MCFs, supported by investments in automation connected to a full network of urban logistic hubs. To cater to the growing demands of customers in urban areas, the company is developing a network of technology-driven, sustainable and compliant urban logistic hubs. These in-city hubs are designed to offer a full range of sustainable omnichannel services. These services include order fulfilment, last stage packaging customisations, digital marketplace, last stage readiness and cross-docking. Green last-mile delivery, too, is part of the offer thanks to its EV charging points enabled infrastructure. These in-city hubs are connected to FM Logistic's large MCFs located outside city limits thus, enabling the offer of a complete portfolio of supply chain services. FM Logistic will also cater to Tier 2 & 3 cities by setting up warehousing infrastructure there.
Three priorities of sustainability
With sustainable development at its core, FM Logistic's sustainability strategy revolves around three priorities: employee wellbeing, the environment and eco-efficient services. The 3PL player has ramped up initiatives to include specially-abled collaborators in its operations. Through the FM Academy, collaborators are groomed in best practices followed in the supply chain industry. This grooming through regular training helps them to move up the corporate ladder within the organisation. The company recently launched the "Young Talent Acquisition" program through which young professionals are recruited. FM Logistic India is aiming for a LEED Certification for its Farrukhnagar MCF - the first-of-its-kind certification for a 3PL service provider in India. Solar panels for energy generation, rainwater harvesting, sewage treatment plant, fully insulated for energy efficiency, drivers' relaxations quarters, creche, training centres and medical room are now standard offerings at FM facilities.