E-commerce Logistics Summit 2022: Challenges & Solutions
This year's E-commerce Logistics Summit will focus on the challenges and opportunities of the industry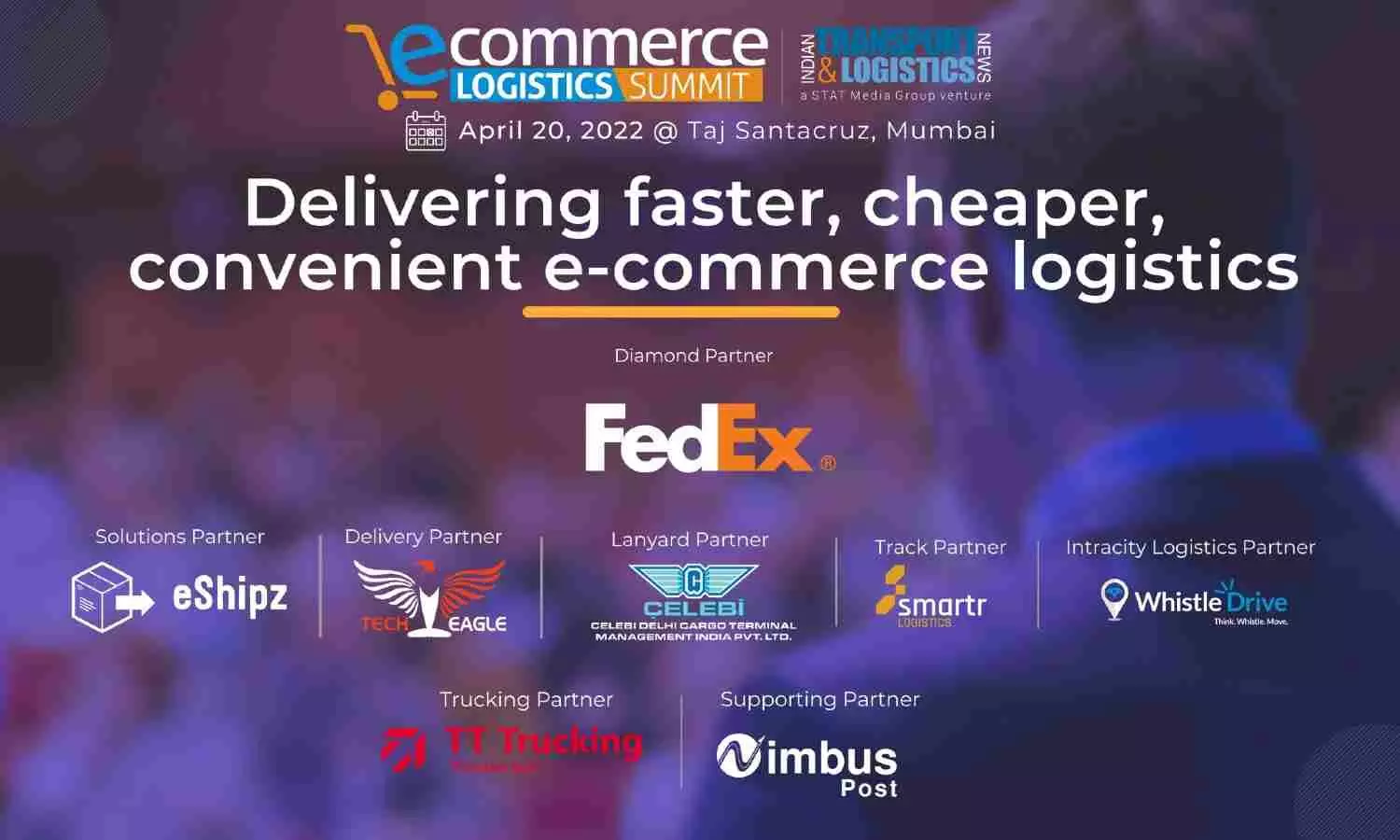 The wait is nearly over! The most exciting e-commerce logistics event is only a day away. The day will be loaded with intriguing panels and one-on-one interviews focusing on logistics at D2C, technology advancements in last mile delivery, innovative express logistics, cross border e-commerce, and more.
The event will begin at 9.30 a.m. at the Taj in Santacruz, Mumbai, and will feature industry leaders as speakers such as Amber Dubey, Joint Secretary, Ministry of Civil Aviation; Suvendu Choudhury, Managing Director,International Operations, FedEx Express; Sabiha Mulla, Director, Apt Logistics; Kumar Gaurav, Head of Supply, Tata Croma; Manoj Singh, Senior VP & Head - Cargo & Express, Mumbai International Airport - Adani Airports; Aijaz Dadarkar, Regional Business Head, FreshToHome Foods; Ankit Kumar, CEO, Skye Air Mobility; Navin Mistry, Advisor, Shiprocket; Meheriar Patel, Group Chief Information Officer, Digital Solutions, Jeena & Company and more.
Organised by Indian Transport & Logistics News (ITLN), a STAT Media Group publication, the second edition of the one-day conference has FedEx as Diamond Partner, eShipz as Solutions Partner, TechEagle as Delivery Partner, Celebi Delhi Cargo Terminal as Lanyard Partner, TT Trucking as Trucking partner, Smartr Logistics and Track Partner, Whistle Drive as Intracity Logistics Partner and Nimbus Post as Supporting Partner.

Debajyoti Bagchi, General Manager, TT Trucking said, "Keen to explore the technological advancement in the logistics field of internet sales. The current market trend of e-commerce and the customer's behaviour attached to it specially in the post pandemic era. How digitization helps the consumers in touchless transactions followed by the brand management by the manufacturers."
"With Pandemic, consumer reliance on Ecommerce has only grown. To keep up with the ever-increasing demand, the industry requires innovation and change. The summit will provide an excellent opportunity for players in the eCommerce business to interact, share ideas, and collaborate on driving the industry to new heights. In the first six months of operation, the market has responded positively to Smartr's unique network offering, and this summit is a suitable venue for connecting with stakeholders and providing a new age logistics solution in the shape of Smartr logistics," Utkarsh Sharma, Co-founder, Deputy Chief Revenue Officer (North), Smartr Logistics.
The event will provide opportunities to discuss business operations with diverse industry professionals, as well as address any issues encountered and ideas to overcome such challenges.
"The summit is an exciting chance to connect with a lot of the people face to face after a long gap due to the covid. This allows for ideas to be exchanged, innovations to be discussed, problems to be identified and resolutions to be thought of. The pandemic has brought forward or pushed in innovations that were long overdue in the logistics arm of the e-commerce sector. This summit is a perfect opportunity to discuss, debate on all of these innovations that have already made news and all those that are needed for the future of this sector," said Shivadeep Mahadi, Co-Founder, eShipz.
You can also take part in the event virtually. Join us on the STAT Media YouTube channel and the ITLN LinkedIn page for a live stream of the event. Register here for the event: https://www.itln.in/events/ecommercesummit2022/
The event will also see the launch of "one of the fastest drones ever made in India" by TechEagle.

The new type of drone will be deployed for deliveries in healthcare, hyperlocal, e-commerce, maritime and defence industries. The drone operator plans to have an end to end on-demand drone logistics airline in the near future.
"Our message to those attending this event would be that we hope you learn elaborately about the present scenario of logistics in our country, ask thought-provoking questions, be aware of the roadmap of the industry and grasp how it is going to expand in the future," said Vikram Singh Meena, Founder & CEO, TechEagle.
For the speakers, we would be grateful to hear all the problems associated with the current logistics system that they face and how the inculcation of new technologies, such as drone delivery, can help rectify the problem to a great extent. With India expecting to reduce the logistics charge by 10%, we hope all the pioneers in the e-commerce industry can collectively come together to reach this mark by becoming early adopters of futuristic technologies."
The conference is intended to deliver maximum value to its attendees in terms of opportunity to meet new partners, aid in business choices, and get some practical insights. It contains four separate panel discussions covering the most essential subjects in the sector, such as express delivery, technological advances, new business models, and cross-border e-commerce.
The event will also feature live one-on-one interviews on stage, followed by a Q&A with some notable industry disruptors. Follow us on social media - Twitter and LinkedIn for the most up-to-date information about the event.