DP World, Virgin Hyperloop One partners for hyperloop-enabled cargo systems
April 30, 2018: DP World in partnership with Virgin Hyperloop One has formed DP World Cargospeed to provide hyperloop-enabled cargo systems for faster, sustainable and efficient delivery of palletised cargo. The launch was attended by vice president and prime minister of the UAE and Ruler of Dubai His Highness Sheikh Mohammed bin Rashid Al Maktoum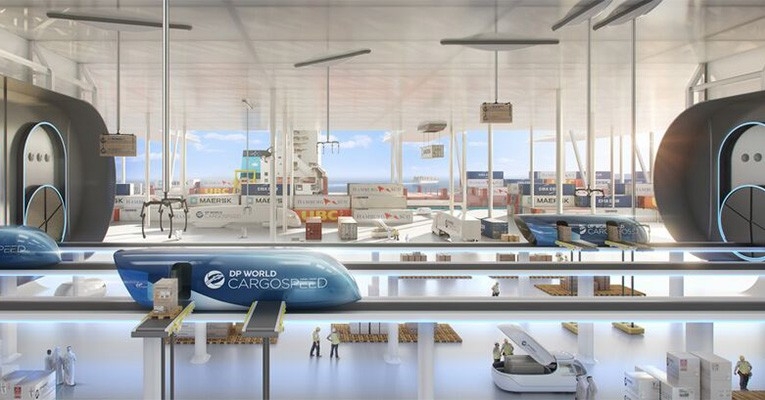 April 30, 2018: DP World in partnership with Virgin Hyperloop One has formed DP World Cargospeed to provide hyperloop-enabled cargo systems for faster, sustainable and efficient delivery of palletised cargo. The launch was attended by vice president and prime minister of the UAE and Ruler of Dubai His Highness Sheikh Mohammed bin Rashid Al Maktoum.
DP World Cargospeed will provide exceptional service for high-priority, on-demand goods, delivering freight at the speed of flight and closer to the cost of trucking. DP World and the US-based Virgin Hyperloop One introduced their future vision of on-demand freight transportation enabled by DP World Cargospeed at the event hosted by Sultan Ahmed Bin Sulayem, DP World group chairman and CEO and Sir Richard Branson, Virgin Group founder and Virgin Hyperloop One chairman.
Speaking on the sidelines of development and future of freight transportation in India, Josh Giegel, CTO and co-founder, Virgin Hyperloop One said, "Freight traffic in India is projected to increase by six times which is more than half of the traveling on India's strained road network. DP World Cargospeed systems powered by Virgin Hyperloop One will integrate seamlessly into the existing transport ecosystem easing congestion with a multi-use system capable of carrying freight and cargo. It will enable ultra-fast, on-demand deliveries of high-priority goods and can revolutionize logistics, support economic zones and create thriving economic mega regions in India. Our valued partner and investor DP World has a significant presence in India. We look forward to working with them on opportunities to revolutionize trade and supply chains in the country."
"In India, Maharashtra has recently signed an intent to build a hyperloop between Pune and Mumbai. A significant amount of cargo traveling through the Mumbai port has its origin or destination in Pune. DP World Cargospeed powered by Virgin Hyperloop One can help to rethink how high-priority goods can move through the state. It can enable the rapid movement of palletized freight and light cargo between the two cities, creating a robust backbone for on-demand deliveries, supply chains, and next-generation logistics," explained Harj Dhaliwal, MD, Middle East & India, Virgin Hyperloop One.
Commenting on UAE, His Highness said that advanced technologies are at the centre of the UAE's vision for development, which is driven by a deep understanding of the needs of the future. He underscored the importance of constantly exploring new technologies that can enhance efficiencies and processes while maintaining the highest levels of quality.
Sulayem added, "Throughout history, cargo has always been the catalyst for transport revolutions. With a bold vision for the future, Dubai has always pushed the boundaries of innovation. This spirit of innovation has enabled us to become a world leader in logistics. We have made a significant investment in Virgin Hyperloop One because we see the need for a hyperloop-enabled cargo network to support rapid, on-demand deliveries globally."
Sir Richard Branson said, "The global growth of e-commerce is driving a dramatic shift in both consumer and business behavior. On-demand deliveries are a novelty today. Tomorrow it will be the expectation. DP World Cargospeed systems powered by Virgin Hyperloop One will enable ultra-fast, on-demand deliveries of high-priority goods and can revolutionise logistics, support economic zones and create thriving economic megaregions."
Hyperloop is a futuristic mode of passenger and freight transportation in which a pod-like vehicle is propelled through a near-vacuum steel tube, with most of its air removed, at higher than airline speed. Next-generation magnetic levitation technology combined with a low-pressure tube environment enables the pods to move quickly with little friction. Hyperloop can achieve top speeds of up to 300 metres/second, making it two to three times faster than high-speed rail. The technology facilitates autonomous operations designed to reduce human errors and run with minimal delays. Hyperloop is more cost-effective to implement and operate than high-speed rail. It is fully electric and zero direct emissions make it a highly environmentally friendly technology.
The Virgin Hyperloop One system underpinning DP World Cargospeed is unique in that it doesn't need to be passenger-only or cargo-only. It is a mixed-use system that fully utilises system capacity and maximises economic and social benefits. The systems are 100 percent electric and can be powered by renewable energy, creating a more sustainable solution for cargo transport.