DP World, CMA CGM, launch block train between Mundra port, Panipat ICD
March 5, 2021: Global logistics companies DP World and CMA CGM jointly received their maiden block train from Mundra, Gujarat to DP World PFT (ICD) Panipat, Haryana.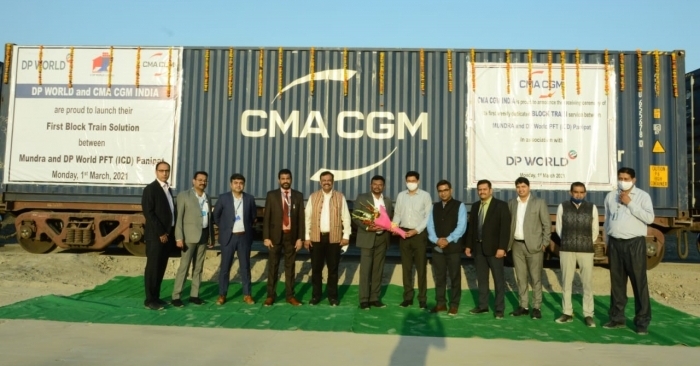 March 5, 2021: Global logistics companies DP World and CMA CGM jointly received their maiden block train from Mundra, Gujarat to DP World PFT (ICD) Panipat, Haryana.
"This new service is the first block train by a shipping line between Mundra and Panipat. The fully loaded 90-TEU train was flagged off from Mundra port on February 27, 2021. The service was received in the presence of representatives from DP World and CMA CGM India," says the release.
The new weekly block train service will provide dedicated and seamless connection from Mundra Port to PFT (ICD) Panipat thereby, making customers' cargo reach internal markets faster. With priority rail out option and fixed train schedule, customers will be able to minimize waiting time at the Port as well as plan their cargo movements effectively.
DP World provides container train services connecting major cargo centres to gateway ports.
The company has created an extensive network of logistics assets in India including express & third-party logistics services, port terminals, container freight stations, rail services, inland rail terminals, cold chain, free trade zones, freight forwarding and feeder services. DP World caters to end-to-end supply chain needs of customers across all kinds of storages, all modes of transportation and all types of bulk, domestic, EXIM, and temperature-controlled cargoes. Through its network of Port Terminals, CFSs and Inland Terminals, DP World covers almost 70 percent of EXIM and 30 percent of Domestic markets in India.
CMA CGM, an expert in intermodal solutions committed to meeting its customers' needs
The CMA CGM Group is an industry pioneer offering customized, innovative and customer centric intermodal solutions for seamless continental connections. This new block train service is another example of the Group's commitment to offering its Indian customers the best service, wherever they are located in the country.
CMA CGM is developing sustainable door-to-door solutions to allow its customers to significantly reduce the carbon footprint of their transported goods. Compared to cargo movement via truck, the block train option reduces CO2 emissions by up to 67 percent.
Present in India for more than 30 years, the CMA CGM Group employs 4,700 staff members in the country. It connects India to the rest of the world with 12 services making 12 calls weekly.
Ranadhir Reddy, CEO, Rail & PFT, Subcontinent, DP World said, "Our pan India network provides seamless connectivity, that helps customers connect their cargo to global markets as well as across India's vast hinterland. Through our investments, we are committed to enhance India's rail freight share and offer trade solutions using multimodal logistics. We thank CMA CGM India for partnering with us and trusting in our capabilities to offer Block Train Solutions to their customers. We operate three ICDs in North Region that cater to the NCR market. This gives us a unique competitive advantage to provide reliable service as well as reduce empty repositioning cost, thereby lowering logistics cost for customers and trade at large."
Atit Mahajan, general manager, CMA CGM India, said, "We are pleased to be the first shipping line to offer a block train service between Mundra and Panipat in collaboration with DP World. This service is the 10th dedicated block train service being operated by the CMA CGM Group in India. The Group has an extensive network of connected maritime services and intermodal facilities which has been strategically developed over a period of time to best suit the requirements of our customers.
This service will provide a dedicated and direct loop from port to ICD, which will optimize the current transit time and help our customers expand their business while reducing their CO2 emissions."