DMICDC starts pan-India operations of Logistics Data Bank services
December 19, 2017: DMICDC Logistics Data Services (DLDS), a joint venture between Government of India represented by National Industrial Corridor Deve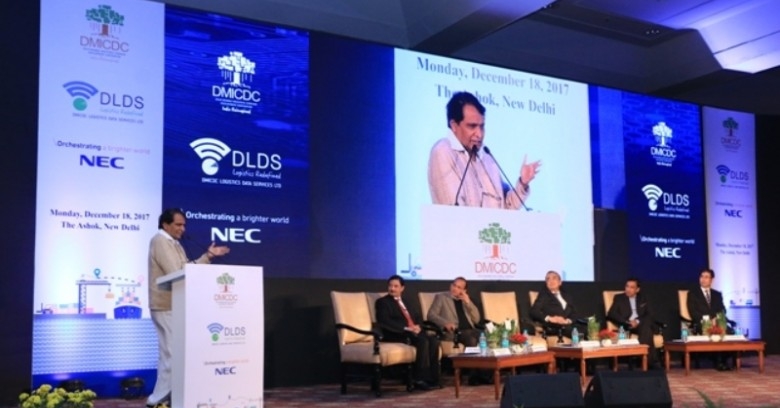 December 19, 2017: DMICDC Logistics Data Services (DLDS), a joint venture between Government of India represented by National Industrial Corridor Development and Implementation Trust (NICDIT) and Japanese IT major NEC Corporation, has announced the launch of the Pan-India operation of its Logistics Databank (LDB) Service.
LDB Service is a one-of-its-kind Indo-Japanese technology partnership that provides easy-access single window digital visibility solution to streamline container logistics operations. After successful implementation at ports in the Western Corridor including JNPT, India's biggest port, the service is now being expanded to three ports in Southern Corridor —Krishnapatnam, Kattuppalli and Ennore— and a new terminal of JNPT, Bharat Mumbai Container Terminal Private Limited.
Suresh Prabhu, Minister for Commerce and Industry, announced the nationwide rollout of LDB recently at a ceremony attended by dignitaries including, Gopal Krishna, Secretary, Ministry of Shipping; Ramesh Abhishek, Secretary- Department of Industry Policy and Promotion, Ministry of Commerce & Industry and Chairman, NICDIT; CR Chaudhary, Minister of State for Commerce & Industry and Consumer Affairs, Food and Public Distribution; and Kenji Hiramatsu, the Ambassador of Japan.
At the ceremony, agreements were signed to extend the service to Krishnapatnam in Andhra Pradesh, and Kattuppalli and Ennore ports in Tamil Nadu and another terminal in Mumbai region.
This brings total number of ports where LDB is operational to six; four terminals at the JNPT were the first to pilot the scheme and it was launched at 5 port terminals in Mundra and Hazira under Adani Ports and Special Economic Zone (APSEZ) in Gujarat in May this year, bringing nearly 90 percent of the traffic along the Western Corridor and 70 percent of the total container volume of the country under one tracking system.
LDB is an IoT, BigData and Cloud based solution implemented by DLDS. It uses RFID technology to provide near real-time visibility of container movement in the western corridor. The LDB provides users a single window interface to check the location of the container along its entire journey, from ports to Internal Container Depots (ICDs) and Container Freight Stations (CFSs), with complete trace back information on intermediate points crossed and time taken.
The web-based interface enables search from any location and any device, and it sends SMS / email alerts to track priority containers and inform users of any delay. The Android version of the LDB for smartphones has also been unveiled. Since its launch in July 2016, the LDB has provided visibility to 5.5 million EXIM containers along the western corridor.
An analysis by the DLDS shows that when compared to June this year, the lead time for truck routes has improved by 25-27 percent. LDB provides detailed analysis of dwell time, average delivery time, efficiency of different port operators, CFSs / ICDs and Toll Plazas that are helping identify bottlenecks across the supply chain.
Suresh Prabhu, Minister of Commerce and Industry, welcomed the pan-India launch of LDB, in view of the data-driven future of the economy. "Data is going to be invaluable to economic activity in the coming years; and projects like LDB that collect, process and convert data into value-added service areimportant for our future growth," he said.
He also hailed the strengthening Indo-Japanese economic ties, especially in large-scale infrastructure projects such as the DMIC, and proposed setting up of an exclusive industrial zone for Japanese companies in India with infrastructure and amenities catering to their needs.
The LDB is being implemented with the support of the Ministry of Commerce, Ministry of Railways and Ministry of Shipping, Road Transport & Highways.
The Japanese government has also been helping with the promotion of LDB as part of its larger partnerships across the DMIC. It was one of the projects reviewed in the summit meeting of the Prime Ministers of India and Japan in September 2017.
Kenji Hiramatsu said that Japanese investments in India have increased significantly in the past two years and the number of Japanese companies setting up shop in India has also risen steadily with strong bilateral and economic ties shaping up. "As the first commercialized project under DMIC,we expect LDB to help cut down transportation delays and make India an attractive destination for Japanese companies," he said.
DMICDC now plans to extend the tracking services for the Bulk Cargo.