DHL's new platform to help integrate warehouse robotic devices across facilities
June 25, 2020: DHL Supply Chain, the global contract logistics player and part of Deutsche Post DHL Group, has collaborated with Microsoft, and the artificial intelligence (AI)-driven digital fulfillment provider Blue Yonder (formerly JDA Software) to launch a new "plug & play" robotics platform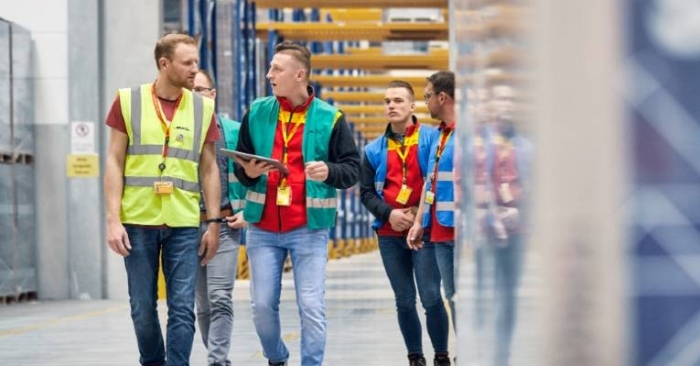 June 25, 2020: DHL Supply Chain, the global contract logistics player and part of Deutsche Post DHL Group, has collaborated with Microsoft, and the artificial intelligence (AI)-driven digital fulfillment provider Blue Yonder (formerly JDA Software) to launch a new "plug & play" robotics platform.
The platform reduces integration time and programming efforts to on-board new automation devices into warehouse facilities and gives DHL customers more flexibility in selecting suitable robotics systems according to their individual business needs.
The robotics platform is powered by Blue Yonder's Luminate Platform with machine-learning (ML)-driven task management capabilities that improve warehouse operational efficiency and leverages Microsoft Azure (IoT) and cloud platform services.
.@DHLSupplyChain launches software platform with @BlueYonder on @Microsoft cloud to accelerate implementation of warehouse robotics through standardization. The solution leverages Microsoft Azure #IoT and cloud platform services pic.twitter.com/OsHHxJTPqA

— DHL Supply Chain (@DHLsupplychain) June 24, 2020
Complex integration of new robots
Markus Voss, global CIO and COO, DHL Supply Chain, said "We have more than 2,000 operational sites across DHL Supply Chain, so we know how complex, time-consuming and costly it can be to integrate new robots into existing platforms and connect to our clients' various warehouse management systems. Our first implementation on the new platform with 6 River Systems at one of our Madrid sites is already showing a 60 percent reduction in integration times, but with subsequent deployments we foresee further improvements of up to 90 percent."
DHL Supply Chain facility in Madrid
A first implementation at a DHL Supply Chain facility in Madrid has demonstrated that the new platform can reduce complexity and accelerate the integration of robotic systems into an existing warehouse management system. At the same time, the platform gives customers greater flexibility in selecting and integrating different robotics vendors in one system.
Girish Rishi, CEO, Blue Yonder, said "DHL sites can now bring on a robotics vendor quickly to augment its resource capacity and support its workforce."
DHL's digitalization strategy
While the new software platform is just one part of DHL Supply Chain's company-wide digitalization strategy – that includes the use of DHL's focus technologies such as robots, smart operations through wearable devices and data analytics – it plays an essential role in facilitating and accelerating the deployment of new technologies on a large scale.