Demand up, but can India's perishable logistics market deliver?
The pandemic coupled with increasing demand in Tier 1 and 2 cities and technological advancements has brought into sharp focus how investments flowing into infrastructure and skill development can fast track the Indian perishable cold chain growth story.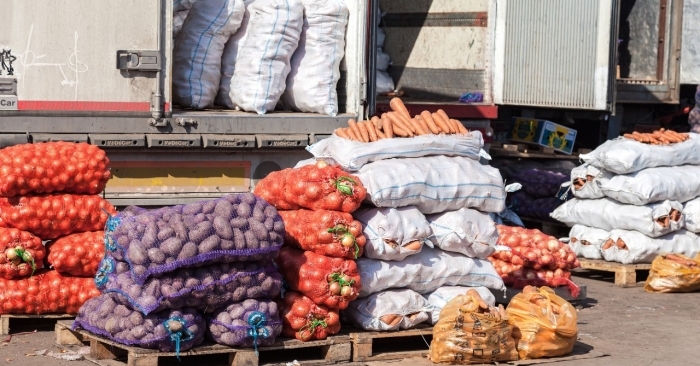 A 2019 CIPHET study says that India wastes a whopping 16 percent of its fruits and vegetables every year due to weak cold chain infrastructure. The pandemic coupled with increasing demand in Tier 1 and 2 cities and technological advancements has brought into sharp focus how investments flowing into infrastructure and skill development can fast track the Indian perishable cold chain growth story.
This July, the tech-driven consumer supply chain company Stellar Value Chain Solutions had announced that it will invest ₹200 crore this financial year to boost its e-grocery supply chain offerings by setting up 25 fulfilment and sort centres across the country.
The company is among many Indian players who are investing in the perishable logistics infrastructure to meet India's burgeoning demand for dairy products, fresh fruits and vegetables, poultry products and other temperature-sensitive commodities. The development brings home the need for the sector to rev up investments needed to infuse capacity and create infrastructure to meet the demand-supply gap that currently exists.
In India, typically the dairy sector is the largest producer of perishables, followed by pharmaceuticals, frozen goods, fruits and vegetables, and seafood and meat. The fruit and vegetable sector also transports a large portion of its commodities in regular vehicles that are without any temperature control. This has left huge lacunae in this sector that can be exploited to create capacities in the cold chain segment in a bid to minimise losses.
Incidentally, the government of India through the ministry of food processing industries (MoFPI) is working to boost investments in the food processing industry. The government has sanctioned 41 food parks funded under the mega food parks scheme, of which 22 are operational as of April 1, 2021.
Speaking on the recent investment made by Stellar Value Chain Solutions this fiscal into the perishable logistics segment, its CEO Deven Pabaru said, "There is a big demand in this segment and need for investments in infrastructure-building that are required to be done. Stellar is geared to create cold storages to meet the burgeoning customer requirements within the fresh food and beverages and value-added segments."
He added, "We are also geared up to be a preferred service provider to the mega food parks whether it is operating cold storages within the food park to transporting food to consumer points. We have tech-enabled vehicles of multiple capacities and temperatures running across the country," he added.
Big shoes to fill
According to real estate and investment management services company JLL, the Indian cold chain logistics sector is expected to grow at over 20 percent CAGR by 2025 due to its transformation from conventional cold storage to modern storage spaces. Its May 2021 report cites that there is a massive opportunity for creating infrastructure for organised cold storage in Tier-1 cities like Mumbai, Delhi-NCR, Bengaluru, Chennai, Pune, Kolkata, Hyderabad as well as in Tier-2 cities like Lucknow, Kanpur, Ranchi and Patna.
The road ahead for Indian perishable logistics is especially favourable owing to the recent changes in demand induced by the pandemic and consumers shifting to online buying as well. People are looking for hygienic and clean food solutions while there is also a marked shift to frozen foods.
Combined with a burgeoning population in Tier 1 and 2 cities, and the introduction of new technologies and e-commerce advancements, the market is likely to see more reefers and cold storage facilities in the coming years. However, this will require a huge investment both in the infrastructure building and skill development side from market players and the government.

The evolution of the domestic perishable logistics market, according to Pabaru, is mainly being driven by two important factors: technology transformation and growing demand for fresh and processed food.
"The rapid growth in e-commerce, food service industries, organised retail, etc. is adding momentum to the growth of domestic perishable logistics market. Such a huge growth potential can only be realised through effective infrastructure growth and skill development in handling perishable goods," he said.
"The pandemic has added to the requirement of having hygienic and clean conditions for storage of food. Therefore, modern retail and e-commerce will be the catalyst that is best suited to serve this demand. Changing consumer habits towards frozen food and beverages, including non-seasonal fruits has also precipitated the need for high-end tech-enabled temperature-controlled services," he added.
Geography of perishables
Fruits and vegetables, meat and poultry, seafood and dairy products are key perishable products that use temperature control in India. To develop and streamline the cold chain of perishables it is crucial to map out the flow of these commodities and analyse existing infrastructure and facilities supporting them. It is interesting to note that about 60 percent of India's cold storage capacity is largely concentrated in the states of West Bengal, Uttar Pradesh, and Bihar, which accounts for 85-90 percent of potato storage.
On being quizzed about the geography and movement of perishable items, Pabaru noted that apples and peas from North India, butter and chicken from the South and egg production largely from Hyderabad were some examples of the perishable food movement. "Therefore north, south, and west are key production and consumption markets," he said.
While each state has its own set of perishables that have to be moved around the country while ensuring that these products were available everywhere, have hitherto proved to be a challenge.
However, Swarup Bose, founder & CEO of the cold chain marketplace startup Celcius noted that with the advancements in the cold chain sector, it is now feasible to send cargo from the south to the north of India.
"Most agricultural land lies in the rural areas while the sales and stocking processes take place in the cities. Travelling from the south to the north is one of the most preferred travel routes for transporting perishable goods in the country. This route even covers the west for primary movements of perishable goods," he added.
Challenges galore
According to a 2019 study done by the Central Institute of Post-Harvest Engineering and Technology (CIPHET), India has wasted a whopping 16 percent of its fruits and vegetables every year due to a weak cold chain infrastructure.
Bose informed that the Indian perishable market requires around 1.5 to 2 lakh reefer trucks to meet the needs of perishables movement within the country. The existing infrastructure, however, is currently only close to 50,000.
Bose said, "It is necessary to increase the number of assets available and another solution could be to first connect the available infrastructure throughout the country. With an increase in population, the consumption of perishables also increases, making it imperative to arrest wastage at the source."
Celcius is a platform that works to fill this gap. It aims to create a network that every shipper and transporter in India can have access to and thereby reduce the waiting period for transporters and the costs that the shippers have to bear. They also encourage smaller transporters to increase their fleet size to reduce their waiting period between loading and unloading of cargo.
Swarup Bose- its CEO added that one of their largest concerns has always been the underutilisation of the existing fleet and cold storages. "Due to the lack of a central network, a lot of the transporters are operating under losses as they have to wait for extended periods before their vehicles are loaded for a return trip. Moreover, the assets in the cold chain industry are 2.5 times more expensive than their counterparts in the dry logistics sector," he said.
Pabaru also agreed that there is a gap between the existing capacity and the requirement of an effective perishable logistics infrastructure. However, he argues that capacity shortage can be fulfilled if private participation is aggressively encouraged by the government.
"Perishable cargo spoilage due to insufficient and weak cold perishable logistics infrastructure is a problem. However, that issue can be addressed by adopting a public-private partnership (PPP) model to develop refrigerated transport infrastructure," he said.
Handholding by the government
With perishable logistics poised to grow as a sunrise sector, the Indian government has over the past few years created a conducive environment to build a robust cold chain industry. In 2020 the government introduced three new farm laws: Farmer's Produce Trade and Commerce (Promotion and Facilitation) Bill, 2020, Essential Commodities (Amendment) Bill 2020 and Farmers (Empowerment and Protection) Agreement of Price Assurance and Farm Services Bill, 2020. Even though the laws created an upheaval in Indian politics, it was largely perceived as a game-changer for the perishables sector and especially to the entire cold chain system that supports it.
Pabaru informed that the scheme for integrated cold chain and value addition under the Pradhan Mantri Kisan SAMPADA Yojana of the MoFPI will boost the cold chain industry by facilitating the development of infrastructure facilities at the farm level.
"The farm to fork solution has got a huge boost by the new farm laws, which allows value addition at the farm-gate. Stellar is keenly focused and will participate in co-creating this value chain model of farm to fork – whether for dairy, ready-to-eat or meat products," he said.
Meanwhile, Bose noted that the MoFPI has also helped set up more food processing plants while the National Horticulture Board (NHB) and the Agricultural and Processed Food Product Export Development Authority (APEDA) have helped increase the infrastructure of cold chain facilities.
"To promote growth in the industry, the government has been providing a lot of subsidies and incentives. The 'Make in India' initiative has bolstered manufacturers from India's Tier 2 and 3 cities. Getting approvals from the government has also become less time consuming and cold chain entities are getting priority over other sectors," he added.
He also noted that the government had been encouraging new start-ups and logistical giants to increase their presence in the cold chain segment. "Start-ups are also receiving funding to increase the production of agricultural goods while maintaining the quality of their organic products," he said.
A sunrise sector
According to Pabaru, the future of the Indian domestic perishable logistics industry looks optimistic. "The transition from conventional operational dynamics to the modern way of functioning has changed the face of perishable logistics. Despite pandemic-induced operational challenges, the organised perishable logistics segment has witnessed significant growth," he said.
However, there are strings attached to it. To continue with the momentum, the government must facilitate training and skilling manpower employed in the industry. "The government should work towards aggressively attracting investments in the Indian domestic perishable logistics industry. Offering subsidy on electricity tariffs to develop perishable logistics infrastructure is another route the government should explore," he added.
This article was originally published in Indian Transport & Logistics News' July - August 2021 issue.