FROM MAGAZINE : Container Shipping in India setting a new trend
Container trade in India seems to finally head in the right direction with the introduction of new policies and processes, digitalisation, automation, mega infrastructure projects, complemented by growing consumerism in India and demand for Indian manufactured goods abroad. In addition, relaxation of Cabotage is further accelerating India's contain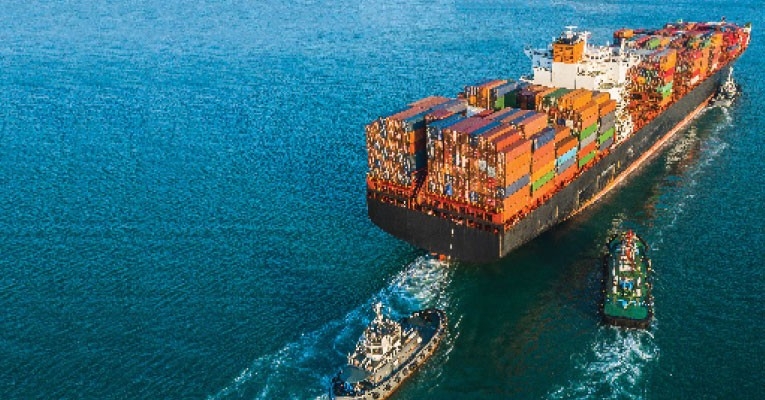 Container trade in India seems to finally head in the right direction with the introduction of new policies and processes, digitalisation, automation, mega infrastructure projects, complemented by growing consumerism in India and demand for Indian manufactured goods abroad. In addition, relaxation of Cabotage is further accelerating India's containerised trade in 2018.
Nahida Jafferi
Containerisation has proven by far to be the most efficient and cost-effective option to conduct trade and facilitate consumerism across distant geographies.
Around 55 percent of India's total trade currently moves in containers, and this ratio is growing.
Maersk Line, a global container shipping company, transports around 20 percent of India's total container cargo. Steve Felder, Managing Director, Maersk Line-India, Sri Lanka, Bangladesh, Nepal, Maldives and Bhutan, said, "Container volume to and from India increased 9 percent in 2017 compared to 2016. India's trade growth has been well above the global average of 4 percent, which makes the emerging Asian economy- one of the fastest growing markets in the world – and off a sizable base."
"Container volumes through the eastern ports of Haldia and Visakhapatnam in 2017 soared 77 percent and 28 percent respectively. With that –the region's share of India's exports increased 19 percent from the prior year. Much of that acceleration came from increased exports to the Mediterranean region — such as metal products to Italy, Spain and Belgium," informed Felder.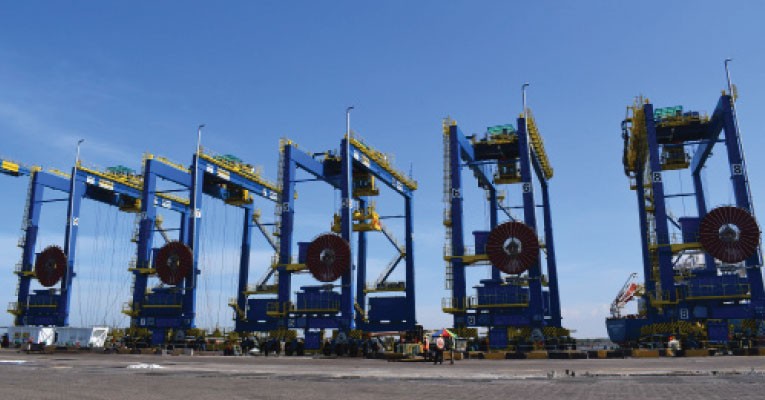 Maersk Line's Trade Report in Q1 2018 revealed that India's containerised imports grew at 16 percent, while exports were up by 7 percent. "Together, they led India's trade to a strong start in 2018. These numbers are higher than the estimated global containerised growth of 3-4 percent.
Growth levels beat India's past performance in export-import over eight quarters. This is positive for the industry as a whole," said Felder.
Felder attributed the growth on the export side to the rocketing demand for India made vehicles in Turkey, and Indian fruit and nuts in the UK and the UAE. Automotive exports from India to the United States, Egypt and Turkey drove dry cargo exports to grow 10 percent in H1 2018 at Maersk. "The domestic automobile manufacturers are showing major interest in the use of containers for their shipments, backed by cost benefits and ease of handling. This share is expected to increase substantially in the coming years," said Felder.
As per Maersk's H1 2018 trade report, containerised exports increased by 8 percent, while imports grew at 12 percent. "Amongst the triggers for growth have been policy issues, with the inflow of GST refunds creating liquidity in the hands of local manufacturers. Also, the economic fundamentals over the last 6-8 months have been positive. Add to this, the expansion in demand that has been higher than previous years, given growing consumerism in India. We see a positive outlook for the global economy going forward, and we are aligning our integrated logistical solutions locally to enable this growth," informed Felder.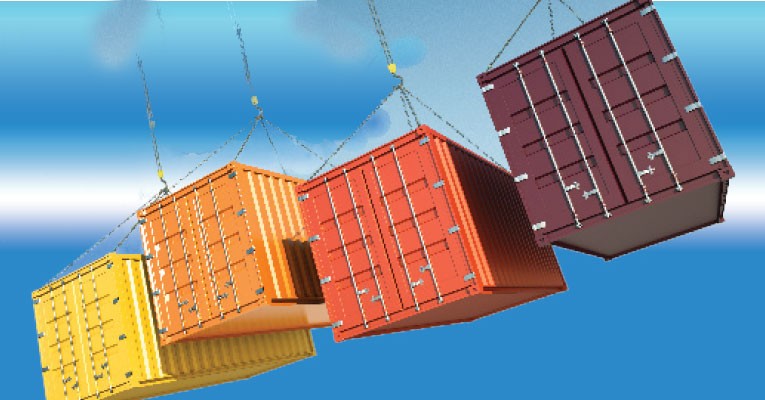 On the other hand, German-based cargo container shipping line, Hapag Llyod has been able to retain its customers and grow at a faster pace than the market in the last two years. "Due to the merger of United Arab Shipping Company (UASC), Hapag-Lloyd AG was able to grow at a much faster pace in India and was able to post double digit growth of 10 percent in terms of transport volumes in 2017 over 2016. In 2018, we have been further able to solidify our position and reach in the Indian market, and the projected growth shall remain higher than previous year in terms of actualised volumes," said Lars Sorensen, managing director- India, Hapag-Llyod AG.
"With the merger of CSAV and UASC, Hapag Llyod has increased its presence in India with its own offices, which also helps us to remain closer to customers from all the major EXIM locations," added Sorensen.
2017 was milestone year for Marseilles-based shipping group, CMA CGM that achieved 16.8 percent growth-well ahead of its targeted 15 percent growth year-on-year for 2017. It deployed three new services- INDIAMED, Cimex 2X and India Gulf service last year. Adani CMA Mundra Terminal (ACMT) hosted the first INDIAMED service between India and the Mediterranean. The French liner is pushing growth on ACMT that is jointly operated by Adani Ports and Special Economic Zone (APSEZ) and CMA Terminals. It has a capacity to handle 1.3 million TEU per year. In the second quarter of 2018, the global volumes transported by CMA CGM increased
by 9.6 percent, higher than the industry growth.
Changing policies and infrastructure
The government's investments in mega-infrastructure projects such as Sagarmala to build six new mega ports, Bharatmala to construct roads and highways, Dedicated Freight Corridors to connect the west and east coast to inland cities, Inland Waterways, port modernisation initiatives, in addition to relaxation in Cabotage laws shall augur well not just for the industry but the economy as a whole.
"The decision to lift cabotage restrictions to permit foreign shipping lines to ply the inter-coastal routes, presents a major opportunity for the industry for transhipment, which in turn will attract more containerised cargo by reducing time and cost for mainline vessels, thereby ensuring that Indian ports can compete equitably for transhipment cargo. This will also help ease congestion in rail and roads," said Felder.
The Danish container logistics firm has also taken initiatives in enhancing the cold chain business. "Our expertise in remote-controlled environments in refrigerated containers (reefer) help us service industry verticals such as fruits, vegetables, bananas, fish, seafood, meat or pharmaceuticals. We have dedicated reefer specialities, boxed goods from origin to destination, to ensure goods arrive in high quality and in safe conditions," said Felder.
Owing to the current trend in container trade, Maersk's sister concern, APMT anticipates perishables to be one of the biggest contributors to container volumes in India. Ajit Venkataraman - managing director, APM Terminals Inland Services South Asia, said, "While many sectors are witnessing growth, I believe the sectors that are, and will contribute in a radical way to increasing container volumes are agriculture, seafood, meat and pharmaceuticals. The common string among these is temperature and humidity control. Thus, development of cold chain expertise and infrastructure is critical."
APMT, has many strategic initiatives that include ICDs cum integrated solutions facility in one of India's fastest growing industrial zones in Pune, dedicated refrigerated container services facility near Nhava Sheva - the busiest port of India, container fabrication services especially for the retail garment segment, and recently South India's first-of-its-kind cold chain solutions facility integrated with a Container Freight Station (CFS) in Chennai.
"The cold chain facility, integrated with a CFS in Chennai, serves the domestic and global export-import businesses for perishable commodities, simultaneously. Built to our global standards and best practices, the facility has been conceptualised to provide a one-stop solution for primary as well as multiple value-added services like on-wheel clearance, bonded warehousing, packaging, labelling, palletisation, break bulk, cargo consolidation and transportation amongst others," informed Venkataraman.
Indian logistics industry as such is yet to reach its maximum level in India and the growth it entails will continue to keep the people involved in it. GST is one example. "The upcoming new Sea Cargo Manifest and Transportation (SCMT) Rule, Import General Manifest (IGM) and Export General Manifest (EGM) rule, with few impending clarifications; if implemented in a structural way, holds the potential to revamp the logistics industry," said Sorensen.
While talking about opportunities in the container shipping segment, Sorensen said, "India has an old but quite good public distribution system for movement of commodities across the country.
With the increased initiative and funding from Government of India's end into this aspect; country is expected to be benefited in many folds where issues like shelf life of the cargoes, wastage of the foodstuffs are expected to be addressed in the long run. This will also help the prospective exporters as well as importers to look towards possibilities of venturing into new commodities; which aren't been handled as of this day."
Interestingly, there are additional trade and commodities entering the gambit of containerised trade due to the modern multi-modal logistics infrastructure in hinterlands, government regulatory support and technology enhancements.
However, congested roads and inadequate rail and port infrastructure results into inordinate delays at times for exports as well as import prospects; thereby increasing the overall lead time for importers and exporters. To mitigate the connectivity challenge, Kandla International Container Terminal (KICT) has signed a deal with Container Corporation of India (CONCOR) to run the container train services regularly or weekly between KICT and various ICDs. This will help the trade to book import shipments ex-Kandla to various ICDs and send export shipments from the hinterlands of India to different parts of the world.
On the other hand, Krishnapatnam Port Container Terminal (KPCT), a deep drafted container terminal on the east coast of India, commissioned 5 Electrical Rubber Tyred Gantry cranes (e-RTGC) that can reduce energy costs by 80 percent and infuse further pace to the yard side container handling activities, resulting in faster turnaround time for both the container vessels as well as the by-road trailers. The addition of e-RTGs will boost its container handling capacity, which it plans to increase from the current 1.2 Million TEUs per annum to 2 million TEUs.
Growing Digitilisation
With the help of technology, Maersk offers end-to-end first mile and last mile solutions which minimises the break points in the cold chain. "Currently, 99 percent of Maersk Line's bookings are done online, while 97 percent of the shipping instructions are issued online. We are exploring ways of making payments easier and more efficient," informed Felder.
A groundbreaking innovation in refrigerated technology is the Remote Container Management (RCM) where the reefer container turns into a digitally connected device capable of transmitting its location, power status, temperature, humidity and more. Felder informed, "Our more than 270,000 reefer containers feature RCM, allowing us to monitor temperature, humidity and ventilation settings throughout the entire journey, so our customer gets better quality cargo upon arrival. It gives the customers unprecedented visibility into their supply chains, offering real time data about the state of their cargo. The data forms an asset for our customers to understand and work out ways to optimise their supply chains."
Understanding the need to have a man-machine separation in its CFS, APMT developed its first yard management automation system. Venkataraman highlighted, "This has done away with human movement in the yard, and reduced container moves, provided real-time visibility of container location in yard and reduced turn-around-time of truck trailers in the facility." He further added, "The Authorized Economic Operator Status helps us further deliver benefits to customers in Exim container trade. We have constantly invested in technologies like RFID, customer service kiosks, token management system, and management software, among others."
APMT offers integrated and one-stop solutions - right from receiving cargo at the sea-port to enabling customs inspection and clearance, CFSs, ICDs, container repairs and maintenance, multi-modal transportation (road and rail) and finally, destuffing at the site.
Hapag Llyod observes that the Indian market is highly receptive to new processes and changes.
The German container company has various digital initiatives like booking automation, and simplified Verified Gross Mass (VGM) process to ensure that the ways in which it operate meets current needs without compromising on the future. Sorensen said, "As the saying goes it is faster to gain Hapag-Lloyd's rate quotation v/s making coffee today. Quick Quotes that is now globally available, allows our customers to get instant and competitive rate quotes wherever you are, whenever you need."
Sorensen opined that the launch of Digital India-an initiative to build a digital backbone of infrastructure and services, provides ample of opportunities for logistics industry to revamp itself as a whole and also bring standardisation to various fragmented segments.
On the container tracking solution front, CMA CGM deployed TRAXENS - a connected box that tracks the location, the opening and closing of container doors and the temperature variations.
This solution will collect and analyse extensive data to improve customer service. Moreover, CMA CGM is participating in the development of AI systems in collaboration with Shone- a startup specialising in AI, to provide crews with decision support, piloting assistance or maritime safety.