CMA CGM eSolutions launched for better customer experience
April 26, 2019: CMA CGM Group, one of the world leaders in shipping and logistics, has launched CMA CGM eSolutions. It is an entirely digital eco-system comprising an online agency and other ecommerce channels such as electronic data interchanges (EDI) and application programming interfaces (API) which allow the digital transmission of relevant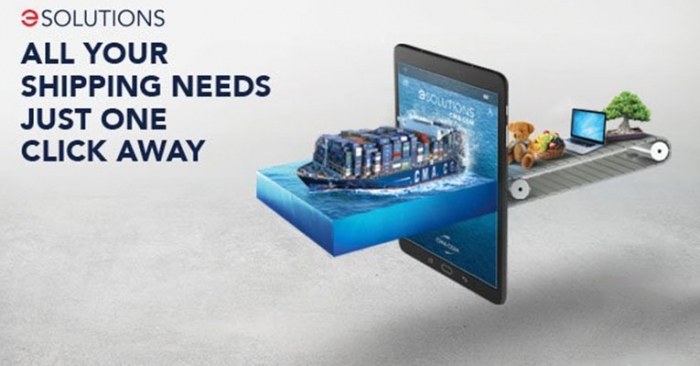 April 26, 2019: CMA CGM Group, one of the world leaders in shipping and logistics, has launched CMA CGM eSolutions. It is an entirely digital eco-system comprising an online agency and other e-commerce channels such as electronic data interchanges (EDI) and application programming interfaces (API) which allow the digital transmission of relevant information and data between CMA CGM and its customers.
Majority of the CMA CGM Group's bookings are made via its e-commerce solutions, among which half are made through the group's web platform. With CMA CGM eSolutions, customers will have the possibility to experience a 100 percent digital journey when they choose CMA CGM to transport their goods.
For several years, CMA CGM has developed and launched a whole set of digital solutions such as schedule research, quotation request, booking, shipping instructions, documentation, shipping dashboard, tracking. With this solution, the CMA CGM is strengthening its digital customer experience by offering its clients a new sales channel to ease their journey and allow them to strengthen their productivity and develop their business.
CMA CGM's digital strategy relies on:

1. Internal expertise to develop innovations
2. Partnerships with other leading groups and start-ups on key fields like blockchain, etc.
3. CMA CGM Ventures has already invested in 15 start-ups worldwide
4. ZEBOX, initiated by the CMA CGM Group, will house 30 start-ups by the end of 2019
New features are currently available at regional or global level and will be gradually rolled out on the different platforms of the group's brands. More features will be launched in the coming months to further improve customer experience with CMA CGM and its subsidiaries:
As part of its eSolutions, CMA CGM will now offer priority boarding to its customers using its digital platform, allowing them to secure space on board. First offered by CMA CGM from India to Europe, priority boarding will be gradually offered to other countries and carriers within the group.
With a secured space on board for their container, customers will be able to plan more efficiently their supply chain thus enhancing their business and efficiency towards their own customers.
Rodolphe Saade, chairman and CEO of the CMA CGM Group, has defined digitisation as a key strategic priority for the group's development.
With CMA CGM eSolutions, the Group's clients now have access to all their shipping needs with a single click, making their experience with CMA CGM simpler and more transparent to enhance their business and peace of mind throughout their journey with the CMA CGM Group.